Canes' Ward goes from backup goalie to playoff MVP
Updated:
June 21, 2006, 2:49 PM ET
Associated Press
RALEIGH, N.C. -- Cam Ward started the NHL playoffs as a backup rookie goalie full of potential. Two months later, he was at the center of the Carolina Hurricanes' celebration.
Ward earned the Conn Smythe Trophy as the most valuable player of the postseason after the Hurricanes beat the Edmonton Oilers 3-1 in Game 7 on Monday night for their first Stanley Cup title.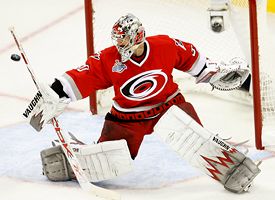 AP Photo/Paul ChiassonCam Ward had more wins in the playoffs (15) than he had in the regular season (14).
Ward, 22, finished with 22 saves and the type of unflappable performance that the Hurricanes have come to expect. The Oilers' only goal came when Ward couldn't control a rebound on a stop early in the third period.
The rest of the time, he was gloving wristers and kick-saving one-timers to finish with more wins in the playoffs (15) than he did backing up Martin Gerber in the regular season (14). He became the third rookie goalie in the last 35 years to lead his team to the NHL title, joining Ken Dryden in 1971 and Patrick Roy in 1986, both with the Montreal Canadiens.
He is the fourth rookie to capture the Conn Smythe, joining Dryden, Roy and Philadelphia goalie Ron Hextall in 1987.
"It's unbelievable," Ward said. "Your childhood dream of winning the Stanley Cup has finally come true and all that work you put forth through minor hockey and junior, it's all paid off from today."
This was hardly what anyone expected from Ward entering the postseason. Gerber came in with the franchise record of 38 regular-season wins while Ward was up-and-down while allowing 3.68 goals in 28 games.
But by the postseason, Ward was showing the ability that made him a first-round draft pick in 2002. He came on in relief of Gerber in Carolina's pair of home losses to Montreal to open the playoffs in April, and now it seems like he's been in net all season for Carolina.
He finished the playoffs with a 2.14 goals-against average, including shutouts against New Jersey in the second round and Edmonton in Game 2 of the finals.
"I got to raise the Cup because of that kid," said Carolina captain Rod Brind'Amour, a 17-year veteran who won his first title. "He just played awesome. You saw it. He never looked like there was a panic situation."
The Hurricanes said all season they had plenty of guys who could make a game-changing play, from veterans Brind'Amour and Mark Recchi to young talents Eric Staal and Erik Cole. But on this night, it was Ward, who moved smoothly from post to post and rarely seemed fazed.
His biggest save came with less than 4 minutes left. Ward stopped Raffi Torres' shot from the left side but struggled to control the rebound with Fernando Pisani skating in. But Ward managed to get his left skate on the puck just as Pisani's stick arrived, making the stop to preserve a 2-1 lead.
"We played our best period [in the third] and we had some chances," Edmonton goalie Jussi Markkanen said, "and Cam Ward was there for them to make those couple saves that made the difference in the third period."
Ward's finals run started with a 34-save performance in Game 1, including a pair of jaw-dropping stops on close-in shots by Shawn Horcoff in the third period. He followed that with 25 saves in a 5-0 win in Game 2, then a pair of strong road performances in the arena where he grew up cheering on the Oilers from Section 102.
He rebounded from giving up the breakaway short-handed score to Pisani in overtime of Game 5, which denied the Hurricanes the chance to clinch the Cup, and a 4-0 loss in Game 6 in which he got little help from his defense to close out the series and complete his amazing postseason run.
"I truly feel that you could have given it to anybody on this hockey team," he said of the Conn Smythe. "And to tell you the truth, it's completely irrelevant. The Cup, that's the trophy that matters the most."

Copyright 2006 by The Associated Press
SPONSORED HEADLINES
MORE NHL HEADLINES
MOST SENT STORIES ON ESPN.COM
EDITORS' PICKS
LeBrun: We predict who's in and who's out of the playoffs.
Story »

Strang: A dramatic shift in the landscape has left many enforcers being escorted out of the game.
Story »