Gomez believes Anaheim's D will lead to Cup
Updated:
May 29, 2007, 3:28 PM ET
By
David Amber
| Special to ESPN.com
In just seven NHL seasons, soon-to-be free agent Scott Gomez has played in three Stanley Cup finals, winning two along the way. This season, the 27-year-old forward led the Devils in playoff points, but couldn't help New Jersey get past the Senators in the second round.
With all of his playoff experience and success, there was clearly no one better to call for a preview of this season's Cup finals.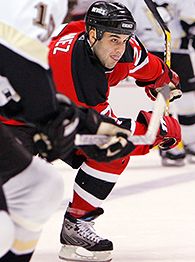 Richard Schultz/WireImage.comScott Gomez has played in three Stanley Cup finals with the New Jersey Devils.
Forwards
Ottawa: With the way that top line of Dany Heatley, Daniel Alfredsson and Jason Spezza is playing, no one can stop them right now. A checking line can't handle these guys. They are too quick, they move the puck too well and all of them have great vision. When you throw in guys like Mike Fisher and Chris Neil, it's a great complement to the scorers. What really impresses me about the Sens is their puck possession. Their forwards get control of the puck, cycle it down low and find the open man. It's really tough to stop them.
Anaheim: The Ducks' forwards are big and have some skill, too. Guys like Teemu Selanne and Andy McDonald are so quick, it's difficult to stop them when they are on the attack. What I like most about Anaheim's forwards is they are accountable at both ends of the ice. These guys are disciplined and don't give up too many odd-man rushes the other way.
Advantage: Ottawa
Defense
Ottawa: All of their guys on the blue line are solid, and right now, they have great confidence. When we played them in the conference semis, you could tell they weren't afraid to make mistakes. They weren't playing scared at all.
Anaheim: Scott Niedermayer is the best player in the world. Period. He takes over games. I can't say much more, but it's not a fluke he has three rings. He is so fast and so smart that he makes it so tough on other teams' forwards and he can also rush up into the play. Then, throw in Chris Pronger and it's nuts to think those two guys are out there basically the whole game.
Advantage: Anaheim.
Goalies
Ottawa: Ray Emery is not going to be intimidated. He has a real swagger, which makes his whole team confident in front of him. He is really making a name for himself this postseason.
Anaheim: Jean-Sebastien Giguere is a Conn Smythe winner. That is huge this time of year. He has the experience; he has carried his team before. What I remember most about Giguere when we played the Ducks in the finals is, whatever the situation, whatever the score, he can control his emotions. He reads the players really well. It makes scoring on him tough.
Advantage: Anaheim.
Coaches
Ottawa: Both of these guys are really well-respected. Bryan Murray has been around the league forever. He has the Senators playing their best hockey at the most important time of the year. I know some guys who play for Ottawa and they all say how well-liked and respected Murray is. That is huge.
Anaheim: Randy Carlyle is a great defensive team coach. It is rare that the Ducks have any kind of defensive breakdown during a game and coaching is a big part of that. It seems he always puts his players in the best position to succeed, like using Ryan Getzlaf on the point on the power play.
Advantage: Too close to call. It's really a tie.
Intangibles
I think the break could hurt Ottawa. The Sens have had so much momentum and were on one of those rolls where I'm sure the guys were waiting to get back on the ice every day. Nine days off is a momentum killer.
Anaheim is also on an emotional high; they have to be really confident right now. Maybe the biggest difference here is home ice. In 2001, we lost a tough Game 7 in the finals to Colorado. It seemed the crowd there really energized the Avs for that game. Then, in 2003, we beat the Ducks in Game 7 on our home ice. In fact, every game of that series, the home team won. So to me, the fact that the Ducks have home ice for this series is huge.
Advantage: Anaheim.
Prediction
I pick the Ducks in seven.
ESPN reporter David Amber is a frequent contributor to ESPN.com.
SPONSORED HEADLINES
MORE NHL HEADLINES
MOST SENT STORIES ON ESPN.COM
EDITORS' PICKS
Player Power Rankings: Devan Dubnyk looks solid with Minnesota Wild, but Ilya Bryzgalov not the answer for Anaheim Ducks.
Strang »

Strang: Brendan Witt always took time to create a special experience for sick children. Now, he is making sure that doesn't end in his retirement.
Story »

LeBrun: Wade Redden knows what it's like to be a highly paid NHLer exiled to the minors.
Story »