I want hockey, the Cup, Alanis ... and some karaoke
Game 4 of the 2007 Stanley Cup finals. I've never done a play-by-play observation of a finals game before, so this will fun. I'm watching the game on NBC.
Pregame (8:17 p.m.): Well, this is fun. NBC is showing the anthems! That is not a typical American move! Usually, anthem time is spent selling cars and cell phones. Singing the anthems tonight will be Alanis Morissette! Mike Peluso, your thoughts? I'm a big Alanis fan, actually. I have most of her CDs and her song "Hands Clean" from the "Under Rug Swept" CD gets played as much as any song on my Dell MP3 player. It's one of my favorite songs. Alanis does OK with the anthems, but doesn't really knock my socks off. She lets the Ottawa fans sing most of the final verse.
First period
(20:00): Game on. NBC announcer Mike Emrick says this is the 80th game of the playoffs. That's why I love Emrick -- because he says things like that. Ottawa's Chris Neil dives early in the game and the Sens are awarded a power play a minute into the game. It's amazing referees call penalties when a player like Neil hits the ice. Although, upon further review, it did appear that Neil's undercarriage did get a bit of a "How's your father?" from Francois Beauchemin. Ducks forward Chris Kunitz, who returned to action in Saturday's Game 3 after a seven-game absence with a broken hand, did not start Monday in Ottawa. Kunitz left Saturday's game in the second period with an abdominal injury.
(18:36): Anaheim is short-handed, but is skating very well so far. The Ducks have their legs; they know if they win this game they will probably win the series. In case your head has been stuck in a bowl of yogurt the past couple of days, Chris Pronger is not playing. He was suspended for elbowing Dean McAmmond in the head in Game 3. McAmmond is also not playing. He was suspended by Pronger's elbow. Let's hope he feels better. Big save by Jean-Sebastien Giguere with 16:32 left. He's never won a road playoff game in the Stanley Cup finals (0-5).
SHOT OF THE WEEK
Every week, we present an NHL photo and I provide a caption. E-mail me your suggestions (include your name and hometown/state) and the next week we will use the best ones and provide a new photo.
LAST WEEK:

"God bless you. I hope an anvil falls on your head tomorrow." (AP Photo)
Your submissions:
"1-2-3-4, I declare a thumb war!"
-- Brian Gilbride (Buffalo, N.Y.)
"Say, did I happen to leave my Paul Kariya bobblehead in the coaches' office?"
-- Jason V
"Hi, I'm Chris Chelios."
-- Jason G. (Detroit)
"Doctor, Doctor, Doctor."
-- Eric Davis (Raleigh, N.C.)
THIS WEEK

Mr. Loggins! Mr. Loggins! Explain your decision to sing "Footloose" over "The Star-Spangled Banner!" (Getty Images)
(15:45): Another undisciplined Ducks penalty and they are short-handed again. Both penalties were hits against Neil. Why do the Ducks waste their time with this guy? The Ducks might be the first team in NHL history to win the Cup and commit a roughing penalty on Pierre McGuire during the Stanley Cup celebration. The Sens dominate the power play, but the Ducks survive. If teams were allowed a timeout every period, the Ducks would take one right now. College basketball rules allow coaches 87 timeouts a game.
(13:45): Ducks on the power play after what appeared to be a makeup call. Neil is in the box. Here comes Scott Niedermayer. When did Niedermayer start looking like a genetic mutation of Dan Fogelberg and Kenny Loggins? This is very troubling. Best Fogelberg song? "Longer." Worst Fogelberg song? "Longer."
Pronger than there've been fishes in the ocean
Higher than any Orr ever flew
Pronger than there've been stars up in the playoffs
I've been in love with Loob.
Pronger than any mountain cathedral
Truer than any tree ever grew
Deeper than any Marc DeForest primeval
I am in love with Loob.
(11:09): Shots on goal -- Ottawa 10, Anaheim 0. Alanis, isn't that ironic? Don't you think? (One of my favorite videos. I don't understand why Alanis doesn't act. She created four different people in that "Ironic" video. She's already 10 times a better actor than Madonna.) The shots on goal surprise me because the Ducks came out skating well.
(7:07): Corey Perry has a chance on a two-on-one, but doesn't finish. The Ducks have survived the Senators' onslaught for now.
(1:44): Ryan Getzlaf is called for goaltender interference a foot outside the crease. That is a joke. Ray Emery flopped like he was hit with a rhino dart in the right groin. Four-on-three power play for Ottawa. Speaking of Getzlaf, I love his fire in this series. He is a future captain of this team.
(0.3 seconds): Goal Daniel Alfredsson! He barely beats the clock. Buzzer-beater power-play goal. This is a backbreaker. One reason why I picked the Senators to win this series is because of their offensive game. Anaheim cannot match the finishing ability of the Sens. The Ducks need to get the next goal and turn this into a low-scoring game. They can't play like Game 3. I don't see Anaheim coming back down 2-0 in this game. Anaheim had two shots on goal in the first period. Watch for the Ducks to get multiple power plays in the second period.
(During the first intermission, Alanis is seen talking it up with Emrick. Check tomorrow's New York Post for any sordid details. Alanis likes hockey very much.)
Second period
(20:00): Game on! The Ducks really miss Pronger. Remember, Pronger missed a big home game the last time he was suspended this postseason. In this kind of frenetic road game, Pronger's reach, size and experience are sorely missed.
(17:30): Getzlaf has a pretty good scoring chance, but shoots it wide. NBC is doing an excellent job in its broadcast. USA Today pointed out that, during Game 3, NBC's on-air team noticed the Ducks were a player short when the Senators scored their second goal in the 5-3 win, a detail Canadian TV coverage initially missed. This might force the CBC to replace Bob Cole and Harry Neale this offseason.
(17:15): Andy McDonald hits the post. Anaheim can't afford to miss these chances. Emrick screams "Score!" I don't blame him, though; I said the same thing. I thought it was in.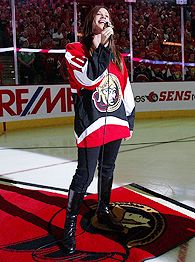 Dave Sandford/Getty ImagesThanks to the Stanley Cup finals, Bucci is in love all over again with Alanis Morissette.
(15:31): Neil is going to the penalty box. Interference. Dumb penalty. This is Anaheim's chance. The Ducks need a goal. They don't get a goal. But they're having a much better period. They've turned the tide. Somewhere, Anaheim GM Brian Burke is punching his fist through a wall.
(11:48): As expected, another power play for Anaheim. We are now even in power-play chances. Anaheim is playing well enough and can score here. Let's see if they do.
(9:54): McDonald gets the goal as the power play just ends. He has been the Ducks' best skater in this game. He was Anaheim's best player for the first part of this season and has been hit-or-miss in these playoffs. That was a goal the Ducks had to have. They have found their game. Let's see if the Sens can get theirs back.
(8:54): Wow, McDonald Duck has turned into Paul Kariya by making it 2-1. His ninth goal of the playoffs. Sean O'Donnell made the nice breakout pass. I can't wait for O'Donnell to retire because he will be a great television analyst. He has smarts, presence, a good voice and is very likable. I hope he goes into his post-playing career with a lot of commitment. He could be very good.
(3:46): Holy Shnikes! What a save by Emery! Beauchemin gets robbed! If Ottawa wins the Cup, that save will make a great poster. Emery has really been impressive in these playoffs. He's been Ottawa's most consistent player.
(2:00): Dany Heatley decides to show up. Maybe that Camaro windshield he wears on his helmet was fogging up on him. What a pass by Patrick Eaves. We have a 2-2 game.
Buzzer: Wow! It appears Alfredsson fires a slap shot directly at Scott Niedermayer from 20 feet as the buzzer sounds to end the second! Did he do that on purpose? It sure looked like it. Don Cherry is coming on NBC at the intermission. Let's see if they talk about it and let's see if Alfredsson gets suspended for that. What if Alfredsson hit Niedermayer in the throat? He could have killed him. Would death warrant a suspension?
(Cherry seemed to think that Alfredsson's head was down and he didn't do it on purpose. I'd be shocked if it was on purpose, too. This series officially has a personality. Cherry's appearance on NBC was basically a plea for more fighting in the NHL. He also said "tree hugger." He'll probably be back for Game 5 in Anaheim. Cherry replaced Ray Ferraro. He should have replaced Brett Hull.)
Third period
(20:00): We begin with four-on-four hockey, tied 2-2.
(18:58): Ottawa gets the first power play of the third period. Anaheim kills it.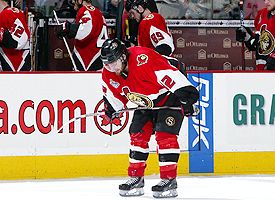 Dave Sandford/Getty ImagesMike Fisher and the Sens couldn't finish what they started in Game 4 of the Cup finals.
(16:55): I haven't noticed Teemu Selanne or Mike Comrie in this game. Perhaps they are at a local pub doing karaoke with Alanis Morissette. I SO want to do that with Alanis someday. Alanis, if you are reading this, I love you. I want to sing with you in a bar while watching hockey.
(15:53): Hey, Teemu is back from singing Toad the Wet Sprocket songs with Alanis. He makes a beautiful play to set up Dustin Penner. The Ducks are 15:53 away from going up 3-1 in the series and probably winning the Cup. This is where free agent-to-be Giguere could see his price go up even more. At this rate, he will get a 70-year contract for $7 million a year to play backup for the Islanders.
(11:59): This Getzlaf-Perry-Penner line needs a nickname. I vote for "The Mungus Line." Short for Humongous. I've got to be honest here. I've never spelled the word humongous before in my life and I never would have thought it had a "u" in it. I'm an idiot. I've been waiting for Penner to play with this kind of rage. He didn't play like this during the regular season. These young Ducks have quickly learned to raise their game for the playoffs. Really impressive. They've been well-coached.
(The rest of the story): Wow. The Ducks really played a smart third period -- clogging up the middle, using their reach and size and suffocating the Sens. After his shot at Niedermayer, Alfredsson only had one more shot on goal. Jason Spezza and Heatley each had only one shot in the third period as well. After Ottawa dominated the first period with 13 shots on goal, the Sens only managed 10 more the rest of the game.
The Ducks are now 2-0 without Pronger in these playoffs. Trade him to the Blackhawks for Jack Skille and Chicago's first-round pick. Then, re-sign Giguere. This was Giguere's first road win in Anaheim's short Stanley Cup history. Back in 2003, the home team won every game as the Devils beat the Ducks in seven.
Anaheim can now return home Wednesday night and bring California its first Stanley Cup. The Ducks will have a rested Pronger, a confident "Mungus Line" and a goalie who will probably win a Conn Smythe Trophy and then get a gigantic contract in early July. It's good to be Jiggy.
And, somewhere, Alanis is singing her/mine/our song "Hands Clean" to the "Mungus Line."
If it weren't for your maturity none of this would have happened
If you weren't so wise beyond your years I would've been able to control myself
If it weren't for my attention you wouldn't have been successful and
If it weren't for me you would never have amounted to very much.
John,
You recently wrote that copies of Keith Jones' book could now be preordered. How does one preorder anything? You order it before you order it? Like preheating an oven -- heat it before you heat it? But I guess we all know what you mean. As impossible as it seems, I know I will be "preordering" the book.
Jack Rubinstein
Merrick, N.Y.
Thank you, Jack. I hope your brain melts and seeps out your ears. Just kidding. The book is due out in September. You can order it now at a fine price and free shipping at www.middleatlanticpress.com. I wanted to throw in a free canned ham and Dashboard Confessionals' "So Impossible" CD, but that wasn't approved by the publisher.
---
Hey Bucci,
I'm sure you get these e-mails all the time, but what do you think the chances are that the Pens will deal for Nikolai Zherdev? I know that he's considered a "cancer" on the Blue Jackets right now, but I think that he'd work really well alongside Evgeni Malkin. If I were GM Ray Shero, I'd give up Michel Ouellet and a pick/prospect or Ryan Malone and a pick/prospect for this guy. The Pens need a scoring winger bad and Zherdev has stated that he wants out. What do you think?
Cory Mills
That is interesting, Cory. Zherdev obviously has good size, beautiful hands and the necessary talent. But he has shown no competitive fire that you want from your players. That being said, it is hard to judge a player who is in a losing environment. Coming to Pittsburgh, where he will be about the fifth-most talented player and where the team has an older Russian in Sergei Gonchar, could put him in a good place. Also, having a 20-year-old in Sidney Crosby (his birthday is Aug. 7) screaming at him could resonate more than a crusty old veteran. I would not trade Ouellet for Zherdev. I probably would trade Malone.
---
Hey Bucci,
I'm GM Darcy Regier. My Cup-hunting Sabres need an imposing D-man to pair with Henrik Tallinder, roster slots for the Rochester kids and cap space for a "Please don't leave me!" offseason in Buffalo. I'm looking to offer D-men Jaroslav Spacek and Dmitri Kalinin and forward Ales Kotalik (combined $8.225M salaries due next season) in trade. They're all good, youngish, regular-season players who seemed to slump in the late postseason, where we intend to be for the foreseeable future. I'm gonna swallow my pride and beg St. Louis to return D-man Jay McKee ($4M next year). If they don't take my phone call, will anyone?
Paul Schupp, Ph.D.
Tonawanda, N.Y.
This is going to be an amazing summer for the Sabres. I would make my best offer to Daniel Briere and/or Chris Drury now; otherwise, the Sabres need to be aggressive when the clock strikes midnight on July 1. The Sabres are going to be in a tough position if Drury and Briere take their time collecting offers while other top-level free agents are signing elsewhere. It is going to be a fascinating July to watch.
---
John,
Recently, ESPN had an article about most of the U.S. newspapers not covering the Stanley Cup finals. This was disheartening, but more so with the quote from The Columbus Dispatch. With the NHL draft coming up there this month, it amazes me that the city's major newspaper doesn't feel that promoting the game, the league and the Stanley Cup is necessary to help promote the draft itself. They do have a staff reporter at the combine, reporting on prospects, but shouldn't an NHL city that is hosting the draft go above and beyond to get the best out of this opportunity to maximize revenue and set its reputation for being a prime location for future events?
Disappointed,
Michael Ray
Columbus, Ohio
I can assure you that as the draft gets closer, The Columbus Dispatch will have comprehensive coverage of the draft. The Dispatch has two excellent writers in Michael Arace and Aaron Portzline. Additionally, no NHL beat writer has better taste or knowledge in music than Portzline. And no writer procreates like Arace. He has eight kids.
---
Bucci,
Though hockey is the only major sport in which the rules give the home team a slight advantage (by allowing them to have the last line change), how much of an impact does this advantage really make? Have the home team's winning percentages in the NHL ever been compared to the home team's winning percentages in the NFL, NBA and MLB? Is there a difference between the regular season and playoffs? I'm hoping there's an ESPN supercomputer that can tell you the answers easily, or maybe you can just get an intern to look it up.
Thanks,
Steven Liu
I don't have the answer to your question, Steven. But I did ask our ESPN research department to look up home playoff winning percentages for NHL teams and NBA teams over the last 10 years since the big, Wal-Mart rinks have been in effect.
Here's what they found: NBA -- .639; NHL -- .534.
---
Hey John,
Just wondering who are the main talents that could be taken with Philadelphia's first-round picks? And who do you think the Flyers will snag to fill in the void left by Peter Forsberg at center? And do you think the goaltending situation needs to be looked at, as well? Lastly, with the young talent, draft picks and free-agent pickups, where do you see Philadelphia next year?
SrA Marc Organt
28th OWS-WXA
Shaw AFB, SC
The Flyers should take the best player available, pure and simple. You cannot have enough talented forwards in the NHL. Anybody can collapse on the goaltender. Not everyone can create and finish offensively.
---
John,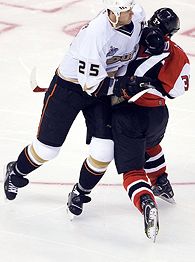 Ross Dettman for ESPN The MagazineChris Pronger received a one-game suspension for his hit on Dean McAmmond in Game 3 of the Cup finals.
Alfredsson, not called nor suspended for the blindside hit on Tallinder in the Buffalo series. Alfredsson gets a replay overturn on that kick-in in Game 3. Three or four lame penalties -- May for tripping, Niedermayer for tripping and the goalie interference call when Emery was five feet out of the crease -- called against Anaheim. All in one game.
Pronger gets suspended for a hit when he's skating backward, but Chris Neil can take six full-speed strides toward Andy McDonald, hit him in the back of the head and not even get a note to his mother. The officiating in Game 3 was atrocious. The replay and suspension reviews were more so. Tell me there isn't some sort of conspiracy going on, please?
Paul Schreiner
Lynchburg, Va.
John,
I'm perplexed that everyone is fixated on the Pronger suspension rather than the strange decision by the video review team. Whatever happened to striving for consistency from the officials? For example (I'm sure every team has an example, this is mine): Game 1, Pens vs. Sens, Crosby "kicks" the puck past Ray Emery. No goal. Game 3 of the finals, Alfredsson "kicks" the puck past Giguere. Goal. Then, along comes the Pronger suspension to save the league from having to explain the difference.
What effect does that have on the referees the rest of the game? Dan O'Halloran was pretty sure it was kicked in, yet he can't even see the replay while the booth is telling him he was wrong. If coaches and players really believe they can influence the next call by arguing, wouldn't a questionable decision by the video booth have a similar result? At the very least, they ought to put a monitor in the timekeeper's box so the refs can see the video, too. I know you've disagreed in the past, but I wonder if it is time to let the guys knock it in any way they can. Well, maybe not picking it up and throwing it.
Brian
Pittsburgh
I agree the replay kicking issue on goals has been inconsistent. There was a time when I was pro-kicking on goals. Then, I went anti-kicking since the men do play with razors on their boots. Now, I am thinking on all pucks shot toward the net, they should just allow pucks deflected off skates, whether there is a subtle kicking motion or not. This gray area will always continue and there have been too many cases where a goal that is allowed in one game is disallowed in another. For all pucks in motion, allow a player to use his feet. For pucks sitting still around the net, you cannot kick the puck in. I think the time has come to let these goals off skates stand. Game 7, overtime, a puck goes off a skate and in. Now what? And imagine how long THAT video replay will be.
---
John,
Attached is a picture of my 4-year-old daughter wearing my new hockey jersey. Perhaps it's blasphemy, but I actually let her put it on before I wore it. She's doing her best to look like an intimidating defenseman like her dad (although her pajama top underneath gives away her real personality).
Thanks,
Jim
John Buccigross' e-mail address -- for questions, comments or crosschecks -- is john.buccigross@espn.com.
SportsCenter anchor
John Buccigross joined ESPN as an anchor in October 1996. He currently can be seen as an anchor on "SportsCenter." Buccigross frequently contributes to ESPN.com during the season.
SPONSORED HEADLINES
MORE NHL HEADLINES
MOST SENT STORIES ON ESPN.COM
EDITORS' PICKS
Strang: A dramatic shift in the landscape has left many enforcers being escorted out of the game.
Story »

Pronman: Happy holidays! Here's your Team USA WJC preview.
Story

Burnside: We tell you who will make a roster for the 2016 World Cup.
Predictions »