Gonchar now living up to expectations
Sergei Gonchar has undergone a dramatic metamorphosis this season from an overpaid liability to a go-to guy.
OTTAWA -- You could scarcely have heard Sergei Gonchar's name last season without hearing at least one of the following modifiers: overpaid, underachieving, free-agent bust or disastrous. And those were just some of the nice things people were saying about the Pittsburgh Penguins defenseman.
Although he finished with a respectable 58 points, Gonchar was symbolic of the chaos that permeated the Penguins early last season. Lacking a defined defensive system, Gonchar looked uncomfortable and hesitant, especially in his own zone, and the Penguins were the worst defensive team in the NHL and finished one point out of the basement. Having signed a five-year, $25 million contract after the lockout, Gonchar incurred the scorn of fans and hockey observers everywhere. Many said the 6-foot-2, 215-pound Russian was the worst post-lockout free-agent signing.
Now, heading into Game 2 of the Penguins' opening-round playoff series against the Ottawa Senators, the team is looking to Gonchar to help stabilize a blue-line corps that looked jittery and overmatched against the Senators.
It is a strange turn of events.
Yet Gonchar, who is second only to Detroit's Nicklas Lidstrom for most points by a defenseman since 2000, has undergone a dramatic metamorphosis in the past 12 months or so and has made believers of his teammates and hockey writers who are expected to give Gonchar some consideration for the Norris Trophy as the league's best defenseman.
"Last year was difficult for me. I didn't play the way I expected and I'm sure a lot of people in the organization expected me to be better," said Gonchar, who turned 33 Friday. "But I was able to turn things around and I thought I finished the season strong especially after the Olympic Games. Obviously when I was able to know what's going to happen with all of us, I adjusted my game and that's why I guess I'm playing the way I'm playing now."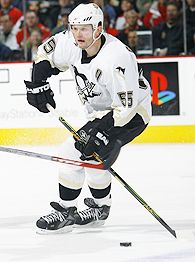 Phillip MacCallum/Getty ImagesSergei Gonchar finished the 2006-2007 campaign with 67 points, tied for the most he's ever had in a single season.
He acknowledged that coming in with the big contract after the lockout added to the pressure, although he did his best not to let it affect his play.
"I mean, I'm being paid a lot of money. Obviously the expectation is big when a guy's given such a contract and I understand those people. I understand those people who are criticizing me. What I concentrate on is trying not to think about it. I was thinking more about my game, about the way I can improve my team and my approach to the game and how can I adjust to new style, new teammates; that's where my concentration was," Gonchar said.
"Obviously if you're going to start thinking about fans and all the criticism, it's going to take you away from the game and I was trying not to do so."
Veteran analyst and former NHLer Peter McNab told ESPN.com he's not surprised Gonchar has put last season behind him.
"The whole club struggled," McNab said. "You go through tough years. Everybody does."
The evolution from overpaid liability to go-to guy on the back end was one that was facilitated by head coach Michel Therrien and assistant coach Andre Savard.
After Gonchar's game picked up in the later stages of last season, Therrien approached him before the start of this season and told Gonchar he wanted the well-spoken defenseman to take a bigger bite of the defensive responsibilities along what is a very young Penguins blue line.
"It was not a surprise for me. He's a good defenseman," Therrien said. "Good athletes like a challenge. That's always been my philosophy: put good athletes in positions that he has no choice but to perform. This is the approach that we got with Sergei Gonchar. He's a Norris Trophy candidate."
Savard, who looks after the penalty kill and defensive assignments, admitted he had some reservations about using Gonchar to kill penalties, something that rarely happened last season.
"He was one of our best penalty killers on defense. He did a good job. I wasn't sure about that at the beginning of the year," Savard told ESPN.com. "Also, he really, really likes to play against top players. He really enjoys that. He's got a lot of pride. He's got a lot of pride playing defense. Playing against the best players, that means you've got to be pretty good defensively. And he competes, you know. He's not the physical player, but in a sense if the puck's in the corner, he'll go and get the puck. He won't shy away from getting the puck. He plays in traffic. He's had a great year offensively and defensively."
Soon Gonchar's minutes were soaring and the Penguins were a much more difficult team to play against.
Although it's unlikely Gonchar will unseat perennial Norris candidates Nicklas Lidstrom, Scott Niedermayer and Chris Pronger, he will almost certainly end up in the top five in voting after finishing second among NHL defensemen with 67 points. He was a minus-5, down from a minus-13 a season ago.
"It's nice. It's nice that you receive some recognition. Especially this year I was playing a lot against the top lines," Gonchar said. "My role has changed a bit compared to my role in Washington. I don't know if you guys remember, but we always had Calle Johansson and Mark Tinordi playing against the top lines, so my role was being a more offensive guy and jumping in and create some offense. But this year, since I got here, Mike told me it's my job. So I have to adjust my game a bit and I'm happy. I've done a decent job."
Gonchar will face a stern test in Game 2 Saturday afternoon, a crucial contest if the Penguins are to stay in the hunt in this series. In Game 1, the Penguins' blue line was exposed by a relentless Ottawa forecheck. The group, led by Gonchar in average ice time in the regular season (26:34), will have to be better. Although getting better is something Gonchar is familiar with.
Notes
The Senators have never gone up 2-0 in a playoff series. That may explain the team's reputation as one that has never developed the killer instinct needed to win a Stanley Cup.
Therrien said the Sens' history is just that: history. "You can't control the past," Therrien said. "You can't control those past years."
One interesting offshoot of the Phillips signing are the rumors it has sparked that the Senators might now try and move Wade Redden to free up cap room in the offseason. Redden has told reporters he'd like to stay in Ottawa indefinitely while the Sens have said they have no interest in moving the slick puck-moving defenseman in the offseason. Still, it was interesting to see Edmonton Oilers assistant coach Charlie Huddy at Game 1 in Ottawa. The Oilers are desperate for defensive help and Redden is a western boy (he's from Saskatchewan).
Scott Burnside is the NHL writer for ESPN.com.
Hockey writer for ESPN.com
10 years at Toronto Sun, Windsor Star and National Post
Wrote best-selling true crime book "Deadly Innocence"
SPONSORED HEADLINES
MORE NHL HEADLINES
MOST SENT STORIES ON ESPN.COM
EDITORS' PICKS
Here is who you voted the face of your franchise.
#ESPNplayerNHL »

Which were the 10 biggest trades of 2013-14? Hint: two of them involved Thomas Vanek.
Grantland »

The presence of Connor McDavid in the 2015 draft could make some teams think lottery before Cup.
Hockey Prospectus