Physicality replaces creativity in Sens-Pens series
PITTSBURGH -- Imagine Snow White and Cinderella are at the big ball, and all of a sudden, you look over and Snow White's dunking Cinderella's head in the punch bowl and Cinderella's poking Snow White in the eye with her tiara.
It's not a pretty sight and it's shocking in its departure from the expected.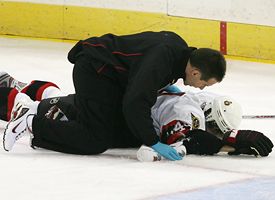 Harry How/Getty ImagesOttawa's Patrick Eaves took a shoulder hit from Colby Armstrong, just one part of a very physical Game 3 between the Sens and Pens.
Which brings us to the Senators and their grunting, grinding 4-2 victory in Game 3 of their opening-round series with the Pittsburgh Penguins. It left Ottawa with a 2-1 series lead and quelled, for a moment, all talk of playoff failures past.
If these teams were all about flow and creativity during the regular season -- and the fact they combined for 565 goals suggests they were -- Sunday's ragged affair was all about trench warfare.
• There was Gary Roberts, the Penguins' Game 2 hero and Sunday's first goal scorer, literally roughhousing Jason Spezza into the Penguins bench in the second period. Not long after, Pittsburgh forward Colby Armstrong laid out Patrick Eaves with a thunderous hit as Eaves tried to bring the puck from behind the Pittsburgh net.
• While Eaves lay motionless nearby, being attended to by a physician, Dean McAmmond and Penguins forward Maxime Talbot went toe-to-toe. Eaves would not require hospital attention for the hit -- legal according to the current NHL rule books -- but did not return for precautionary reasons though he was seen up and about congratulating his teammates after the victory.
• Late in the contest, Ottawa pest Christoph Schubert drilled Pittsburgh defenseman Rob Scuderi into the end boards, leaving Scuderi writhing in pain on the ice while Schubert immediately dropped his gloves in anticipation of the payback Ryan Whitney brought.
• Even rookie Evgeni Malkin joined the fray, bear-hugging Chris Phillips after the Ottawa defenseman gave Sidney Crosby a hand to the face near the Ottawa goal with little more than a minute left to play.
"One thing about the playoffs is that everybody pays attention to the best players on the other team and you get your best checkers out there so I'm not really surprised [at the tone of the series]," Ottawa coach Bryan Murray said after the game. "I think night after night they have to battle just to get any ice at all in the offensive zone and the other guys do have to step up. And I think that's one of the benefits we might have here."
More from Game 3
The Colby Armstrong hit on Patrick Eaves will no doubt reignite discussion about the need to deal with potentially devastating blows to the head. Perhaps, surprisingly, Ottawa coach Bryan Murray believed there was nothing wrong with the hit.

"It was a fair hit, a hockey hit. And we live with it accordingly," Murray said.

Always happy to apply a little sarcasm to the proceedings, Murray expected this hit to be treated the same way by the media as the Chris Neil hit on Buffalo forward Chris Drury, which created much controversy earlier in the season.

"I read all the articles when Chris Neil hit Drury. It was the same type of hit. It was a kid trying to make contact. Patty had his head down a little bit. He got drilled with a shoulder. That's part of hockey," Murray said. "I know you'll write extensive articles about how tough Armstrong was and how he shouldn't be allowed [to play]."

Enough with the boo-birds
What is it about fans and booing another country's national anthem? Don't they understand that such behavior always makes into news reports, becoming a rallying point for the offended city and nation, not to mention, just plain old bad karma?

But there it was again Sunday night in Pittsburgh, a chorus of boos at the start of "O Canada." It happened a year ago when fans in San Jose booed "O Canada" during the Sharks' second-round series against Edmonton. Oilers fans responded by belting out "The Star Spangled Banner" in full throat in Edmonton, while the Oilers knocked off the Sharks in six games.

Where's Laraque?
On the Georges Laraque watch, the big forward was once again a healthy scratch, denying fans everywhere the opportunity of seeing him lumber about on the ice for six or seven shifts.
--Scott Burnside
For the third straight game, the Senators' role players played a bigger role than those of the Penguins. McAmmond, who also added an assist on the Senators' fourth goal, scored to tie the game at 1 late in the first period, when both teams seemed uncertain of the game's personality. He did so by knocking in a loose puck just as Ottawa defenseman Tom Preissing was crashing into the Pittsburgh net. The play was reviewed, but ultimately ruled a goal.
"We were able to use more people here than I did in Ottawa, getting that fourth line a fair number of minutes until Patty got hurt," Murray said. "Definitely, the guys were disciplined. It just goes to show there's momentum after single games in the series.
"This is where coaches really screw up some nights," he added. "We were in Ottawa [and] Dean has played well and I couldn't get him the ice time. He played well [Sunday]. His line was real good. He fought. I didn't know Dean McAmmond ever fought before."
Sometimes, the path to victory in a playoff series isn't necessarily to play better, but to force the other team to do things it's not comfortable doing.
The Senators are seen as front-runners. As long as things are going their way, they're fine (Ottawa had a 36-8-4 record when scoring first during the regular season). But if they encounter hardship, the theory is, they are a much different team. The Senators were just 10-13-9 in one-goal games, 29th in the NHL. For perspective, the New Jersey Devils were the best one-goal team with a 32-7-9 record.
But Sunday night, the Senators showed they can play in the trenches if they have to. It's as though each team believes it needs to win this battle of ugly to establish itself as grittier than the other before a winner can be declared.
The Penguins have not been able to free-wheel and haven't received the supporting performances they need as they've tried to match the Senators' physicality. One member of the Senators' organization said he expects Pittsburgh to go for more flow in Game 4 on Tuesday.
For the third straight game, the Senators dominated the second period, outshooting the Penguins 12-5 and outscoring them 3-0 to take a 4-1 lead into the third.
"That was pretty bad in the second period. Pretty bad," Pittsburgh coach Michel Therrien said. The coach said some players' performances were "unacceptable."
"Some guys, we haven't seen them yet. It's like I'm watching tape and they're on the ice, but they're not in the picture. Someone's going to have to pick it up pretty badly," Therrien said.
Like Malkin?
While no single player in the Penguins' dressing room is responsible for the current 2-1 series deficit, it is clear the Russian star and rookie-of-the-year-in-waiting will have to make his presence felt in this series sooner than later.
One of the reasons Crosby was able to enjoy such a prolific season, becoming the youngest player to win an NHL scoring title, was the emergence of Malkin as a dangerous playmaker in his own right. Malkin led all rookies in goals (33) and points (85). That depth down the middle was a key factor in the Penguins' renaissance this season as it forced teams to divide their defensive attentions.
But so far, Malkin shows no signs he grasps the playoff dynamic.
After failing to register a shot in his first two NHL playoff games and taking a penalty late in Game 2, Malkin followed by taking two lazy penalties Sunday. The second of those penalties allowed the Senators to break open a close game as Daniel Alfredsson scored to give Ottawa a 3-1 lead 7:20 into the second period.
Earlier, Malkin committed a grisly turnover just 2:13 into the second period that resulted in a Mike Comrie tally that gave the Senators their first lead of the game at 2-1.
He did produce a nifty little pass to Crosby with 5:20 left in the third to bring the Penguins to within two goals at 4-2, but there has to be more.
"He's got to be better. But he's a young player. He's got to learn. He can't take bad penalties," Therrien said. "Some guys have to be better."
Scott Burnside is the NHL writer for ESPN.com.
Hockey writer for ESPN.com
10 years at Toronto Sun, Windsor Star and National Post
Wrote best-selling true crime book "Deadly Innocence"
EDITORS' PICKS
Trade Countdown: The Avs have a big decision to make about Ryan O'Reilly, which could influence their deadline moves.
Story »

Trade deadline: The Blackhawks won the Antoine Vermette derby, sending a first-round pick and a prospect to the Coyotes.
Burnside »

#LevyAndMelrose: Beware of the assistant general manager coming onto the ice on trade deadline day.
Watch