Ducks emulate hard-nosed personality that defines Carlyle
ANAHEIM -- They sometimes say pets and their owners start to look alike after a time. Or spouses. Well, with the Anaheim Ducks, in the two years that Randy Carlyle has been coach, the team has become Randy Carlyle personified.
"Absolutely," veteran forward and one-time Carlyle teammate Teemu Selanne said. "He has built this team in two years and it's exactly like he was.
"Randy's a very easy person. He's a very honest, hard guy, old-school guy," Selanne added. "He's expecting different things from different players. But when you do those things, you never have a problem with him and never a misunderstanding with him. He's very hard and he tells you what he really thinks. There's no misunderstanding. Sometimes, the truth hurts, but I think it's really good in the long run."
More from Sens-Ducks

It's almost a ritual now. The Ducks play a game, and win or lose, the next day someone asks coach Randy Carlyle whether he's worried about the team's lack of discipline.
"I've been asked that question so many times that you think I've never talked to the players about it," Carlyle said. "And it's like your kids at home, I guess. Sometimes there's a thousand different ways to tell them, but it's a lot easier to say it than to live it."
The Ducks won Game 1 of the Stanley Cup finals 3-2, but took almost twice as many minor penalties (eight) as the Ottawa Senators, who took four.
"Did we take too many penalties? Yes, we do take too many penalties and it taxes people in certain situations. We want to limit the number of penalties. Simple as that. Sometimes it's easier said than done," Carlyle said.
The whine, Day 2
Ottawa coach Bryan Murray complained after Game 1 that the Ducks were obstructing his forwards as they tried to gain the Anaheim zone, preventing them from establishing an effective forecheck. He also complained about Ducks players hacking his goaltender, Ray Emery.
On Tuesday, he was back at it.
"I think that they got their physical play from good dump-ins and us not holding anybody up. Their first man got in, got the hits. That was the main part," Murray said. "The other part is when people are standing around in front of the net, trying to defend, and they're hammering away at our defensemen as well as the goaltender.
"And we, I guess, will have to adjust our style to get back to holding up their forechecker better with our man because it's obvious that it's not being called. And we have to encourage our guys to do it."
Asked whether he thought the officiating had to be better, Murray said instead he just wants to know what the rules are.
That'll go over well with the league.
To split or not to split
One of the most intriguing storylines going into Game 2 will be the play of the Senators' top line of Daniel Alfredsson, Dany Heatley and Jason Spezza. The trio, who had combined for 58 points heading into the finals, was irrelevant against the Ducks' top checking line and defensemen Chris Pronger and Scott Niedermayer in Game 1.
Now, the issue of whether or when Murray might split up that line, especially for games in Anaheim where he does not have the luxury of making the last line change, is dominating discussion around the team.
Heatley said he thinks the trio has played well enough this spring to earn the chance to meet the challenge presented by the Ducks.
"I'd hate to see us split up right now," Heatley said.
Murray said he mulled over the idea during Game 1.
Said Murray: "Here's the decision I had last night. Our line played so well in every series so far. I get into the first period or second period, see they're not going as good as they should be. Do I, because of that, break them up in the first chance I get and then kind of panic, show panic? So I decided to stick with them, let them play. I've got to allow them at least some time to have that challenge."
How long Murray will be content to maintain the status quo if the big unit struggles again Wednesday will be the question.
--Scott Burnside
Here's a Randy Carlyle snapshot.
As his NHL playing career was winding down in the early 1990s, he used to work over the Winnipeg Jets rookies pretty good. Among the crowd that Carlyle would regularly needle, cajole and berate in an effort to get them to practice and play the way he believed they should was Selanne.
"The relationship I had with Selanne probably was one that -- he would describe it that he wasn't my best friend," Carlyle said with a grin Tuesday. "I was kind of hard on all the rookies, and he was a rookie, and I felt that there was a certain way that those players had to make their mark. They had to earn it.
"I was hard on [Selanne] from the standpoint that I didn't think he practiced as hard as he should, simple as that," the long-time NHL defenseman said. "I told him on numerous occasions. He didn't like it. But I still told him."
Here's another snapshot.
Shortly after he took over as coach of the Manitoba Moose (then of the International Hockey League), Carlyle laced into his team after they fell behind 4-1 after the first period of a game against Cincinnati.
"He was spitting nails," recalled Craig Heisinger, the one-time equipment manager for the Moose and now the AHL team's senior vice president and GM.
After dressing down the squad, Carlyle slammed the dressing room door only to reappear a moment later.
"And don't be talking about me behind my back either you [expletives]," Carlyle bellowed.
Carlyle then went into see Heisinger and asked him what he thought of his performance. Pretty good, Heisinger replied. But why did he make the last comment about talking behind his back?
"Because that's what I always did as a player when the coach yelled at us," Carlyle said with a smile.
As a player, Carlyle never advanced beyond the second round of the NHL playoffs, even though he played 1,055 regular-season games and 69 more in the postseason. Now, in just his second season as an NHL coach, he is three wins away from a Stanley Cup championship. Not bad for a guy who never had much time for coaches as a player and didn't aspire to be one himself.
Heisinger, who has become a close friend, said he imagined Carlyle in the John Ferguson Sr.-Serge Savard mold -- a manager, a builder of teams. But after he became a coach, Carlyle embraced the job as he did as a player, with both feet.
The difference between coaching at the minor pro level and the NHL level is not necessarily the game plan, but the players in that game plan. Minor pro players are always looking to go somewhere else, and if a coach can help them get there, they're happy to listen. Once a player reaches the NHL, there is a different dynamic. And when someone is as hard-nosed as Carlyle, well, you wondered if it would all work out.
Heisinger said the lockout season, during which many young NHLers spent the year playing in the AHL, was a good test for Carlyle.
"I think that showed Randy would have no trouble dealing with today's professional athletes," said Heisinger.
Carlyle was a Norris Trophy winner himself. He coached Chris Pronger's brother, Sean. He was Selanne's teammate. "Is he going to be intimidated by Chris Pronger or Scott Niedermayer? No, I don't think so," Heisinger said.
Veteran defenseman Sean O'Donnell believes Carlyle's experiences as a player has made him sensitive to the rigors of an NHL season. Sensitive, not soft.
"One thing that he maintains is that there's a certain structure as far as routes and positioning, that there's really no excuse why you can't be in the right position," O'Donnell said. "That's just hard work or not working hard, and he's a real stickler if you're two feet this way or two feet that way, you're stick's here instead of there."
Playing for his sixth NHL team, O'Donnell said there is no disputing who is in charge in the Ducks dressing room.
"As the coach, you need to be the boss," O'Donnell said. "There can't be any kind of wavering as to, 'OK, who's in charge' or 'Does he really know what he's doing' and that kind of stuff. And Randy doesn't project that kind of stuff for a moment. He's always in charge. He's always the guy."
He, too, believes, this team has evolved to capture Carlyle's personality.
"I think a little bit. I think [GM Brian Burke] and Randy, if you spend much time with them, you realize they're both kind of abrasive. I wouldn't say they don't care what others think, but they're not concerned too often what others think," O'Donnell said. "They have a certain style and a certain way about them, and if you don't like it, then too bad. And I think our team has taken that on a little bit. I think with the addition of [Pronger], who kind of has that same kind of personality, it's rubbed off on the team."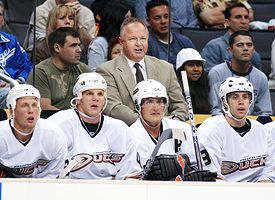 Randy Carlyle never reached the Cup finals as a player, but he is now there behind the bench.
That the rough-and-tumble Ducks are inexorably linked to their coach's demeanor is no surprise to Burke, who hired Carlyle after the lockout. It's what he hoped would happen.
"I think the team does reflect Randy's personality as a player and as a person. I think that's a positive thing," Burke said Tuesday.
Burke has hired three coaches in his career as an NHL GM -- Paul Holmgren, Marc Crawford and Carlyle. All shared Burke's vision of an NHL team that is fast, physical and fearless.
"You have to start with a guy who shares your philosophy," Burke said.
That's not to say there hasn't been an evolution, even in the short time Carlyle has been at the helm. Case in point was Game 1. Carlyle didn't think much of Ryan Getzlaf's play for most of Monday. In fact, he was so unimpressed, he asked the first star of the Ducks' 3-2 victory if his dad had been in town to pick the game's stars.
"Because, as coaches, we always coach the negatives, and at times, we've got to shake yourself and say, 'Hey.' And I think that's what we did last night with him," Carlyle said. "Yes, he wasn't as good as I thought he could be. But when he goes out, scores the tying goal with that type of move, you have to give credit where credit's due. And he was better than I thought he was in the hockey game."
Burke thinks Carlyle has been able to ease off slightly this season because the team has been battle-tested with last season's run to the Western Conference finals. Carlyle said his players have made it easier for him.
"I have a lot of no-maintenance players, and that's huge that I don't have to spend a lot of time [in the dressing room]," Carlyle said. "I think that's the players' area. They earned that opportunity, and that's one of the things I didn't want as a player. I didn't want our coach always in the dressing room because it's the players' area. So, I don't go into the dressing room very often. I go in, deliver whatever I have to do, and come out."
Perhaps he doesn't have to go in the room because the players there have accepted this team's personality -- Randy Carlyle's personality.
Scott Burnside is the NHL writer for ESPN.com
Hockey writer for ESPN.com
10 years at Toronto Sun, Windsor Star and National Post
Wrote best-selling true crime book "Deadly Innocence"
EDITORS' PICKS
Washington could make a deep playoff run, and quiet superstar Nicklas Backstrom is one of the top reasons.
Story »

LeBrun: A green light for the World Cup doesn't mean a red light for the Olympics.
Story »

Custance: Resetting Eastern playoff race.
Story
MOST SENT STORIES ON ESPN.COM