Ducks outhit, outwork, outchance, outmatch Sens ... again
ANAHEIM, Calif. -- Never have two one-goal games felt like such a colossal mismatch.
For the second straight game, the Anaheim Ducks reduced the highly touted Ottawa Senators to hockey rubble, scoring late in the third period to seal a 1-0 victory. The Ducks head to Ottawa with a 2-0 lead, with Game 3 set for Saturday.
Somehow, in the wake of these two games, the space between these two teams seems much, much greater than the difference on the score sheet.
With all excuses about a long layoff and poor officiating stripped away in Game 2, the Senators were once again outmatched in every meaningful element of the game.
Outhit, outworked, outchanced and outshot. They keep this up and it'll soon just be "out."
It was fitting, given the attention focused on the need for the Senators' top line of Daniel Alfredsson, Dany Heatley and Jason Spezza to rebound after a miserable Game 1, that it was yet another turnover, this one by Heatley with less than six minutes left in the game, that led directly to Samuel Pahlsson's wicked wrist shot that turned out to be the winner.
It was a perfect ending to yet another virtually perfect performance by the Ducks and added a layer of pressure on the Senators' big line a mile deep and twice as heavy.
"Definitely we're counting on a couple of guys to be big-time players for us and they played better tonight, but they didn't create much in the way of offense," Ottawa coach Bryan Murray said. "I'm hoping when we get home, we can do a little juggling and it will come."
For the second straight game, it was the Alfredsson line that was on the ice for the winning goal. In Game 1, it was Travis Moen playing the part of unsung hero for Anaheim, while Wednesday it was Pahlsson who used Ottawa defenseman Joe Corvo as a screen after picking up the loose puck just inside his own blue line and ripped a shot past netminder Ray Emery, who had been a rock for the Senators all night, ultimately stopping 30 of 31 shots. The Senators' big line also managed just one shot in the third period.
"Overall, their D and their checking line have been stars of the series to this point," Murray said.
During the first three rounds of the playoffs, when the Senators were rolling through Pittsburgh, New Jersey and Buffalo in five-game series, the big line was on fire, collecting 58 points. The Ducks have not only neutralized the prolific trio, but they've also feasted on them. On many shifts, the Pahlsson line, which also includes Moen and Rob Niedermayer, controlled the puck in the Ottawa zone for long stretches of time.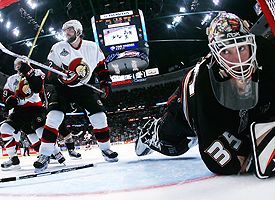 Bruce Bennett/Getty ImagesJean-Sebastien Giguere made 16 saves to shut out the Senators in Wednesday's Game 2.
Apart from a quality Heatley chance shortly after the Pahlsson goal and a dangerous-looking Alfredsson shot that was blocked by Moen with time running out, the unit had no meaningful opportunities.
Even when the Senators' second-ranked playoff power-play unit was given a 5-on-3 advantage for 1:08 in the first period, it could not beat Anaheim netminder Jean-Sebastien Giguere. It marked the second game in a row the Sens' power-play unit could not take advantage of a lengthy two-man advantage.
So what's gone wrong with the big guns?
"If you've got the answer, let me know and I'll put it into play next game," Spezza said. "We've got to win two games at home now. We've put ourselves in a tough spot."
Historically, it's not just a tough spot, it's virtually hopeless.
Of the 30 teams that have taken a 2-0 lead at home in the Stanley Cup finals, 29 have gone on to win the series. Only the 1971 Montreal Canadiens rebounded from an 0-2 start on the road in the finals to win the Cup. Overall, teams that go up 2-0 in the finals have won 39 of 42 series.
Murray recalled the 2003 Cup finals, when his Ducks (he was then GM) lost the opening two games of the finals against New Jersey and came back to win two at home to tie a series they would eventually lose in seven games.
"This is a team that's very capable of doing it," Murray said.
Of course, they're capable of coming back with two wins at home. Their play this spring suggests it is possible, and their lineup reinforces that notion. But the Senators have shown little indication they're the same team they were a few weeks ago. And as much as they believe the answer is in their own dressing room, the answer may be more fully revealed in their opponents' room.
After an often uneven Western Conference finals victory over Detroit, the Ducks seem to have found that often-discussed but rarely seen "next level."
By midway through the first period, they had outshot the Senators 10-1 while continuing to batter them physically (although, to be fair, the Senators likewise showed more physical spunk, at least early on). Through two periods, the shot margin was 26-11 in favor of the Ducks. Through the first two games, the Ducks have dominated the supposedly more offensively gifted Senators, outshooting them 63-36.
The Ducks even curtailed their usual parade to the penalty box without giving up any of their physical ferociousness. After taking seven minors to the Senators' four in Game 1, the teams each took four minors in Game 2 (only one after the first period and none in the third).
"It's unbelievable. You know, I told you before, it's not about Chris Pronger, it's not about Scott Niedermayer, it's all about us," offered veteran Teemu Selanne, who is now halfway to his first Stanley Cup at the age of 36. "This team is exactly as good as our worst player feels, and that's the toughest part, to raise everybody's level. And I think we've done a great job so far."
Giguere, who was rarely tested but did make a lovely move across the crease to deny Heatley, said he hopes his team doesn't get too caught up in the early-series success. At the same time, though, he said he hopes his teammates enjoy the experience, because it may not come along again.
"When we put our mind into it, we're a pretty tough team to beat," Giguere said.
Nobody knows that better than the Ottawa Senators.
Scott Burnside is the NHL writer for ESPN.com
Hockey writer for ESPN.com
10 years at Toronto Sun, Windsor Star and National Post
Wrote best-selling true crime book "Deadly Innocence"
SPONSORED HEADLINES
MORE NHL HEADLINES
MOST SENT STORIES ON ESPN.COM
EDITORS' PICKS
All-Star Game: Team Toews 17, Team Foligno 12. Jeepers.
Story »

The NHL's stars are put their skills, creativity and humor to good use in Columbus.
Cross Checks »

Burnside: The World Cup of Hockey format is creating buzz.
Story »