Some of our top moments from 2007 playoffs
ANAHEIM, Calif. -- As the 2006-07 season comes to a close, here are some of our more memorable moments from this postseason:
Sidney Crosby gets his broken foot wet
Although the NHL's teenage scoring champion and his Pittsburgh Penguins were dispatched in five games by the Ottawa Senators, Sidney Crosby's first playoff experience garnered significant media attention and should provide a significant building block for a player and a team that have a bright future. Crosby was Pittsburgh's best player even though he was playing with a broken bone in his foot.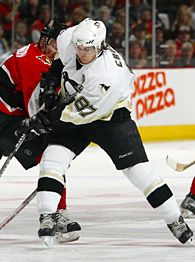 Phillip MacCallum/Getty ImagesSidney Crosby's first postseason ended early, but it gave us a glimpse of the Penguins' bright future.
They shoot dark horses don't they?
A season ago, the bottom four seeds in the Western Conference advanced to the second round and the eighth-seeded Edmonton Oilers went to the seventh game of the Stanley Cup finals. This season, the NHL's best regular-season teams enjoyed commensurate success in the playoffs. The top two seeds in the West, Anaheim and Detroit, faced off in an entertaining Western Conference finals, while the Presidents' Trophy winners from Buffalo hosted Ottawa, one of the best teams during the second half of the NHL season. The upsets are what drives interest early in the postseason, but having quality teams late in the going provides a better overall product.
They shoot "choking dogs" don't they?
The Ottawa Senators hadn't seen the first puck drop on the playoffs before they were reminded of their reputation as choking playoff dogs. The Senators, led by the postseason's most dynamic forward combination, Dany Heatley, Daniel Alfredsson and Jason Spezza (dynamic at least until the finals), tore up opponents as the Sens rolled to their first Stanley Cup finals with a 12-3 record. Regardless of their disappointing showing versus the Ducks, the Senators have finally escaped their past.
The ugly
There were more than a few ugly incidents during the postseason. There was the Calgary Flames' uncharacteristic meltdown against Detroit in Game 5 of the first round after they'd come back to tie the series at 2. Jamie McLennan particularly distinguished himself with his samurai chop on Johan Franzen. There was Brad May, dispatching nonfighter Kim Johnsson of the Minnesota Wild with an unannounced punch to the face that cost Johnsson the final game of their opening-round series. There was Chris Pronger (see below) and his twin suspensions and Alfredsson's dangerous hit from behind on Buffalo defenseman Henrik Tallinder, all a reminder that this is still a dangerous game.
The bad
We offer a separate category for Anaheim defenseman Pronger for his performance this spring in managing to be suspended twice in successive rounds for dangerous high hits. Pronger's hits on Tomas Holmstrom and Dean McAmmond reinforced the notion, fair or not, that the defenseman is as much a menace as an immense talent. He is fortunate his selfishness didn't cost his team and himself a Stanley Cup.
The famous
All kinds of celebrities and others got a chance to sing the national anthems around the NHL. Some were famous, some were infamous and some should have read the music. Among the list of memorable ones was Stephen Stills' shuddering performance during the Stanley Cup finals. That was followed by Holly Cole's strange mangling of "O Canada" during the next game. When Alanis Morissette sang in Ottawa, all we could think of was "Jagged Little Anthem." Our favorites? The traditionalists, OPP officer Lyndon Slewidge in Ottawa and Karen Newman in Detroit.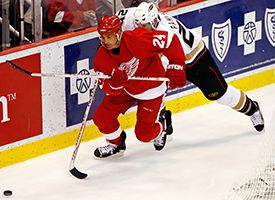 Gregory Shamus/Getty ImagesEven at age 45, Chris Chelios was an effective force for the Red Wings this postseason.
The old men and the Wings
As much as the NHL is a young man's game (see Crosby, Jordan Staal, Ryan Getzlaf et al), it was a treat to watch Chris Chelios, 45, and Dominik Hasek, 42, lead the Red Wings back to the Western Conference finals for the first time since 2002. In the absence of Niklas Kronwall and Mathieu Schneider, Chelios was a rock, while Hasek made Red Wings fans forget about the mess he made of his last go-round in Detroit.
Hockeytown? Try Buffalo
The unbridled enthusiasm of Buffalo fans for their team was heartwarming. To see thousands crowding the areas around the HSBC Arena -- while the game was going on inside -- is the stuff that makes GMs around America drool. As for Detroit, the city that likes to call itself Hockeytown, Detroit, it should be forced to loan that title to Buffalo after failing to sell out a single home date during the playoffs. Guess that's what you get for driving up your playoff ticket prices when the local economy is in the tank.
Sevens
Although only one series this spring went the distance (Vancouver and Dallas squared off in a seven-game first-round tilt), there was only one four-game sweep. That distinction belonged to the Atlanta Thrashers, whose first playoff experience was over in the blink of an eye courtesy of the New York Rangers.
Roberto, where are you?
Vancouver fans were treated to a superlative show by netminder Roberto Luongo in his first playoff experience. No one ever gets a Conn Smythe Trophy on a team that loses in the second round, but Luongo was terrific. He even survived an "equipment" issue that saw him miss the start of overtime in the Canucks' final game against Anaheim. One witty scribe suggested he'd had a Fred Shero moment, getting locked out of the building while having a smoke between periods. But Luongo, as far as we know, doesn't smoke.
Shark bait
For the second season in a row, the highly touted San Jose Sharks, the darlings of many pre-playoff prognosticators (including this one), stubbed their collective skates in the second round of the playoffs. As they did last season in losing four straight games to Edmonton after taking a 2-0 series lead, the Sharks couldn't hold an early series lead against Detroit and lost in six. The series was marked by coach Ron Wilson's not-so-veiled criticism of captain Patrick Marleau. Wilson will be back next season. Will Marleau?
Trade deadline duds
Let's take all the big names that went at the trade deadline -- Bill Guerin, Keith Tkachuk, Alexei Zhitnik, Peter Forsberg, Ryan Smyth, Gary Roberts, Ladislav Nagy, Mattias Norstrom, Todd Bertuzzi and Dainius Zubrus. Only Zubrus and Bertuzzi advanced to a conference final and they were the only ones of this distinguished group to record seven or more points (Bertuzzi had seven; Zubrus eight, but did not score). It's always difficult to question a GM who has the intestinal fortitude to make a big trade, but, in hindsight, it doesn't seem like very much return for the futures that were spent to acquire these big-ticket players.
Scott Burnside is the NHL writer for ESPN.com
Hockey writer for ESPN.com
10 years at Toronto Sun, Windsor Star and National Post
Wrote best-selling true crime book "Deadly Innocence"
SPONSORED HEADLINES
MORE NHL HEADLINES
MOST SENT STORIES ON ESPN.COM
EDITORS' PICKS
Strang: Martin Brodeur has not tarnished his legacy by limping to the finish of his career with the Blues.
Story »

Bright talents Nathan MacKinnon and Flip Forsberg take part in a Central Division showdown.
Strang »

Writers chat: Is your team desperate for change or just missing one piece? We have the answers.
#espnnhllive, 1 p.m. ET »