Five reasons the East can win
Updated:
April 10, 2007, 12:19 PM ET
By
E.J. Hradek
| ESPN The Magazine
When you look at the final regular-season standings, you don't have to be a math major to see that the balance of the league's power resides in the Western Conference. There are seven 100-point teams there. That remains a substantial accomplishment despite the proliferation of three-point games.
If you need more proof, consider this: The final three seeds in the East -- the Rangers, Lightning and Islanders -- didn't garner enough points to have qualified for a spot in the West. The Southeast Division champion Thrashers would have needed an Avalanche victory over the Flames in the season's final game to secure their postseason spot.
But while the West boasts a stronger roster of championship contenders, there are still five good reasons why a fourth straight Eastern Conference team can hoist the Cup in June.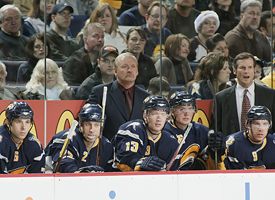 Rick Stewart/Getty ImagesLindy Ruff and the top-seeded Sabres will look to better last season's conference finals appearance.
The team
Is there a more complete club than the Presidents' Trophy-winning Sabres? They finished with a league-best 53 wins and they were the only team to score more than 300 goals (they finished with 308). Lindy Ruff's team has four lines that can score. Thomas Vanek, Chris Drury, Jason Pominville and Daniel Briere each topped the 30-goal mark. On defense, Brian Campbell and Dmitri Kalinin are among a gaggle of smart puck movers who can ignite the club's now-you-see-them-now-you-don't transition game. And, when things get dicey, top goalie Ryan Miller can save the day with a big save. If the Sabres stay healthy, we could see one heck of a party on Chippewa Street.
The goalie
New Jersey's iron man goaltender Martin Brodeur already owns three Cup rings and an Olympic gold medal. There might have been a fear that Brodeur's game would begin to slide at age 34, but he put those fears to rest with the best statistical season of his career. In a league-high 78 games, he won a record 48 games and posted 12 shutouts, a 2.18 goals-against average and a .922 save percentage. With his skill and experience, Brodeur is quite capable of backstopping another championship run. If he's playing well, the playoff-hardened Devils will have a chance to beat anyone.
The kids are all right
Sidney Crosby and his fellow Penguins have been full of surprises this season. Who figured the 19-year-old phenom would be the youngest player to win the scoring title (120 points), helping his team make a 47-point jump in the standings from last season? Dynamic Evgeni Malkin (85 points) and 18-year-old Jordan Staal (29 goals) seemed anything but rookies during their impressive freshman seasons. On the back end, veteran Sergei Gonchar and emerging star Ryan Whitney anchor the club's top two defensive pairs. Goalie Marc-Andre Fleury, the No. 1 overall pick in 2003, put up a career-best 40 wins in 67 games. These highly skilled Pens are having fun at the rink. They could go on a magical playoff run if they get through a tough first-round challenge against the Sens.
The law of averages
After years of playoff disappointment, the talented Senators are due for a trip to the finals, aren't they? In other seasons, they entered the Eastern playoffs as the favorite to win the conference title. They came close in 2003, falling on home ice in a Game 7 showdown with the Devils. Then, they became early playoff fodder. Last spring, the upstart Sabres needed just five games to eliminate the Sens in the second round. Ottawa's top line (LW Dany Heatley, C Jason Spezza and RW Daniel Alfredsson) is among the most dangerous in the game. The Senators have also received nice offensive contributions from midseason acquisition Mike Comrie and two-way pivot Mike Fisher. Ottawa's sturdy D is led by Wade Redden. Goaltender Ray Emery enters this postseason as the club's clear-cut No. 1 stopper after a consistent regular season. If that carries over into the playoffs, the Senators will be well-positioned to grab that elusive Cup.
What about the West?
So, you've read E.J. Hradek's argument for the Eastern Conference, but what about the West? Here is David Amber's five reasons why the Western Conference could end its three-season Cup drought.
• Amber's reasons for West
The Cinderella story
In February, the Rangers looked dead on the ice. They were several points out of the final postseason spot and successive Saturday home-ice losses to the Flyers and Blue Jackets seemed to have sealed their nonplayoff fate. Then, suddenly, Tom Renney's team began to find its way. Star captain Jaromir Jagr stepped up his game. Sophomore goalie Henrik Lundqvist started looking like his gold-medal-winning self. February acquisition Sean Avery and March call-up Ryan Callahan added some much-needed grit and quickly became fan favorites at Madison Square Garden. The Rangers rolled up a 10-2-3 mark in March to move back into the playoff picture and punched their playoff ticket with April wins over the Leafs and Habs. Entering the postseason, there aren't many teams playing better hockey. With a few breaks, the Rangers could have an extended spring run.
E.J. Hradek covers hockey for ESPN The Magazine. E-mail him at ej.hradek@espnmag.com. Also, click here to send E.J. a question for possible use on ESPNEWS.
Senior Writer, ESPN The Magazine
E.J. Hradek is a senior writer at ESPN The Magazine, joining the staff prior to its launch in 1998. He began covering hockey as a writer/editor for Hockey Illustrated in 1989.
SPONSORED HEADLINES
MORE NHL HEADLINES
MOST SENT STORIES ON ESPN.COM
EDITORS' PICKS
LeBrun: We predict who's in and who's out of the playoffs.
Story »

Strang: A dramatic shift in the landscape has left many enforcers being escorted out of the game.
Story »

Burnside: We tell you who will make a roster for the 2016 World Cup.
Predictions »