What's good?
Thanks, as always, for taking the time to click on my column. You didn't have to do it. From the beginning, I have looked at this space as ours and not mine. Some of you are regulars, some of you are part-timers, and maybe some of you are clicking for the very first time. To all of you I say, "Thanks." Thanks for giving me space to create some nonsense and share some ideas. Mostly, thanks for sharing yours.
This weekly contribution is good because you, the readers, are funny, smart, passionate and worthy. That's what gives this space soul. This sounds like something someone would say for his final column or at the end of the year. You know by now that I don't work that way. I like to bring it up right in the smack of the playoffs. And just in case I get run over by a runaway U-Haul this Thursday. So, really, thanks for stopping by every week.
This week's e-mail bag is bursting at close to 3,800 words, so I'll give the editors a break with a quick synopsis on the four remaining series.
Shot of the Week
You know how it works. We present an NHL photo, and Bucci provides a caption. E-mail him your suggestions (include your name and town/state), and we will use the best ones and provide a new photo the following week.
LAST WEEK: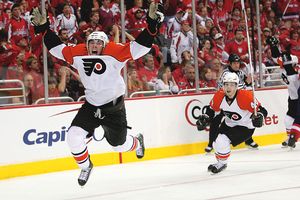 PF Flyers working overtime. (Getty Images)
Your captions:

This is what the Hockey Heisman would look like.
-- Gerry Kubek
"BEEEEEEEEES!"
-- Jim (Pittsburgh)
"Run for your lives! The killer turkeys are coming!"
-- Ruth Katz (Woodmere, N.Y.)
"'Hungry Like The Wolf?' I LOVE this song!"
-- Bryan Way (Newtown Square, Pa.)
"Nooooooo! I don't wanna come in yet! Lalalalalala … I can't hear you!"
-- Robert Hill (Martinsville, Va.)
Warning: The Surgeon General has determined that jumping too hard and too fast may cause your shoulders and torso to supplant your neck. Please celebrate at your own risk.
-- Dave Foley (Fairfield, Conn.)
THIS WEEK: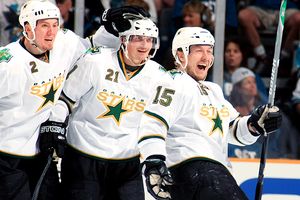 Dancing with the Stars. (Getty Image)
Pittsburgh vs. New York Rangers
So close. The Penguins, with Evgeni Malkin and Sidney Crosby, have the two best skaters in the series. But the Rangers have enough to come home, win two games and make Game 5 gigantic. (If you ever catch me using the contrived word "ginormous," put my head under a seesaw and slam it repeatedly.) The Garden crowd will be off the charts in Game 3 and it will be interesting to see how this Penguins team responds after a loss. They haven't had to do that yet, so I suggest they keep winning. Jaromir Jagr looks healthy, which he needs to be to produce. And he appears motivated to beat the Penguins. The Penguins should be confident. They are 6-0 in the playoffs. They have a great balance of players in terms of age, experience and ability. They played only two players more than 20 minutes in Game 2, while the Rangers played seven players for 20-plus minutes. The Penguins are in control, but the games have been too close to get comfortable. Henrik Lundqvist has been too good. Marc-Andre Fleury's play should not be a surprise. He was playing this well early last year. He will be under attack early in Game 3.
Montreal vs. Philadelphia
Montreal seemed to hit its stride late in Game 3 despite the loss. Derian Hatcher's five-minute major gave the Canadiens the freedom to find their form with no pressure. I expect them to carry that over to Game 4 and give them an excellent chance to win. But, my goodness, does Carey Price's nonchalance drive me batty. Nothing is less appealing to me in an athlete than that. Robinson Cano of the Yankees, former Thrasher and Star Patrik Stefan, and one of my players on the Babe Ruth baseball team I'm managing this spring, just drive me nuts. Just bear down a little. Martin Biron has been outstanding for the Flyers. He and some lucky posts won Game 3. Biron has to be the MVP of the Flyers in this series for Philly to advance. Montreal has more talent, but the Flyers seem to have more collective will. Will we have an all-Pennsylvania conference finals?
Detroit vs. Colorado
Injuries and illness for the Avs and inspired play by the Wings' Johan Franzen have this series on the brink of ending quickly. Colorado should be able to generate more shots at home. The Avs have been outshot 76-41 in the first two games. Chris Osgood hasn't seen a lot of shots, but he looks pretty sharp. The Red Wings' fortune will ride largely on the precarious health of Henrik Zetterberg, and right now he is flying. I expect the Avs to play very well at home in Game 3. I hope the Red Wings really battle because it could be great TV. Detroit has gotten a good draw in terms of matchups so far this postseason and it has taking advantage, winning six of eight. Coach Mike Babcock managed his players' minutes in Game 2. Add in two days of rest, and Detroit's key players will be well-rested for a high-energy first period in Game 3.
San Jose vs. Dallas
Dallas looks like a team of destiny. I was so high on Dallas and Marty Turco in the past that I felt like a jilted lover the past couple of years and doubted them. I've written here multiple times that I always felt Turco was a championship goalie. They added Mike Ribeiro and Brad Richards over the past two years by trading very little, got a serendipitous year from Niklas Hagman, and everything is falling into place. It seems like every other player is either from Finland or Sweden. It's like ABBA meets A-Ha. (Old joke. A-Ha is actually from Norway, but it's a better joke if we just pretend they are from Finland. A-Ha looks Finnish, as far as you know.) Dallas has so many Finns and Swedes that people just assume Matt Niskanen is from Finland or Sweden. He's not. He's from Minnesota. Steve Ott and Brenden Morrow give the other players lots of freedom to move. Never underestimate their value. San Jose is very fast and good and the Sharks could explode, but beating this Dallas team four out of six times seems like a reach right now. San Jose's defensemen have one goal in the postseason, and it's from Doug Murray (who has one career regular season goal in 135 games). Hopefully, the 0-2 scenario brings out a game in Patrick Marleau and Joe Thornton we haven't seen before. That would make this an epic series.
Mother of All Mailbags
Bucci,
A co-worker and I were having a discussion this morning at work. We are stationed at a Marine Reserve unit in western Pennsylvania, which is made up of mostly Penguins fans. I am a Flyers fan hailing from the great city of Philadelphia, and he is from Pittsburgh. We were talking about Jagr and he said that he doesn't like Jagr anymore, and I said that will all change when Jagr is a first-ballot Hall of Famer and his No. 68 is hanging from the rafters of the Pens' new arena. He doesn't think that Jagr will have the number retired; I do. I stated my case, in the fact that he had 439 regular season goals, 640 assists for 1,079 points as a Penguin. Five Art Ross Trophies and two Stanley Cups. To me, this a résumé good enough to have the number retired, as much as it pains me as a Flyers fan. What do you think? Go Flyers!
Rory Clarke
Pennsylvania
Jaromir Jagr should and will have his number retired by the Penguins some day, despite having the worst playoff beard in NHL history. Jags currently looks like he borrowed one of Andy Rooney's eyebrows, then borrowed some of Walt Frazier's Just For Men hair color paint, colored the eyebrow Keith Hernandez brown, and then glued it vertically below his mouth. He looks like a skinny lead singer of a metal band who just had his face stung by a bee and it's now swollen beyond recognition. I still think the Penguins should retire his number in the new arena.

---
Bucci,
Love the column, always an insightful and fun read. Just as fun as the book, "Jonesy." Having lived just north of Philly and bleeding orange and black, I just loved reading it. Jonesy has a great personality, and I love watching Flyers telecasts and the way Jim Jackson, Steve Coates and Keith interact and make fun of each other.
You have some great taste in music as well (I'm really digging Five Finger Death Punch lately), so when you mentioned old mix tapes in your last column I was wondering, what do some of those playlists include?
Jon
Buy your copy, and one for your best friend, of "Jonesy" today! The season is almost over!
Hockey fact: Jaromir Jagr and the Rangers opened their conference semifinal series last week against the Penguins, the team for which Jagr played 11 seasons and scored 439 goals. Only three players in NHL history scored a postseason goal against a team for which they scored at least 400 times during the regular season: Wayne Gretzky, seven against the Oilers; Brett Hull, five against the Blues; Jari Kurri, one against the Oilers.
The cassettes I found in the basement were made in the '80s. Some of the songs included "Magic" by Pilot, "Just Don't Want To Be Lonely" by The Main Ingredient, "Camelot" by Richard Harris, "Reelin' and Rockin'" by Chuck Berry, "Back In Black" by AC/DC, "Let My Love Open The Door" by Pete Townsend, "You Can't Change That" by Ray Parker Jr., "Open Up (Let Me In)" by Matthew Wilder and many more strange combinations. And yes, I do have a CD player in the 2001 Maxima as well. Do they still offer cassette players in new cars today?
Another music note: Some readers might remember the Name The Fake Game game in one of last season's columns. It's a game in which you list 15 college football scores, and three of the schools are actually made-up schools. The beauty of the game is all of the team names are mostly equally absurd-sounding. Well, the inventor, fellow ESPN employee Judson Burch, mentioned to me the other day that he was getting a very nice sound system in his car and needed help deciding the first song he should play in his expensive new getup. After brainstorming a bit, I said, "Well, you could always go with Van Halen's 'Jump.'" Judson replied, "Yes!" I've never seen a man so happy and content. "Of course, it's 'Jump.'"
I then decided to burn Jud a CD titled, "18 Songs For A New Car Stereo." The first three songs: 1. "Jump" by Van Halen. 2. "Smokers Outside The Hospital Door" by Editors (YouTube that song now). and 3. "Intervention" by The Arcade Fire. (Upon further review, this third song should have been replaced by Tool's "Vicarious." And moved to fourth. That's a bad job by me. I now permit Maynard James Keenan to hit me in the temple with a meat tenderizer.) The rest of the songs on the CD are all by Five Finger Death Punch.
Send me your suggestions for what ceremonial first song Jud should play in his expensive new car stereo.
---
John,
When thinking about expanding the league's appeal and its commercial prospects, why can't the NHL realize that hockey is not a North American, south-north sport, but a Northern Hemisphere, cold-weather traditional passion? Why wouldn't the NHL consider European expansion or relocation of some mediocre franchises? I guarantee you that if you put teams in places like Stockholm, Prague, Helsinki, Moscow, Vienna and Berlin, you'd have sold-out buildings, night in, night out, 100 million TV audience, each team with a 10-million-people fan base. Where are you going to find that in North America … Winnipeg, Kansas City, Phoenix? Not likely. It looks as if the ideas of North American expansion have been somewhat exhausted and, as much as we love the game, the market will not grow and will take more pounding from soccer and other sports.
I realize that means difficulties with distance, logistics, game times, etc., but that is something that can be accommodated in the 21st century. You put those teams in one division and make them hit the road in bunches and be visited the same way. The NBA, which has a lesser historical appeal in Europe, has been considering it. Hockey has always been huge there (it's a No. 1 or 2 sport in many of those countries) and I think that this is the only North American league that has a truly international appeal. Moscow Tsars vs. Prague Lions, Stockholm Crowns vs. Helsinki Suomis. Do you think those games would be emotional? Isn't it something to leverage, both in terms of marketing and simply transcending the sport?
Best,
Raf,
New York
I've been trumpeting a similar song in this space since this blogumn began in 2001, although not as intelligently and succinct as you, Raf.
I've been writing over the past decade in terms of cities like Madison, Wis., (metro population: 543,000. A reach. The romantic in me.) and Hartford (metro population: 1.2 million) instead of a southern city like Houston (metro population: 5.6 million). I'll always go for passion over numbers, but we know lawyers and advertising executives won't. Corporate sales and potential television ratings will usually win out, but what helped drive the outdoor game this year? Massive television ratings in greater Pittsburgh and Buffalo. Also, energy costs and costs of playing hockey might make it difficult, in warm-weather climates, to keep hockey growing -- or, in some cases, possible. This is key because the more kids who play hockey, the greater chance they will grow up to become hockey fans and take themselves and their children to games and watch on television. Despite what I think, don't be surprised if you see expansion teams in Las Vegas and Kansas City soon. A $300 million expansion fee would put $10 million per team in the pockets of every NHL owner. Some owners, like Phoenix, desperately need this money. The Coyotes continue to lose money big time their situation needs to get better soon.
In terms of Europe, that has to be on the drawing board at the NHL offices. The issues:
• Cost. What will happen with energy prices in the next 20 years? What will it cost to run a team? What type of currency will these players be paid? Will NHL teams, especially in revenue-challenged areas, be offered a chance to move to a prime European location? And then will the NHL expand? Are we talking one six-team division? Or could you do two five-team divisions if you have two or three teams in Russia?
• Talent levels. With a bigger population in the world and a greater hockey talent pool, I don't think this will be an issue. The advancements in training and programs like USA Hockey's national team development program churns out plenty of hockey talent every year. But, instantly adding five or more teams will create a gap initially. Not that this is a bad thing. Disparity in talent initially will mean more scoring!
But despite all that, figure on expansion in the U.S. within three to five years. It's easy money for the millionaires and billionaires club.
---
John,
It was a great season. It was the first time in a long while that I can remember being this excited about a Capitals team, perhaps the first time since the first year we had Jagr before he went to pot.
I hope we hold onto Sergei Fedorov and Cristobal Huet, mostly Fedorov. I believe that Fedorov brought so much to the table for these guys, and I think he made Alexander Semin a better two-way forward. He also melds nicely with the attack scheme, given that guys like Tom Poti and Mike Green can now drive to the net while Sergei plays D. He was also an invaluable penalty killer. I loved having Huet, but I'm sure he wants to test the waters of free agency and go where the money is. Olaf Kolzig might retire, so goaltending could be an issue for them next year.
All in all, I am proud to be a Caps fan, and it feels good to say that with a straight face again.
Al Stone
I got plenty of e-mails concerning the Capitals after their tough playoff loss. I can't imagine a scenario in which the Capitals don't re-sign Huet. Fedorov has very little left. Don't expect him to be an impact player next year. He turns 39 in December. In 68 games last year, he had 11 goals and 30 assists. He was energized by playing with Alexander Ovechkin, and I suppose you could argue he could be a 60-point second liner, but at his age one can't expect much. I suppose a one-year, $2 million-$3 million deal would be a safe bet. I would not go past one year and I would not go past $2.5 million.
---
John,
Could you pass on a couple of things to your e-mail buddy Andrew Gallagher?
1. Not only does the crowd know who Mike Ridley is, half of them are wearing the classic red, white and blue jerseys with names like Ridley, Iafrate, Langway and Gartner.
2. Nobody in the D.C. area treats an indoor lacrosse game as a place to listen to loud music and have some fun. It is far more serious stuff than that!
Thanks,
Pete Kelly
Vienna, Va.
Hey, Mr. Buccigross,
I'm a hockey fan and ex-player -- I played up to the collegiate level. I grew up in Boston and moved to D.C. when I was 22, and I've been living here now for six-plus years. I attended Game 7 between the Caps and Flyers. This city hasn't caught on. They won't fully support their team until the playoffs come around next year. They won't realize that one of the NHL's best players ever is playing in their own backyard. The hard-core old-school fans from the Dale Hunter days are being drowned out by expensive ticket prices, and come playoff time they get drowned out by urban, chic, non-sports fans who think going to a playoff game and getting a free red towel to wave is cool.
Take care, sir, and thanks for reading my e-mail,
Tim Vafides
Hey Bucci,
I was watching the Caps-Flyers game and couldn't help but notice how different the game was compared to the regular season. I have been watching the Caps for the better part of a decade now, but the series seemed like a pre-lockout game. All of the clutching and grabbing came back without the refs' intervention. I know that the stakes are higher in the playoffs, but what is the point of the new rules if they won't be enforced when they matter most?
Also, why hasn't anyone mentioned Scott Hartnell's miracle cure? He seemed injured late in the game, on the ice in pain, but then the puck came to him and he launched a shot and finished his shift without a problem. That seems like more disrespect to the game than what Sean Avery did.
Thanks,
Ben
Baltimore
As I've written here all year, there is little difference between Scott Hartnell's game and Sean Avery's, and that is why all year I agreed with Avery's contract stance that he deserves a contract similar to Hartnell's (six years, $25.2 million). The two players would produce about the same over 82 games, although Avery is a little better playmaker and I would say a slightly better skater. Their mouths are certainly different, and Avery takes his game to cartoon status on occasion (see human windshield wiper to Marty Brodeur's windshield), which hurts his cause. Hartnell is a pleasant interview, and he comes off grounded and humble. That's where Avery also hurts himself and might end up costing himself money. I'm not saying that is right, nor am I slamming Avery. If he is aloof, bored with the hockey culture and doesn't care what people think, I like his honesty. But it's not hard to be respectful, polite and kind. And those three virtues have endless benefits.
---
Bucci,
Please explain to me why Jeff Carter getting hit in the face by a bottle after the Flyers-Caps game hasn't gotten any news! If a Philly fan had thrown the bottle at a Cap, the ESPN headline would read, "Santa-hating Philadelphian pummels helpless Capital forward," and Philadelphia fans would again be crucified. I know folks wanted to see Ovechkin and Co. move on to play Sidney "I dive like a Mexican soccer player" Crosby, but where's fairness and accuracy in reporting?
Corey,
Washington, D.C.
Right-wing conspiracy.
---
Hi, John,
If the Caps are coming to Winnipeg, put me down for two 15-year season tickets right now. Start stitching up my No. 52 green home and No. 8 Ovechkin road jerseys. For this year's playoffs, it's Go Moose, Go!
Dave
Winnipeg, Man.
---
Hi, John,
Great column and mailbag every week. I'm as addicted to this as I am to "Hockey Night In Canada," although you have the edge for turning me on to Guster. By way of return, might I recommend Stuart McLean's "Vinyl Cafe" and "The R3-30" (both on CBC Radio, and available as podcasts and online) as great places to hear some great Canadian bands?
Finally -- and I've been dying to ask this -- I want to give you an opportunity to give another cool and obscure stat. All I ask is that you help me come up with a name (for a boy and a girl, as we don't know what we're having) for a future Penguins and Belfast Giants fan, due in November.
Keep up the good work.
John Madden
Dublin, Ireland
Sydney Elizabeth Madden
Sidney Patrick Madden
Hockey fact: Home teams were 45-36 in the playoffs last year.
---
John,
If you're in the box and the opposing team scores, is it a minus for you?
Thanks,
Glenn
No.
---
Hey John,
Two quick hits for you.
Brian Campbell recently made comments that were not very positive toward the Sabres organization, an organization that he was near tears upon leaving after being (for lack of a better term) low-balled. Since it seems he won't be making a return to the blue and gold, do you think Colorado D-man John Michael-Liles will be signed by the Sabres?
Also, I have a band for you to check out, although you might have already heard of them: Virginia Coalition. They have some good stuff; I think you may enjoy their collection.
Chris Ostrander
Buffalo, N.Y.
Buffalo picks 13 overall and 29th (from the Campbell trade) in this summer's draft and will most likely choose a defenseman with the first pick. That pick wouldn't be ready for a couple of years. That's where their need is. The Sabres are a nice team, they just could use a gritty guy up front and on the back, I think. Liles doesn't fit that mold. Dare I say, Sean Avery would be a great fit in terms of personality. Do you want him, Buffalo?

---
Hi, Bucci,
Over this season and into the postseason, I've began to notice that Sidney Crosby in particular loves to dive and fake penalties quite often in order to draw a power play. Whether it's jerking his head back or diving when he is simply touched, he continues to do it. This horrible trend seems to be slowly spreading through the league. An example is when against the Flyers, Ovechkin was hit on the foot by R.J. Umberger in Game 3 (I think) and Ovechkin, who normally has phenomenal balance, skated for a full second and then flung himself back and did a complete 360 while jumping into the air, faking as if he was tripped. It was disgraceful to see a player like him do this. And since it seems to have started with Sidney Crosby, do you think it will spread throughout the NHL, and what do you think about players starting to dive and fake fouls? I think refs should start reviewing the debatable calls and seriously penalize those players who are trying to bring this into hockey.
Brian
Newark, Del.
I've been pretty consistent in terms of not legislating diving penalties. NHL referees should be savvy enough and perceptive enough to know the difference between an actual penalty and a blatant sell job. Referees aren't figure-skating judges. If players want to dive, let them dive. They take themselves out of the play only if it's obvious there wasn't enough contact for a penalty. If the players want to pollute their game with diving, that's their problem. After all, they are the players. It's their game. They are the ones who should care most for it. We are spectators. NHL coaches and players trumpet "honoring the game" and "respecting the game," yet they have no problem with someone on his own team acting like an ass. Let's face it, NHL players only care about winning. They don't care about respecting the game or their opponent. Let's get that out in the open right now. I've seen thousands and thousands of hockey games at every level and the only thing players care about from the opening faceoff to the final horn is winning. Very little else.
In terms of the snapping of the head back, you probably can thank Peter Forsberg for that. I think he invented that. But Forsberg, like Crosby, is an outstanding physical puck handler. Those players, and you can add Joe Thornton to that list, get "fouled" more than any other player. You can't blame those guys for once in a while trying to sell an actual foul, although I can never see Joe Thornton even remotely trying to draw a penalty through diving. But I do despise the head-snap move. Scottie Upshall of the Flyers is probably the undisputed champ of that move right now. Crosby also does it more than my liking.
---
John,
First the good news: My aunt got me a bottle of Igor Larionov wine, signed by The Professor himself. It's a 2005 Shiraz. He was always a favorite of mine and provided one of the highlights of my hockey life: The triple-OT winner in 2002. If you've got any Red Wings fans in your circle of friends (or any Panthers fans who saw the few games he played with them), a gift like that makes a great dual threat.
The bad news: When will people get over handshake lines after playoff games?
To me, the handshake line is empty symbolism. Asking these guys to flip a switch and calm down is unreasonable. A few minutes earlier their heart and soul is bared for all to see, they're giving everything, and then they lose and it's gone. Are we really supposed to expect them to be cool with that and shake hands and make nice? It's B.S. Fans, like the one complaining about Brodeur in your recent column, need to get a life. Guys skip each other nearly every series; it doesn't matter. The sun still comes up and life goes on. I'm glad when players who hate each other don't shake. We know they hate each other, and it makes my B.S. alarm go off when they shake.
If hockey is truly the most intense and passionate game around (I'd say it is), then expecting them to flip a switch and cool off in a matter of 80 seconds is dumb. We're all adults here, we all have backbones, so let's stop acting like it matters.
Enjoy the second round!
Kevin Beissel
---
John,
I'm sure you saw the "whiteout" in Pittsburgh on Friday night, as requested by Sidney Crosby. A non-hockey fan watching that game must have wondered whether the crowd was rooting for the hometown Penguins, who were wearing their black sweaters, or the visiting white-clad Rangers. Home whites, people -- it's not that hard. I noticed that there was no whiteout for Game 2, presumably because everyone realized the stupidity of the crowd all wearing the color of the opposing team. The hockey gods must not have noticed, otherwise the Penguins would have lost Game 1 in a karma-related result. Why can't/won't the league get this right?
David Costantino
Denver
The whiteout is without question the best reason to bring back mandatory white uniforms at home. ESPN coordinating producer Michael Shiffman mentioned this to me in the ESPN newsroom one day before your e-mail arrived in my inbox. A Winnipeg whiteout would have been bogus without the crisp whites. Please bring back the home whites, NHL, and sign a 100-year contract with the fans, please.

---
Bucci,
Love reading your column. Just wanted to send you a pic of Buffalo's newest Sabres fan!
Patrick Doyle
Buffalo, N.Y.
Liam Patrick Doyle, born 4-12-08.
Goo Goo Ga Ga Doll.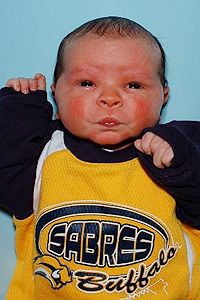 John Buccigross is an anchorman for "SportsCenter" and ESPNEWS. For questions, comments or crosschecks, e-mail him at john.buccigross@espn.com. To check out his new book, "Jonesy: Put Your Head Down & Skate," click here.