Commentary
Who will skate in the blue ice for the Habs?
Habs coach Guy Carbonneau faces a tough decision after a Game 3 loss to Philly -- stick with future star Carey Price or go to untested Jaroslav Halak? Scott Burnside tells us what he learned about the Canadiens netminding after Monday's game.
1. Wouldn't necessarily want to be in Guy Carbonneau's shoes this morning. The head coach of the suddenly floundering Montreal Canadiens has to decide whether to go back to rookie netminder Carey Price in Game 4 on Wednesday night after Price was torched for three goals on six shots in the second period Monday as Philadelphia downed Montreal for the second straight time by a 3-2 count. The Flyers now lead the series 2-1, and Price has allowed 10 goals on 68 shots and simply isn't playing well enough to give the Habs a chance to win. Perhaps more troubling, Price has given up seven even-strength goals and one short-handed goal in a series in which the Habs have owned a huge territorial advantage. The alternative to Price is another rookie, Jaroslav Halak, who got his first taste of NHL playoff action in the third period Monday. He faced two shots. Given that Price is the goalie of the future, expect him back between the pipes, but both his confidence and the confidence of his teammates to get the job done has to be waning.
[+] Enlarge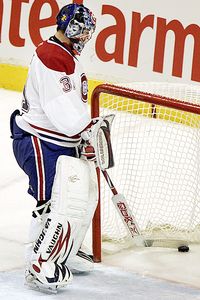 AP Photo/Tom MihalekCarey Price is no Red-Light Racicot, but of late he's seen his fair share of pucks behind him.
2.
Speaking of a goalie conundrum, it looks like
Colorado Avalanche
coach Joel Quenneville is going to stick with the netminder that got his team into the second round. Barring a sudden change of heart,
Jose Theodore
will get the start in a crucial third game in Denver on Tuesday night with the Avs trailing the
Detroit Red Wings
2-0 in the series. Theodore played out of his mind as the Avs upset Minnesota in six games in the first round. But he tried to play through illness in Game 1 against Detroit and was yanked early in the second period after allowing four goals on 16 shots; then he had a little deja vu when he allowed four goals on 20 shots in Game 2 and was gone midway through the second period again.
3.
The health of another player,
Peter Forsberg
, continues to be something of a soap opera in the Detroit-Colorado series; the veteran Swede was unable to go in either of the games against Detroit. Whether he is able to go Tuesday night remains unknown, and his comments to reporters Monday indicated he's a bit testy about the whole thing, especially questions about just how badly he's hurt. Forsberg was a major contributor, with five points in six games. But the will-he-play-or-won't-he dialogue that has dominated the second round has brought the team's focus into question, not to mention who will score with Forsberg out. The Avs were waxed 5-1 in Game 2.
4. When the Dallas Stars and San Jose Sharks meet Tuesday night, it will feature a battle of two big trade-deadline acquisitions who are headed in opposite directions. San Jose defenseman Brian Campbell was the top defenseman on the move in February, and he will be the most sought-after defender when free agency begins July 1. But both Campbell, who had 19 points in 20 regular-season games after the trade, and the Sharks have struggled to replicate their torrid pace during the final weeks of the regular season. They struggled against Calgary in the first round and now face a 2-0 deficit against Dallas, having lost the first two games of the series at home. Meanwhile, Brad Richards, the former Conn Smythe (playoff MVP) winner with Tampa Bay who came to Dallas at the deadline, collected four third-period points in Game 2 to help the upstart Stars erase a 1-0 Sharks' lead. The Stars have won four of five road games this spring, and Richards has nine points in eight games and is plus-4 for the Stars.
5. Want an idea of why the Flyers have been successful against Montreal -- beyond Martin Biron's heroics in the Flyers' goal? Well, look no further than the team concept when it comes to scoring: Seven Flyers have scored 10 times in three games. R.J. Umberger is doing his best Wayne Gretzky imitation with four goals in the series, but the balanced production is a key to the Flyers' early success against the Habs. On Monday night three different players -- Umberger, Scottie Upshall and Mike Richards -- tallied in the 3-2 victory.
Scott Burnside is the NHL writer for ESPN.com.
Hockey writer for ESPN.com
10 years at Toronto Sun, Windsor Star and National Post
Wrote best-selling true crime book "Deadly Innocence"
2008 NHL PLAYOFFS

We're down to the final eight teams as the battle for the Stanley Cup continues. Scott Burnside previews the second round:

EASTERN CONFERENCE
• No. 1 Montreal vs. No. 6 Philadelphia
• No. 2 Pittsburgh vs. No. 5 N.Y. Rangers
WESTERN CONFERENCE
• No. 1 Detroit vs. No. 6 Colorado
• No. 2 San Jose vs. No. 5 Dallas
MORE COVERAGE
• 2008 NHL playoffs index

Reebok Men's St. Louis Blues Jaroslav Halak #41 Navy Alternate Premier Jersey Shop »
MOST SENT STORIES ON ESPN.COM