Commentary
Determination, and a little fate, lead O'Halloran to hockey's grand stage
PITTSBURGH -- Dan O'Halloran isn't given to superstition. Yet the NHL referee wears the No. 13 on his jersey as a nod to the way fate intercedes in all our lives, marking the path between misfortune and happiness, success and failure, life and death.
During the playoffs, we often talk about the sacrifices players make to reach the Stanley Cup finals, and how getting here requires commitment and good fortune. NHL officials are no different: This series between the Pittsburgh Penguins and the Detroit Red Wings represents their ultimate competition. Only the best of the best are chosen to call these games. This is their Stanley Cup as much as it is the players'.
So every day, when O'Halloran steps out of the shower and notes the meandering scar that runs from his stomach around to his back, he is doubly thankful to be here, not just professionally, but at all.
"You wonder about karma sometimes," the 44-year-old O'Halloran told ESPN.com this week. "March 13, 1983, was the day I was shot. So that's why I wear No. 13."
O'Halloran was just shy of his 19th birthday that night. He and close friend and officiating colleague Bob Clifford had just finished refereeing a bantam playoff hockey game in the Windsor, Ontario, suburb of Riverside. The two officials and a couple of friends crossed the border to Detroit for a late meal. They got lost on the way home, and while stopped on a side street, a figure appeared with a rifle and fired a number of shots at the car.
One of the bullets crashed through the hatchback of Clifford's car, went through O'Halloran's lung and came to rest on the floor in the backseat. O'Halloran looked down and saw blood ballooning across his white sweater.
"It didn't hurt; I just lost my breath," O'Halloran said. "I told Bobby I got shot. And then I passed out."
Those next moments would end up marking the difference between life and death for the young referee.
"I can close my eyes and picture myself being in that car," Clifford said from his home in Leamington, Ontario. "I can still close my eyes and still see that guy. Danny was very, very calm and quiet. He said, 'Cliff, you've got to help me. I've just been shot.'"
[+] Enlarge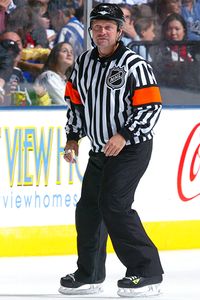 Dave Sandford/Getty ImagesDan O'Halloran is refereeing in his second straight Stanley Cup finals.
Clifford drove to the end of the block on the wrong side of the road, hoping to attract the attention of a passing police car. Within a mile, he found one with two officers. One of the officers jumped into Clifford's car and raced to Detroit Receiving Hospital while the other alerted hospital officials that a gunshot victim was en route.
At some point, someone from the hospital called O'Halloran's parents in the small town of Essex, Ontario, not far from Windsor. When they arrived at the hospital, they were told if they believed in prayer, they should pray for their son.
"Most of the night, I was in surgery," O'Halloran said.
When he woke up, he still had a respirator in his mouth and couldn't talk. So he motioned for a pad of paper and a pen. He wrote, "Fort Lauderdale, I'm still going."
O'Halloran had planned to go to Florida with two high school buddies the following week. He never made the trip, but he got something even better: He got his life back.
Doctors told O'Halloran the bullet missed his spine by three-eighths of an inch. "I only have half a right lung," he said.
Exactly 10 years to the day later, O'Halloran was a full-time referee hoping for his big break and traveled to downtown Detroit to pick up his green card as a permanent resident in the United States. As he headed toward the freeway to return to his home in Brighton, Mich., O'Halloran noticed he wasn't far from where he was shot. He had never been back, but on that day, in broad daylight, he drove there. Returning to the place where he had almost died made the hair stand up on the back of his neck.
"I just had to go back there to refresh my memory," he said. It took him a week to tell his wife, Michelle, he had done it.
---
When O'Halloran was a young boy, his father, Fred, was for many years the convener of minor hockey in Essex. So the old Essex Arena became a second home of sorts during the winter. One day, someone asked if Dan could put on his skates and go out with some novice-aged players, fish the puck out of the net when someone scored and drop the puck ice at center ice.
At the end of it, someone handed O'Halloran $5. "I was like, 'Wow, can I do the next one?'" O'Halloran said.

You have to know the difference between abuse and emotion. Emotion is good for the game. Do we make mistakes? Yes. Do we make more mistakes than the players? No.
-- NHL referee Dan O'Halloran
He went on to referee local and junior hockey before getting a chance to referee in the old International Hockey League, traveling to places like Saginaw, Kalamazoo and Flint, Mich; and Toledo, Ohio. At the time, teams began to affiliate with NHL clubs; O'Halloran came in contact with both NHL officials and the men who hire NHL officials, and he was asked to attend the officials' training camp.
Clifford was one of O'Halloran's big influences. When the two started working Ontario Hockey League games, there was just one referee, and O'Halloran was often the linesman. But that didn't stop O'Halloran from thinking about the game like a referee would.
"You knew every game he was a linesman, he was refereeing it," Clifford said. "He always had that feeling that 'I could do better, I'm going to be better.' He always had that drive."
And on Oct. 14, 1995, O'Halloran officiated his first NHL game.
It was around that time when O'Halloran got the call his family was waiting for. His son, Devin, was born without an enzyme that helps clean the liver. As a result, he developed cirrhosis of the liver as a child, giving his skin and eyes a jaundiced tone. He suffered from constant diarrhea. But finally, the call came after a year of waiting: Devin was ready for a transplant.
The day of the transplant, shortly before Devin's fifth birthday, a healthy, pink flush returned to the boy's cheeks almost instantly. "It was incredible," O'Halloran said.
For a long time after the transplant, Devin's evening prayers included Mom, Dad, his grandparents and the family that sent his new liver.
---
On this morning in Detroit, Devin just returned from an early-morning skate at Joe Louis Arena with his dad and the rest of the officials covering the Stanley Cup finals.
A high school senior, Devin has exams coming up and is planning to study automotive marketing and advertising at a college in Midland, Mich. He has a passion for cars and has a refurbished 1998 Cadillac STS. Because his liver ailments prevent him from drinking alcohol, he jokes that his friends have dubbed him "designated driver for life."
[+] Enlarge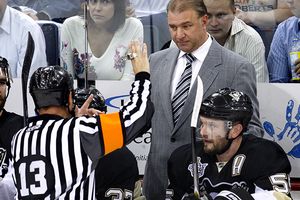 AP Photo/Gene J. PuskarDan O'Halloran has a reputation as a referee who isn't afraid to discuss his calls with coaches.
He has played some hockey and plays on his school's roller hockey team -- activities he was told early on he might not be able to do.
Like his dad, Devin has a regimen of medication that is a daily reminder of his past. The two have talked often of Devin's illness and his father's "accident" -- how fortunate they are and how they have to take advantage of that good fortune.
"You don't use it as a crutch, you use it as motivation," O'Halloran said.
This is the second straight season O'Halloran has been to the Stanley Cup finals. Just like the players, he is mindful these opportunities may not come every year, so he is trying to soak it in and enjoy it. Having Devin skate with him is another chance to share his good fortune, a memory for all time.
At last season's Cup finals, O'Halloran had his family with him in Ottawa. What does it mean to have people who support you, who love you, in a building where you are, at best, treated with indifference and, at worst, with raw hatred?
"Having support from the people you know care no matter what happens makes it that much easier to go out and work," O'Halloran said.
---
Officials find out if they've been selected to work the next round of the playoffs via e-mail from the NHL's head of officiating, Stephen Walkom. Last season, O'Halloran was alone when he found out, and then he phoned his father at his local golf course. By the time Fred was on the back nine, other golfers were coming by to congratulate him.
This season, several hundred people dropped by the greenhouse Judy O'Halloran runs before Game 1 to ask about her son, the Stanley Cup referee.
"They're all rooting for him, just like he's a player," Fred said after Game 1.
Dan O'Halloran has a reputation as a referee who isn't afraid to discuss his calls with coaches. To a point.
In Game 1, he disallowed a Detroit goal and assessed Tomas Holmstrom a goaltender interference penalty. Red Wings coach Mike Babcock was livid. O'Halloran allowed Babcock to speak his mind, thanked him for his opinion and skated away.
"You have to know the difference between abuse and emotion," O'Halloran said. "Emotion is good for the game. It's a game of angles and we only have the one. Do we make mistakes? Yes. Do we make more mistakes than the players? No."
The referee learned early on in his career to block out the distractions, the noise, the catcalls. NHL ice guru Dan Craig was talking to O'Halloran about the heat from the flames that shoot out from the top of the scoreboard in Detroit, and O'Halloran looked at him quizzically. "What flames?" he asked.
But if there's anyone who has perspective on what it means to be on the ice in these Stanley Cup finals, it's O'Halloran.
Clifford recalls O'Halloran reminding him to enjoy his kids and his family while he can.
"That's the way he's lived his life," Clifford said.
Scott Burnside is the NHL writer for ESPN.com.
Hockey writer for ESPN.com
10 years at Toronto Sun, Windsor Star and National Post
Wrote best-selling true crime book "Deadly Innocence"
SPONSORED HEADLINES
MORE NHL HEADLINES
MOST SENT STORIES ON ESPN.COM
STANLEY CUP FINALS -- GAME 3
The Penguins have found life and they can thank Sidney Crosby. The captain scored twice to lead a revived Pittsburgh team to a 3-2 win. Check out our Game 3 coverage:

• Coverage | Recap | Highlight | Conversation
READ
•
Welcome to the finals:
Sidney Crosby's two goals erased the Pens' drought and led them to a win. The also erased any doubt that Sid and Co. belong in these finals.
Burnside
• Game 3's defining moment: What was the defining moment of Wednesday's Game 3? The 7:18 mark of the third period, when the Penguins got secondary scoring from Adam Hall that helped put the team back in the series. Notebook
• Conn Smythe Watch: Who are the front-runners for playoff MVP? Here's how things stand after Game 3 of the Cup finals. Story
• The Crosby File: How did Sidney Crosby fare in his third Cup finals game? Check out our game-by-game report for the Pens' captain. Story
• The Game 3 Suit-Off: The best hockey analyst in the U.S. versus the best hockey analyst in Canada. Mullet vs. buzzcut. It's Melrose versus Cherry in the Cup Finals Suit-Off! Vote
• Hradek's instant analysis: If you're going to have any chance of beating the Wings, you have to attack their defensemen and the Pens did a great job of that in Game 3. Blog
WATCH
•
Crosby interview: "This was a big one"
•
Don Cherry breaks down Pens' Game 3 win
•
NHL Minute: E.J. and Scott's Game 3 analysis
•
Barry Melrose's instant analysis
•
Red Wings, Pens break down Game 3