Commentary
Crosby passes test in first trip to Stanley Cup finals
PITTSBURGH -- For almost two months, Sidney Crosby has trudged to a podium to talk to reporters at least once a day, twice on game days. But after the Pittsburgh Penguins were denied in their last-second bid to tie Game 6, losing 3-2 to the Detroit Red Wings, Crosby remained slumped in his dressing room stall.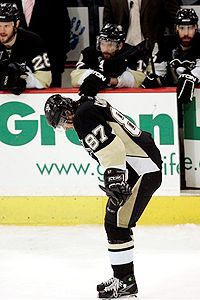 AP Photo/Keith SrakocicSidney Crosby had six points in six games against Detroit in the Stanley Cup finals.
That Crosby had nothing more to give, either on the ice or to reporters, speaks volumes about his performance, not just in his first Stanley Cup finals, but throughout the playoffs.
"I think he's passed virtually every test," former NHL netminder and current national broadcaster Kelly Hrudey told ESPN.com earlier this week. As for the pressure of playing in the finals, "I think he's handled that better than virtually all of his teammates. They were the ones who didn't handle it."
In time, perhaps, Crosby's first Stanley Cup finals will come into greater focus -- the fact that he finished tied for the playoffs scoring lead with Conn Smythe Trophy winner Henrik Zetterberg, both of whom had 27 points, and led a young team to within two wins of a Stanley Cup championship before his 21st birthday.
But, on this night, there was only the painful sting of losing.
"I don't think anybody likes to lose," Crosby said. "Obviously, we've come a long way, but we came here to win. So it's still tough."
In terms of level of play, one could hardly expect anything more from Crosby, whose penchant for producing at the most important times continued throughout the playoffs. In the finals series, where top players like Evgeni Malkin, Jordan Staal and Ryan Malone seemed to buckle under the pressure, Crosby finished with six points in six games. He added another assist Wednesday night on a power-play goal by Malkin. It was Malkin's first point of the series.
He also took a whopper hit on Wednesday from Brad Stuart seconds after he'd fallen and was just getting to his skates. The hit left Crosby hunched over in pain. Still, he was among the most dogged of forecheckers for the rest of the evening and was in on the Penguins' final, desperate bid to tie the game.
"I haven't experienced a Stanley Cup final loss before," Crosby told reporters. "It's not a good feeling."
Hrudey pointed to how Detroit captain Nicklas Lidstrom stepped forward in the Western Conference finals when the Dallas Stars won two straight games to send the series back to Dallas for Game 6. Lidstrom said his job as captain was to make sure his teammates were relaxed and focused enough to do their jobs.
Hrudey added that Pittsburgh didn't seem to have enough of an environment around the team in which they could stay loose during the finals.
"They were uptight," Hrudey said.
Still, Crosby's experience here, not just playing, but also learning from what he saw from the Detroit Red Wings, will serve him well down the road.
Mario Lemieux reached his first Stanley Cup finals, and won, in 1990-91, Super Mario's seventh NHL season.
Wayne Gretzky played in his first finals during his fourth NHL season in 1982-83, when the Oilers lost to the dynastic New York Islanders. Gretzky would lead Edmonton to the promised land the following season.
Crosby reached the final round in just his third season, and he did it after missing 28 games midway through the season with a high-ankle sprain.
One of the urban legends surrounding the 1983 Stanley Cup finals is the story of when the Oilers went by the victorious Islanders dressing room and saw more relief than celebration. The Islanders looked like they'd been through a war and the Oilers hadn't. Gretzky and Co. took that to heart and said, essentially, "That's what we have to do to win."
Will Crosby learn a similar lesson after some time to reflect on this season? Chances are, he'll get another crack at the Cup finals.
Scott Burnside is the NHL writer for ESPN.com.
Hockey writer for ESPN.com
10 years at Toronto Sun, Windsor Star and National Post
Wrote best-selling true crime book "Deadly Innocence"
SIDNEY CROSBY

Sidney Crosby is making his first trip to the Stanley Cup finals. Here's a look back at how the Penguins star got there:

• The Crosby Line | Player page | Stats | Gallery
HERE AND NOW
•
Crosby on Mike and Mike
: Crosby talks about the Pens' turnaround, advice he's received from teammates and how he and Mario Lemieux haven't spoken about the Cup finals.
Listen


• 2008 playoffs: Crosby's first playoff trip was a short one. We tell you what to expect the second time around. Burnside
• The other side of Sid: Crosby is almost always measured in magnification and superlatives, in contracts and endorsements, and most recently, in injury. But how has he been able to balance pucks with life? Burnside
• Analysis: He's a whiner? He needs protection? Not this Kid. Cox
• Analysis: Crosby faced one of his toughest NHL hurdles after suffering a high-ankle sprain in Janury. Scott Burnside chronicled the pros and cons of the situation. Burnside
• Jan. 1, 2008: The Winter Classic had everything the NHL and fans wanted, even a perfect ending from Sidney Crosby. Burnside | Gallery
• Dec. 2007: Life in Western Canada was turned upside down during Crosby's inaugural visit. What did we learn? Well, those comparisons to Wayne Gretzky should stop. Johnson
• Oct. 2007: Crosby brought home a scoring title, MVP award and playoff berth at age 19. Now, we enter Season Three of the show. E.J. Hradek
• May 31, 2007: Crosby becoming a captain will not only change the rules, but it will also help the league bring more fans to the table. Frei
THE SECOND COMING
• Is it fair to compare Crosby and Gretzky? Our experts weigh the past and present to see just how each player stacks up during their respective sophomore seasons.
Launch
• Flashback: Revisiting the Crosby-Gretzky comparisons
• Who has the better shot? Who's got bigger "D"? Scott Burnside ranks the second seasons of Ovechkin and Crosby. Burnside
• Melrose: Who wins Ovie-Sid fight?
THE DEBUT SEASON
•
Nov. 22, 2005:
The first meeting between Sidney Crosby and Alexander Ovechkin exceeded the hype and offered just a glimpse of what was to come.
Burnside
• Oct. 8, 2005: Crosby scored his first career goal (and added two assists), but after Pittsburgh's 7-6 OT loss to Boston, the rookie phenom remained winless in the NHL. Story
• Oct. 5, 2005: Crosby's NHL debut wasn't the stuff of legends, but make no mistake, he played like he belonged. Burnside
• ESPN The Magazine: No rookie in the 2005-06 season received as much hype as Crosby. Eric Adelson told us why there was a clear reason for the hoopla. Story
MOST SENT STORIES ON ESPN.COM