Commentary
Some expect Crosby to elevate NHL in first Cup finals, but is that fair?
Updated:
May 22, 2008, 8:28 PM ET
By
Damien Cox
| Special to ESPN.com
There is a sense that an enormous opportunity is at hand for the National Hockey League with this year's Stanley Cup finals.
Perhaps, just perhaps, it's the most significant chance for the NHL's Great Leap Forward since the New York Rangers snared the Stanley Cup in 1994, an opportunity squandered through a host of problems, including a deadly boring style of game, labor issues, reckless expansion and an inability to cement a major U.S. television presence.
[+] Enlarge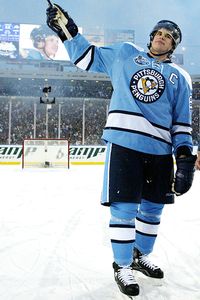 Dave Sandford/Getty ImagesSidney Crosby's Winter Classic shootout winner drew raves even from casual hockey fans.
Fourteen years later, more than a few people are suggesting that what the Rangers and Broadway could not do, Sidney Crosby may be able to accomplish.
Poor kid, just 20 years of age. Labeled the next Wayne Gretzky before he played an NHL game, he's already been asked to save the Pittsburgh Penguins from insolvency and be the flag bearer for the "new NHL" as it emerged from the destructive lockout of 2004-05.
Now, with the Penguins about to face the Detroit Red Wings in a glitzy 2008 Stanley Cup finals filled with marquee names and intriguing story lines, Crosby, as the league's top individual marketing tool, is being asked to deliver a virtuoso performance that will somehow vault the NHL into a new level of success and profitability.
Oh yes, and be a humble, unselfish teammate at the same time while figuring out a way to outfox the Red Wings, merely the NHL's best team this season.
Sounds doable for a 20-year-old, yes?
Just over four months after providing the NHL with a wonderful Kodak moment -- his shootout winner in a snowstorm at the feel-good Winter Classic at Ralph Wilson Stadium in the suburbs of Buffalo -- Crosby arrives at his first Stanley Cup finals as the youngest to captain a team this far and the first NHLer with a national presence in the U.S. and Canada since, well, Gretzky.
Some even suggest that having Crosby in the Cup finals could give the NHL the same enormous boost in popularity the NBA received way back in 1984, when Magic Johnson of the Los Angeles Lakers and Larry Bird of the Boston Celtics met in that league's championship series.
The comparison is, at best, raw.
The Magic-Bird rivalry had actually been born five years earlier when their schools met in the 1979 NCAA title game, and then stretched out to opposite coasts to the powerful media markets of Los Angeles and Boston. In the early 1980s the NBA was, in some ways, almost a niche sport, with an outlaw, drug-infested image it could not shake, and the 1984 NBA Finals were a turning point.
Some credit Bird and Magic. Some credit the ascendancy to power of David Stern, who also became NBA commissioner in 1984. Many suggest the saving grace for the league was the institution of the salary cap, which arrived a year before Stern.
Most agree, however, that the 1984 Finals that went seven games before the Celtics prevailed provided a powerful gravitational force that pulled the rest of the NBA upward. Stern saw the power of promoting the stars and the globalization of the game, franchise values skyrocketed and the NBA entered a golden age.
Asking Crosby to provide an equivalent push over the next two weeks is, well, probably wholly unrealistic.
For starters, he's only one player. Bird and Magic had each other to double the impact. The NHL in 2008, meanwhile, isn't the NBA circa 1984. Then, the NBA was a largely untapped mine that needed organization, discipline and clear vision. Today's NHL has a veteran commissioner, an international presence and 12-18 solid franchises, yet its roots seem to go barely below the surface in the South and Southwest of the United States, salary costs are again on the rise and Detroit (an Original Six team and "Hockeytown" to some) has seen thousands of empty seats in the playoffs.
The NHL today is on more solid footing than the NBA was back then. But the North American sports and sports-media landscapes are infinitely more complex, and too often the NHL has seemed uncertain or aimless, unwilling to rely on the greatness of the game itself and the extraordinary athletes who play it.
Bird and Johnson, meanwhile, played a sport in which their excellence could be celebrated with noteworthy statistical achievements; Crosby labors in a league that, after an explosion of scoring in the first year after the lockout, has slowly gone back to a game in which defense trumps offense.
Indeed, the Penguins, while owning a host of talented attackers like Evgeni Malkin and Marian Hossa, have made it this far by becoming the NHL's best defensive team in the playoffs. Conceivably, Crosby could have a terrific final, provide tour de force moments throughout and end up scoring only two or three goals.
In other words, the ability of any NHL player to stir the imagination is, to some degree, limited by the nature of the modern game itself; the sport is still hidebound by the "Slap Shot" attitudes of those who prefer broken teeth and runnin' the goalie to speed, gorgeous goals and exhibitions of superb skill.
[+] Enlarge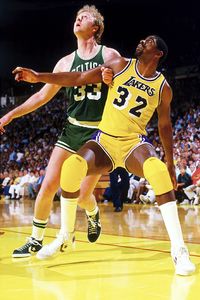 Andrew D. Bernstein/NBAE/Getty ImagesThe rivalry between Larry Bird and Magic Johnson, highlighted by their 1984 finals showdown, helped revive the NBA.
Crosby, meanwhile, plays in Pittsburgh, which doesn't quite pack the punching power of Boston or Los Angeles. The Penguins, because of poor on-ice performance and destructive ownership, were bankrupt and on the edge of moving out of town three years ago before team owner Mario Lemieux bailed out the franchise and helped forge an agreement with casino operators to fund a new hockey arena for the Pens.
Pittsburgh is the 22nd-largest TV market in the U.S., a town in which the football Steelers are king, and the NBA has not bothered to tread there since the days of the Pittsburgh Ironmen more than 60 years ago.
So Crosby's primary launching pad isn't quite equivalent to that of Bird or Magic, although the collaboration with Detroit enhances his potential reach, and Brett Favre surely proved that playing in Green Bay wasn't an impediment to fame.
Meanwhile, this gem of a Cup finals comes at a time when television ratings for the NHL, always strong in Canada but usually minuscule on a national basis in the U.S., have shown some significant upward trends in these playoffs on both NBC and Versus. In fact, only the Canadian Broadcasting Corporation, which carries "Hockey Night in Canada," has shown decreasing ratings so far this spring.
So maybe a few more eyeballs are watching. Some have probably heard about this Crosby kid, and maybe want to see what the fuss is all about, even if they still can't see that dang puck. Back in '84, however, they already knew who Bird and Magic were.
So, is Crosby, described by some as the NHL's franchise player, ready to lead the way?
Bird was 27 and Magic was 24 back in 1984, don't forget, while Crosby is in only his third NHL season. He won the NHL's Hart Trophy as league MVP last season, but this season he struggled with a problematic high-ankle sprain while Malkin led the Penguins offensively for key parts of the season and became a Hart Trophy finalist himself. Even in these playoffs, with both players healthy, Malkin has been the more dominant performer.
Personality-wise, Crosby is more Bird, who while a notorious trash-talker on the court was never perceived that way in public; effervescent Washington sniper Alexander Ovechkin is more Magic. That said, Crosby is also like Gretzky, soft-spoken and reserved, more inclined to shield himself under the umbrella of the team concept than be seen as an individual star courting attention.
Crosby fits nicely within the hockey culture, one in which loudmouth Sean Avery of the Rangers is seen as boorish and self-promoting.
But in 2008, will Ozzie and Harriet manners and throwback decency (Crosby still lives with Lemieux and his family, for goodness sakes!) be enough for the NHL to get what it wants out of this terrific Stanley Cup finals matchup?
Probably not. But if the hockey is good and the series is long and hard-fought, if the Red Wings can shake some of the attention away from the NBA's Pistons, if there is another special Crosby moment like there was on that wintry New Year's Day or in his rookie season when he signaled his arrival with a spectacular shootout goal against the Montreal Canadiens, there is the chance for the NHL to get back to where it thought it was in 1994.
It's extraordinary to consider what someone so young has already delivered to a league, particularly a league that in so many ways has been almost self-destructive over the past 15 years.
Crosby helped save the Penguins. He helped save the NHL from its own greed and stupidity.
Maybe he could be permitted to celebrate his 21st birthday (on Aug. 7, for those of you scoring at home) before being asked to deliver the NHL to the promised land.
Damien Cox, a columnist for The Toronto Star, is a regular contributor to ESPN.com. He is the author of "Brodeur: Beyond The Crease" and "67: The Maple Leafs, Their Sensational Victory, and the End of an Empire."
Damien Cox, a columnist for the Toronto Star, is a regular hockey contributor to ESPN.com. In this role, he writes numerous columns on the NHL.
SPONSORED HEADLINES
MORE NHL HEADLINES
MOST SENT STORIES ON ESPN.COM
SIDNEY CROSBY

Sidney Crosby is making his first trip to the Stanley Cup finals. Here's a look back at how the Penguins star got there:

• The Crosby Line | Player page | Stats | Gallery
HERE AND NOW
•
Crosby on Mike and Mike
: Crosby talks about the Pens' turnaround, advice he's received from teammates and how he and Mario Lemieux haven't spoken about the Cup finals.
Listen


• 2008 playoffs: Crosby's first playoff trip was a short one. We tell you what to expect the second time around. Burnside
• The other side of Sid: Crosby is almost always measured in magnification and superlatives, in contracts and endorsements, and most recently, in injury. But how has he been able to balance pucks with life? Burnside
• Analysis: He's a whiner? He needs protection? Not this Kid. Cox
• Analysis: Crosby faced one of his toughest NHL hurdles after suffering a high-ankle sprain in Janury. Scott Burnside chronicled the pros and cons of the situation. Burnside
• Jan. 1, 2008: The Winter Classic had everything the NHL and fans wanted, even a perfect ending from Sidney Crosby. Burnside | Gallery
• Dec. 2007: Life in Western Canada was turned upside down during Crosby's inaugural visit. What did we learn? Well, those comparisons to Wayne Gretzky should stop. Johnson
• Oct. 2007: Crosby brought home a scoring title, MVP award and playoff berth at age 19. Now, we enter Season Three of the show. E.J. Hradek
• May 31, 2007: Crosby becoming a captain will not only change the rules, but it will also help the league bring more fans to the table. Frei
THE SECOND COMING
• Is it fair to compare Crosby and Gretzky? Our experts weigh the past and present to see just how each player stacks up during their respective sophomore seasons.
Launch
• Flashback: Revisiting the Crosby-Gretzky comparisons
• Who has the better shot? Who's got bigger "D"? Scott Burnside ranks the second seasons of Ovechkin and Crosby. Burnside
• Melrose: Who wins Ovie-Sid fight?
THE DEBUT SEASON
•
Nov. 22, 2005:
The first meeting between Sidney Crosby and Alexander Ovechkin exceeded the hype and offered just a glimpse of what was to come.
Burnside
• Oct. 8, 2005: Crosby scored his first career goal (and added two assists), but after Pittsburgh's 7-6 OT loss to Boston, the rookie phenom remained winless in the NHL. Story
• Oct. 5, 2005: Crosby's NHL debut wasn't the stuff of legends, but make no mistake, he played like he belonged. Burnside
• ESPN The Magazine: No rookie in the 2005-06 season received as much hype as Crosby. Eric Adelson told us why there was a clear reason for the hoopla. Story