Commentary
Defense, solid netminding will keep Cup in Western Conference
Updated:
April 11, 2008, 12:01 AM ET
By
E.J. Hradek
| ESPN The Magazine
If you believe defense wins championships, then you have to figure the eventual Stanley Cup winner will come from the Western Conference.
After all, the league's three best defensive teams all reside in the West, and that very stingy Western trio includes the defending Stanley Cup-champion Ducks.
What about the East?
Yes, the West had the best team during the regular season in Detroit and it has a number of solid Cup contenders. But here are five good reasons to believe the Cup will go to the East this spring.
• Amber: Why East will win
• The Presidents' Trophy-winning Detroit Red Wings, however, were the league's best defensive club, allowing just 184 goals. Coach Mike Babcock has a finely-tuned machine that finished the season with a plus-73 goal differential. That number was nearly double the next best goal-differential number on the circuit. And the Wings' team plus-minus might have been even higher if they hadn't suffered a rash of injuries to their blue line in February.
One of the reasons the Wings don't give up a lot of goals is that they don't give up a lot of shots, either. On average, they surrender just 23.5 shots per game. In fact, if you dig into the stats, you'll find the Red Wings launched 890 more shots than their opponents over the course of the 82-game regular season. If you're not sure, that's a mind-boggling number. How mind-boggling? Well, that's nearly double the next best shot differential. (In case you're wondering, there were just 12 other teams that outshot their opponents on the season.)
The Detroit blue line is led by future Hall of Famer Nicklas Lidstrom, who, at 37, seems a lock to win his sixth Norris Trophy. Despite missing six games due to a knee injury, Lidstrom again led all defensemen with 70 points. His plus-40 also topped all D-men and was second only to the plus-41 mark recorded by teammate Pavel Datsyuk. When he's patrolling the ice from his left-side spot, opponents don't get much done on their right wing.
The club's defensive unit also includes talented puck-mover Brian Rafalski (a two-time Cup winner in New Jersey). Aside from providing terrific defense, Lidstrom and Rafalski were third and fourth, respectively, on the club's scoring list. The active defensive duo is particularly dangerous working the Wings' power play from the blue line. At even strength, they do a terrific job jump-starting the club's puck-possession attack.
[+] Enlarge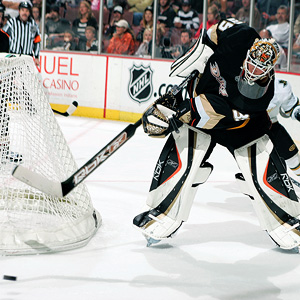 Debora Robinson/NHLI via Getty ImagesJean-Sebastien Giguere and backup Jonas Hiller combined for the league's second-best team save percentage (91.97 percent) this season.
• While the Wings have two All-Star defenders, the Ducks might have four, depending on what you think about Mathieu Schneider and Francois Beauchemin. (In my best Larry David voice, I think they're pret-ty, pret-ty good.) On the same blue line, the defending champs again have all-time great Scott Niedermayer and future Hall of Famer Chris Pronger. Is there anything else I need to say?
When you play the Ducks, their defense makes it near impossible to sustain a forecheck. If you can't do that, you aren't going to get too many scoring chances. In the second half of the season, with Niedermayer back from his semi-retirement, the Ducks allowed the fewest goals in the league.
Of course, when you do get a scoring chance, you still have to beat goalie Jean-Sebastien Giguere. Now, he's not the most artistic goaltender of his generation, but he gets the job done with his puck-blocking style. Despite a Cup and Conn Smythe Trophy, this guy is probably underrated. With Giguere and rookie backup Jonas Hiller working the crease, the Ducks had the league's second-best team save percentage (91.97 percent).
• Another terrific goaltender, Evgeni Nabokov, backstops the Sharks, who are the league's third-best defensive unit. Nabokov played a career-high 77 games for San Jose and recorded a personal-best 46 wins. The Russian-born stopper works behind a team that doesn't allow too many shots. On average, the Sharks gave up 24.2 shots per game during the regular season. The Wings were the only team to allow fewer on a per-game basis.
Like Anaheim, San Jose seemed to pick up its play down the stretch. The Sharks put together an 18-0-2 run that started in late February and stretched into early April. The addition of puck-moving defender Brian Campbell from Buffalo at the trade deadline seemed to ignite Ron Wilson's team.
• The West isn't just three monster teams, though.
The other Western Conference playoff clubs (Minnesota, Dallas, Colorado, Calgary and Nashville), while a step behind the big three, all boast strong to excellent goaltending and solid team defense. If one of these fab five can advance through the conference, they'll be extremely difficult to beat in the Stanley Cup finals.
While there are a lot of good story lines in the East, I expect the Stanley Cup again will reside in the West.
E.J. Hradek covers hockey for ESPN The Magazine. E-mail him at ej.hradek@espnmag.com. Also, click here to send E.J. a question for possible use on ESPNEWS.
Senior Writer, ESPN The Magazine
E.J. Hradek is a senior writer at ESPN The Magazine, joining the staff prior to its launch in 1998. He began covering hockey as a writer/editor for Hockey Illustrated in 1989.
SPONSORED HEADLINES
MORE NHL HEADLINES
MOST SENT STORIES ON ESPN.COM
2008 NHL PLAYOFFS

After a wild race to the finish, the NHL playoffs are set. Heading into Wednesday's opening night, Scott Burnside previews the first round:

EASTERN CONFERENCE
• No. 1 Montreal vs. No. 8 Boston
• No. 2 Pittsburgh vs. No. 7 Ottawa
• No. 3 Washington vs. No. 6 Philadelphia
• No. 4 New Jersey vs. No. 5 New York Rangers
WESTERN CONFERENCE
• No. 1 Detroit vs. No. 8 Nashville
• No. 2 San Jose vs. No. 7 Calgary
• No. 3 Minnesota vs. No. 6 Colorado
• No. 4 Anaheim vs. No. 5 Dallas
MORE COVERAGE
• 2008 NHL Playoffs index
• Burnside: Top stories from 2007-08

SPORTSNATION
• Vote: What are your first-round picks?