Goalies? Special teams? Beer? Our experts have the answers
Updated:
May 24, 2008, 7:25 PM ET
ESPN.com
With the Cup finals set to get under way on Saturday, our experts took some time to ponder what lies ahead. ESPN.com's Scott Burnside, ESPN The Magazine's E.J. Hradek and ESPN analyst Barry Melrose answer these 10 burning questions:
[+] Enlarge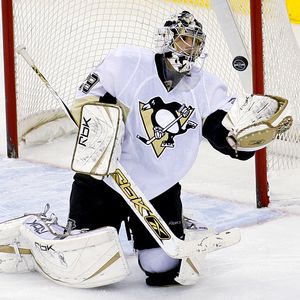 Jeff Zelvansky/Icon SMIMarc-Andre Fleury leads the postseason with a .938 save percentage.
1. Which goaltender wins the battle in net, Detroit's Chris Osgood or Pittsburgh's Marc-Andre Fleury?
Burnside: Marc-Andre Fleury, because he's so happy. Of course he's happy because he's on a roll of rolls. The kid has no kitchen, so it really doesn't matter what Tomas Holmstrom does; he's not going to get into Fleury's mental space.
Hradek: They've both been terrific. I think they'll both continue that trend. I'll give a slight edge to Osgood because of his Cup finals experience.
Melrose: Osgood, because of the way he's been playing and because I think his experience will pay off. He's won two Stanley Cups. He's been through a lot this season, so he's a pretty motivated cat.
2. OK, time again for the Conn Smythe Trophy question. After three rounds, who's your front-runner for playoff MVP?
Burnside: I'm projecting here, but I say, at the end of the day, Sidney Crosby does enough to establish himself as the Conn Smythe winner.
Hradek: If I have to pick just one guy, I'll take silky-smooth Wings defenseman Nicklas Lidstrom.
Melrose: Wings forward Henrik Zetterberg. I think he's been great. He's gotten big goals at key times and he's solid on special teams.
3. Whom do you credit more for the Penguins getting to their first Cup finals since 1992, current GM Ray Shero or former GM Craig Patrick?
Burnside: Well, not to waffle, but there are Craig Patrick's fingerprints all over this team. Still, Shero has put the finishing touches on a very good, very young Penguins team, including bringing in key playoff contributors Hal Gill, Pascal Dupuis and Marian Hossa. And then there's super backup Ty Conklin, who likely saved the Penguins' season when Fleury was hurt.
Hradek:Ray Shero. He has guided the Pens with a patient, steady hand, and he made a bold move to deal for Hossa at the trade deadline. That's worked out pretty good, eh?
Melrose: You have to look at Patrick, because most of the players, except for the ones brought in at the trade deadline, were Patrick guys. This is a hard one because Shero's done a great job, as well. How about both?
4. Which team has the better overall team defense, Detroit or Pittsburgh?
Burnside: OK, the Wings have better defensemen, but that's not the same as team defense. And I think the Penguins' ability to roll four lines for long periods of time makes them, overall, a better defensive club. Plus, they have a slight edge in goaltending, which goes to team defense, too.
Hradek: It's a closer call than you might think, but I'll take the Wings. During the season, they allowed the fewest shots and goals against. That says something about them, right?
Melrose: Detroit. The Wings have Nicklas Lidstrom and Brian Rafalski, who have both won Cups. Then you add Brad Stuart and Niklas Kronwall and that's a pretty great group. Pittsburgh is excellent, but not as experienced.
[+] Enlarge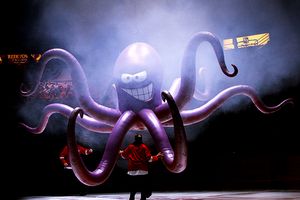 Gregory Shamus/Getty ImagesGame 7, game tied going into the third, Al the Octopus ... watch out.
5. Which team wins the special-teams battle, Detroit or Pittsburgh?
Burnside: I alluded to it above, but the Pens are one of the least-penalized teams per game in the playoffs and their penalty killing has been sensational, giving up just seven goals in 14 games. And on the other side of the puck, Pittsburgh can ice two potent power-play units that can put you away. The Wings, while boasting greater talent along the blue line and comparable talent on their first unit, don't have the depth in terms of their special teams.
Hradek: I think this is a wash. The Penguins have been bitten by the short-handed goal from time to time. As a penalty killer, Zetterberg could be a difference-maker in those situations.
Melrose: I say Pittsburgh. The Pens' power play is awesome. All of that firepower and sheer talent, it's unbelievable. You also have to credit how well they make adjustments on the fly. The Pens have been scouted and so have the Wings. It's the adjustments you make on the ice and the abundance of talent that give you more options.
6. What is the more likely stat line for Sidney Crosby, five assists or five goals?
Burnside: Well, Crosby does lead the playoffs in assists with 17, but I think you'll see him shoot a bit more with the stakes as high as they are. I'm going with five goals.
Hradek: Five assists. At this point of his young career, I see him as more of a playmaker than a goal scorer. He makes everyone around him better.
Melrose: Five assists. It will always be more assists. That will be his game for the rest of his life. He'll score, and could score more if he focused on that. But you'll always see him setting up the play.
7. Who are the better Pittsburgh/Pennsylvania (Charles Bronson, Rush Limbaugh or Demi Moore) and Detroit/Michigan (Jimmy Hoffa, Madonna or James Lipton) natives?
Burnside: I didn't know Demi Moore was from Pittsburgh. What was that "dancer" movie she was in? What was the question again? And for all we know, Jimmy Hoffa is still in Detroit.
Hradek: Hey, I'm a guy. I'll take Demi Moore (loved her in the '80s classic "About Last Night") and Madonna (not so great in '90s flick "Dick Tracy").
Melrose: In Pittsburgh, I have to go Bronson. All of the "Death Wish" movies and "The Great Escape," he's my kind of guy. In Detroit, it's Hoffa, are you kidding?! Everyone knows where he's buried, it's trademarked, he is Detroit!
8. If you had to start a team from scratch today, which player would you choose to build that team around -- Crosby, Malkin, Zetterberg or Datsyuk?
Burnside: Once again with the waffle, but both Crosby and Zetterberg have all the tools and both are charismatic, dynamic personalities who transcend their considerable on-ice skills.
Hradek:Crosby. At age 20, he's a complete player who's all about winning. What else is there to say?
Melrose: That's a tough call, I love all of them. But if I have to choose, I'll say Crosby. Evgeni Malkin may be the most talented, Zetterberg and Pavel Datsyuk have so much skill, but Crosby is the more complete player.
9. What's better to throw on the ice -- octopi or a case of Iron City Lager (please don't try this at home!)?
Burnside: Symbolically, the octopus, naturally, but it's pretty messy, and as long as the Iron City was in those metal bottles, it wouldn't make as big a mess. And if it was Iron City Light, it might even be good for you.
Hradek: The fans that I know would never throw away their beer.
Melrose: I guarantee you, no one would throw beer, they'd drink it. Maybe they'd throw away the empties. Is this a trick question?!
10. We're asking you to dream again. What's the one dream scenario you would want to see in the Stanley Cup finals?
Burnside: Fleury stops Datsyuk and Zetterberg on a 2-on-1 late in regulation in Game 7 (hey, we've all got deadlines), Hal Gill picks up the rebound and finds Tyler Kennedy at center, who dishes to Max Talbot coming in off the right side, who snaps one under the crossbar. Then that great big octopus comes down from the ceiling at The Joe and the Penguins players hack it to bits with their sticks. I think I'll stop now.
Hradek: The Pens open the roof of the Mellon Arena for Game 3 and we have our first "Spring Classic."
Melrose: Game 7, going into third period with the score tied at 3. That's what I want -- to see two great teams and their star players and how they step up in that situation.
SPONSORED HEADLINES
MORE NHL HEADLINES
MOST SENT STORIES ON ESPN.COM
STANLEY CUP FINALS

The Red Wings and Penguins are set to face off in the 2008 Stanley Cup finals. We give you all you need to know heading into the series:

• Coverage | Series preview | Picks | Your take?
READ
•
Faceoff at the Cup finals:
Our resident hockey gurus are back and there's only one topic on their minds -- the finals. And they are on opposite sides of the fence as to who will win it all.
Story
• 10 Burning Questions: With the Cup finals set to get under way on Saturday, our experts took some time to ponder what lies ahead. Story
• Burnside's Cup finals primer: There has been plenty of talk heading into Saturday's Wings-Penguins opener. Here's all the news you need heading into Game 1. Story
• NHL's Dynamic Duos: Butch and Sundance. Penn and Teller. Just a few famous duos. And the finals are giving us a few more. We look at 10 great 1-2 punches, past and present. Frei
• Malone mirrors native Pittsburgh: After spending years trying to prove he belonged in the NHL, Ryan Malone's validation comes in a trip to the finals. Burnside
WATCH
•
Melrose and Levy preview Game 1
•
PTI: Five Good Minutes with Barry Melrose
•
Hradek: My three keys to the Cup finals
•
Hradek: Marc-Andre Fleury vs. Chris Osgood
LISTEN
•
No experience? Crosby says he's ready
•
Messier's take on Sid and the Cup
•
Tune in: ESPN 1250 in Pittsburgh