Nolan, Roenick look for fresh starts in Phoenix
PHOENIX -- In some ways, the story of the new NHL is a story of redemption.
Redemption for a league on the brink, redemption for players who returned to the league hoping to salvage their careers and reputations.
A TEAM CAN DREAM
Last season, not many could have predicted that Carolina and Edmonton would have faced off in the Stanley Cup finals. So, it got us to thinking -- who is this season's surprise story? ESPN.com is picking the Phoenix Coyotes and Scott Burnside will chronicle the team's travels throughout the season. In Part I, we begin with the predictions.

• Coyotes could be hockey's next miracle

• Nolan, Roenick look for fresh start in desert
In Phoenix, there are two such stories for players who have come to this point in their careers from different directions.
How the stories of Jeremy Roenick and Owen Nolan play out in the final analysis will say as much about the fortunes of the revitalized Coyotes as it will about the character and drive each player possesses.
Jeremy Roenick

After he'd decided that he'd made a mockery of his own legacy, that he was too worried about what television show to do and what bar to visit rather than about the game, Jeremy Roenick went all Groundhog Day.
"It'd be Tuesday, but I couldn't wait for Sunday [my day off]," Roenick said.
So, Roenick dragged himself out of bed at 5 a.m. six days a week and headed to the gym, deciding that if he was going to go out, he would go out standing, not curled in the fetal position. Every morning he stopped at the local Starbucks and joked that he was like Bill Murray in "Groundhog Day," but that he was going to find that groundhog and kick its butt.
It was the sacrifice he promised he'd make in return for one last chance to see if he still had it after a precipitous fall from a player who had 30 goals and 76 points as recently as 2000-01 to a shell of a player with just nine goals in 58 games last season in Los Angeles.
"A lot of it was my fault," Roenick said.
Mostly, it was a lack of dedication. Roenick admitted he was focused on extracurricular activities, interviews, stories, bars, being a celebrity.
"I had to decide whether it was over," he said. "I had to decide whether it was worth it to put in the work."
He spent the first part of the summer examining his life and his career and decided he owed both one more shot. He was especially self-conscious that his final memories might be the embarrassment of making $5 million last year in Los Angeles, "and giving nothing in return."
"This summer, I put in the work," he said.
He said he also stayed away from booze for 2½ months, "and that helped me take off the weight."
Although he initially lobbied for a shot with a Canadian team (likely Calgary, where old Chicago coach Darryl Sutter is in charge), Roenick eventually ended up back in Phoenix, where he'd been one of the franchise's most popular players.
If the fit made sense for Roenick, the Coyotes, having been burned with last season's sudden, early departure of an out-of-shape Brett Hull, did more than their due diligence on Roenick.
Roenick, who thought seriously in January about retiring, underwent a full day of medical testing with the Coyotes' staff in Phoenix. He dropped more than 12 pounds from last season and his body fat was at 9.8 percent. By the time Roenick arrived at camp in September, he was at 198 pounds, a full 20 pounds under his playing weight of last season with 8.0 percent body fat.
"It's a tribute to him that he's not pointing the finger anywhere else [for last season]," GM Mike Barnett said.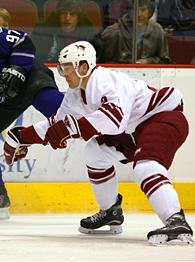 Rick Scuteri-US PRESSWIRE Jeremy Roenick reported to camp about 20 pounds lighter than last season.
Shortly after Roenick signed, assistant coach Barry Smith sat down with him and asked what was going to happen if they had to use him on the fourth line, whether he was going to pout and be a troublemaker. Roenick told him he'd be fine with that decision.
"But I told him, 'I'm not going to let you put me on the fourth line,'" Roenick said. "He asked why, and I said, 'I'm going to play too good for you to put me on the fourth line.'"
Talk, of course, is cheap. And no one knows this more than Roenick, one of the most loquacious of all hockey players.
There were plenty of good-natured jokes about Roenick's butt and how it hadn't looked that skinny since he was a rising star in Chicago 18 years ago. But there was admiration for the jump in his step on the ice, his determination and his swagger.
"He's as talented at high speed as anyone in the game," said linemate Shane Doan, who played with Roenick during the veteran's first go-round in Phoenix.
There is talk that the man who once suggested during the lockout that fans could "kiss my ass" can be this season's Teemu Selanne, a player who was given up for dead before rebounding and providing Anaheim with 90 points and much-needed dressing room leadership.
"J.R.'s brought an enthusiasm and an energy to the hockey club that we're all pretty excited about," coach Wayne Gretzky said. "We all feel he's going to have a really strong year."
The returns on Roenick will be known fairly quickly. He's in as good a shape as he's going to get and playing on the top line with Doan and Mike Comrie and he will get him lots of power-play time, so there shouldn't be issues about ice time and opportunity. If he produces, the Coyotes figure to be in the playoff mix from the get-go. If not, hard decisions will follow for all concerned.
"If I fail, then I know where I'm at in my career then," Roenick said.
Owen Nolan

Owen Nolan, the second of the redemption twins, is a different case altogether.
The former first overall pick in 1990 hasn't played since late in the 2003-04 season, his career put into limbo by the lockout and a nagging knee injury.
The medical issues also brought with them a nasty fight with his former employers in Toronto over the diagnosis and care prescribed. The two recently reached a settlement, which is believed to have gone in Nolan's favor.
"Frustrating, very frustrating," Nolan said of the process that saw him undergo twin knee surgeries. "It's tough to put into words."
No one is ever going to mistake the sometimes prickly Nolan for Mr. Chuckles. But Barnett was Nolan's agent before moving into management. Barnett knows exactly what he's getting and is pleased.
"He is what he is. He's not going to waste a lot of time on pleasantries," Barnett acknowledged. "But there's a lot of trust there."
On both sides of the fence.
Nolan almost came back at the trade deadline last season (sources said Nolan's old team, the Sharks, were in hot pursuit), but he wasn't quite 100 percent and rather than risk not getting it right, he stepped back. It was a difficult decision for Nolan, who said he didn't want to risk having a team invest in him if he wasn't going to be able to deliver the goods, not after waiting so long to prove that he still belonged.
The waiting lasted through most of the summer, while Nolan hunted and fished and looked after his 3-year-old daughter, until the Coyotes took a long, hard look.
Nolan initially came to Phoenix for 48 hours of testing, an MRI and an hour of on-ice workouts with director of player personnel Tom Kurvers. The next morning, Coyotes doctors were examining Nolan's knee to see how it had withstood the testing. Two weeks later, Barnett was in San Jose watching Nolan work out with his on-ice trainer twice in a 12-hour period.
Barnett and Gretzky were satisfied and signed Nolan to a one-year deal. He responded by arriving at camp at a lean 204 pounds and 9.8 percent body fat.
Still, no one quite knows what to expect. At his peak, Nolan was a force. Nasty, talented. He admitted he watched last season with great interest, how the game opened up, what was allowed and how the game had passed some players by.
"I've always felt I was a pretty strong skater," Nolan said.
So he never believed that he wouldn't be able to fit in. But two years is a long time away, and so the days leading up to the start of training camp were unsettling.
"I don't know if it's nervousness or anxiousness," he said.
Maybe a bit of both. Gretzky said the Coyotes expect big things from Roenick and Nolan, although perhaps at different times. Roenick is expected to produce off the hop.
"We're not going to race Owen," Gretzky said. "As I said to him, I'm not panicked about it. We're not going to race you in there after 20 games and expect you to have 15 goals. But as time goes on here, we're going to expect more and more out of Owen. He's a younger guy, he's only 34 years old. I expect Owen to have a really good year. I really do. Especially the last 40 games to be really strong for us."
Someone better tell that part of not rushing into things to Nolan.
"Personally, I've set some high goals for myself and I don't want to ease in," Nolan said. "I want to get back as quickly as I can to the way I can play."
As for the situation in Phoenix, Nolan said he couldn't be more delighted.
"Solid, solid defense that can move the puck," he said. "And I like the fact that everybody thinks that we have no chance."
It is the same regard observers have for both Nolan and Roenick. Both come to the desert with question marks, baggage, much to prove.
They also come at a fraction of the money they are used to collecting for playing the game at the highest levels. They come seeking the same thing.
"This isn't about the money for them," Barnett said. "This is about trying to win a Cup at this stage of their careers. This is about two guys with warrior attitudes trying to get something done."
Scott Burnside is the NHL writer for ESPN.com.
Hockey writer for ESPN.com
10 years at Toronto Sun, Windsor Star and National Post
Wrote best-selling true crime book "Deadly Innocence"
EDITORS' PICKS
Jones: Why I turned on the Leafs.
The Mag »

Friday Five: Holdouts, injuries and fights. Hockey season is here!
Strang »

McDonald: Former Bruins foil Simon Gagne is in Boston looking to reignite his career.
Story »