Who's The Winner?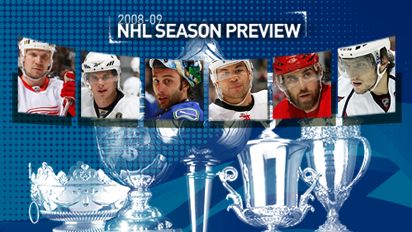 ESPN.com Illustration
Will Alex Ovechkin repeat as MVP? Most of our experts say no.
It wouldn't be a new season without some predictions. Our experts weigh in on their Cup winners and who will take home the major awards, including a tight MVP race.
Picks
|
Chat wrap: Hradek
Must Read
Burnside & LeBrun's Team Previews
Blogs

E.J. HRADEK
My farewell to ESPN
Updated: 5/13/11

PIERRE LEBRUN
Patrice Bergeron looks to turn page on bad end to last season
Updated: 9/16/10
Fantasy

The Rangers, Lightning, Pens and Sens all open the season early, but it's the Rangers who have the best schedule of the bunch.
Forecaster: Week 1
•
You can still sign up ... for free!
|
Draft Kit
ESPN The Magazine
Regime Change
Huh? What Beltway incompetence? With Alexander Ovechkin in charge, the Capitals are ready to put the hockey world on notice: The puck drops here in D.C.
Eric Adelson | Team capsules
SportsNation

All 30 NHL teams have a fresh start, but only one will lift Lord Stanley in June. Will it be a team from the Atlantic Division? How will those five clubs fare in 2008-09? Vote and be heard!
Vote: Atlantic Division
Division-by-division poll pages:

Atlantic
|
Northeast
|
Southeast

Central
|
Northwest
|
Pacific