Preds' only pledge is to stay young
The Predators hope their young roster pays off after paying out to a refund to season-ticket holders.
Updated:
August 7, 2003, 12:38 PM ET
By
Tom Wheatley
| Special to ESPN.com
Those Nashville cats survived the playoff pledge. Now the Predators just have to figure out how to survive the startup and shutdown of the regular season.
Last year, in a widely and wildly misunderstood marketing ploy, the Predators pledged to make the playoffs ... or refund the amount of the first season-ticket hike in club history.
2002-03 BY THE NUMBERS
Record: 27-35-13-7, 74 pts. (24th overall, 13th West, 4th Central); Home: 18-17-5-1; Road: 9-18-8-6
Goals for/Avg.:
183/2.23 (28th overall)
Goals against/Avg.:
206/2.51 (9th overall)
Differential:
Minus-23 (20th overall)
Power play:
13.9 percent (58-418, 26th overall)
Penalty kill:
82.7 percent (292-353, T17th overall)
20-goal scorers: Andreas Johansson (20)
50-point scorers: None
The idea was to pump up ticket sales twice -- on the front side, with fans renewing to see a playoff team or the refund; on the back side, where fans with a refund coming would just say "let it ride'' as a down payment on this season's tickets.
The problem came on the front side and back side of the season.
In the first two weeks, the Preds lost their two veteran leaders to injury -- alternated captain Scott Walker and captain Greg Johnson. They bungeed through the first 20 games on a 2-10-4-4 free fall.
That's when the out-of-town hysteria built about coach Barry Trotz, one of the best in the business. GM David Poile had no pressure to make the Trotzie like Trotsky and banish him from the empire.
And rightly so. The club moved injury-prone goalie Mike Dunham to the Rangers, turned the nets over to Tomas Vokoun and went on a 25-12-7-1 run through the meat of the schedule.
The Preds were within a sniff of the eighth and final playoff spot on March 1 after beating Chicago 5-4 in overtime. That rouser pushed Trotzie past ex-Lightning coach Terry Crisp, now the Preds' TV analyst, for the most games coached from the start of an expansion team.
Vokoun turned into a top 10 goalie. That's something Central Division rival St. Louis and Western Conference behemoths Colorado and Vancouver would love to have.
But the paper-thin lineup couldn't cover for a hip injury to Andreas Johansson. The final 15 games were an 0-13-2-0 debacle. That made for a final record of 27-35-13-7 and 74 points, 13th out of 15 in the West. And 18 points out of the playoffs.
In Nashville, they're calling that the "Oreo" season -- a tasty middle sandwiched between two hard crusts.
So now what?
The club still has no money. Attendance flattened at 13,000 per game. Last year, the Preds started with a payroll of $25 million, then pruned nearly $3 million off when Dunham left.
Only Minnesota was thriftier at $20 mil. But an NHL source said the Wild ponied up nearly $4 mil in performance and playoff bonuses, leaving the Preds last -- or first, depending on your spending philosophy -- in salary structure.
At least no playoff pledge is gumming up the publicity works. But as usual, Poile is sticking the build-with-youth plan to Trotzie's shoes. Unlike the rest of us, the Preds are getting younger by the minute.
A year ago, the club had shed popular forward linchpins like Cliff Ronning and Tom Fitzgerald. Kids like David Legwand, Scott Hartnell and rookie Adam Hall stepped up and grew up.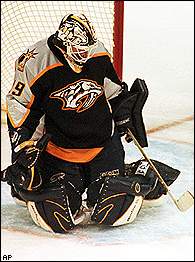 Tomas Vokoun will need to come up big for the Predators.
A year later, the kids are older. Funny how that worked out. But the forward lines are even younger. Funny how that worked out, too.
Gone are Brent Gilchrist, Denis Pederson, Reid Simpson, Todd Warriner, Clarke Wilm and Vitali Yachmenev. How can they all get dumped? Because that sextet scored an unsexy total of 15 goals in Nashville.
The kids can't do any worse than that. And at least they have a future. In the case of Scotty Upshall and Jordin Tootoo, it's a lot of future. The two lads may not make the varsity out of training camp, but Tootoo in particular may be the face and the personality this franchise has lacked. The effervescent Inuit winger is drawing international media coverage already.
Goals are hard to come by in Music City. Johansson led the way with 20 of the team's 183 goals, which ranked the Preds dead last in the West. Legwand led the team with 48 points, 13 behind the next-lowest team leader, Ryan Smyth of Edmonton.
But with better health to key players, that could change. Seriously. Besides, with Trotz's defensive schemes in front of Vokoun, the Preds can do some damage with a two-goal deluge.
The first unit could be Legwand between Johansson and Walker. Johnson could center emerging wingers Hartnell and Hall. To please Pat Sajak, Trotzie could reunite the Vowel Line of Denis Arkhipov between Martin Erat and Vlad Orszagh.
The fourth line could center on handyman Rem Murray, a nice pickup from the Rangers in the Dunham trade. His cohorts could be some combo of Upshall, Tootoo and ruffian Jim McKenzie, recently signed to keep rival bullies away from the kids.
If the forwards stay healthy and Vokoun stays stingy, the Preds would be a popular pick to be this season's Tampa Bay or Minnesota. Except for one thing: That the defense has been chugalugging from the fountain of youth.
Veterans Andy Delmore, Bill Houlder, Cale Hulse and Karlis Skrastins are gone. Money was an object, even though that foursome earned barely $4 mil altogether.
Delmore's trade to Buffalo surprised some hockey poolers, based on his 18 goals, including 14 on the power play. But he is the hockey equivalent of baseball's DH, an offensive specialist who can't be trusted on D.
That leaves just three veteran defenders. And only the top pair of Kimmo Timonen and Jason York are proven NHL regulars.
Timonen, who filed for arbitration, made $1.4 million last season. He should get a nice raise, for what he did then and what he'll have to do now. The other veteran is Mark Eaton, still rough around the NHL edges.
Contestants for the other three spots do not include anyone named Suter. Ryan Suter, the club's top pick in the recent Entry Draft, is headed to the University of Wisconsin as planned. He had daydreamed about playing with his Uncle Gary, who is not yet ready to end his one-year retirement. At least for Nashville.
As of now, four rookies will jostle for the other three spots. Three of them are Czechs: Tomas Kloucek, a 6-foot-3, 220- pound banger; Marek Zidlicky, a 5-11, 190-pound Timonen in training; and Robert Schnabel, a 6-5, 230 horse.
Also in the mix is Dan Hamhuis, a 6-foot, 208-pounder. He was drafted 12th overall in '01.
Kloucek and Zidlicky came in the Dunham trade. Schnabel was a waiver claim from Phoenix a couple years ago.
If Houlder gets no free-agent satisfaction, he could return at a cut from last year's $1.25 mil. That would still leave two rookies among the top six defenders.
If the kids flop in camp, Poile could probably shop in the bargain bin at the waiver draft.
No matter how this season goes, the Preds should root like crazy for a labor stoppage when the Collective Bargaining Agreement expires next summer. Their payroll is in line with any downsized salary structure that the players and owners hammer out.
And they won't be losing any veterans to old age when the games begin again.
Tom Wheatley of the St. Louis Post-Dispatch is a frequent contributor to ESPN.com. He is the co-author of "Bob Plager's Tales from the Blues Bench,'' due out in October by Sports Publishing LLC.
SPONSORED HEADLINES
MORE NHL HEADLINES
MOST SENT STORIES ON ESPN.COM
EDITORS' PICKS
Strang: A dramatic shift in the landscape has left many enforcers being escorted out of the game.
Story »

Pronman: Happy holidays! Here's your Team USA WJC preview.
Story

Burnside: We tell you who will make a roster for the 2016 World Cup.
Predictions »