Commentary
Put Heritage Classic back on the shelf
PITTSBURGH -- Even the most cynical observer would have trouble arguing that the NHL's outdoor experiment has been anything but a roaring success.
Whatever measuring stick you employ -- television ratings, sponsorship, merchandise sales, ticket sales or plain old buzz -- the gutsy decision to hold a regular-season game outdoors on Jan. 1 for the past four years has given the NHL unprecedented exposure.
NHL COO John Collins said Thursday he thinks this season's event in Pittsburgh featuring the game's two biggest stars, Sidney Crosby and Alex Ovechkin, has a chance to set the success bar even higher.
"As good as everything else has been coming up to this point, I think this game sets up to potentially be the biggest of them all," Collins said.
[+] Enlarge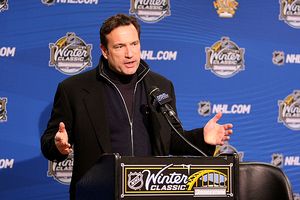 Dave Sandford/NHLI via Getty ImagesNHL COO John Collins told reporters Thursday that both outdoor events bring different qualities.
What remains to be seen, however, is whether the success of the Winter Classic may ultimately prove to be the death knell for the Canadian version, the Heritage Classic, an outdoor game set for Feb. 20 at Calgary's McMahon Stadium, home of the Canadian Football League's Stampeders.
There has been an ongoing debate about whether a second outdoor game, even though it is removed by almost two months from the Winter Classic and held in a different country, somehow diminishes the unique appeal of the Winter Classic.
We have long held to the theory that even the slightest possibility of a negative ripple effect from a second game is too great a risk for such a special property.
Collins does not subscribe to that theory.
"I think you can make these games special in different ways," Collins said.
Fair enough. That said, Collins was fairly cryptic about the future of the Heritage Classic beyond Feb. 20.
"I think the Winter Classic and the Heritage are really two unique brands that complement each other and don't dilute each other," Collins said. "How we extend that and if we extend that is something that we're definitely going to look at and something that we're definitely going to talk to our partners about and obviously something that we'll look really closely with clubs on."
The initial Heritage Classic was played in November 2003 in Edmonton, Alberta, and was the first NHL regular-season game played outdoors. While popular with fans, the game was a near disaster for the Canadiens and Oilers players because of frigid temperatures. There was even serious discussion about postponing or canceling the game because of the risk of frostbite and some players said afterward that they shouldn't have played.
Because the Winter Classic has been an all-American affair since it was introduced in 2008 with Detroit, Chicago, Boston, Philadelphia, Buffalo and Pittsburgh taking part in the first three, there was carping from Canadian broadcasters about being able to have a Canadian event. The revival of the Heritage Classic this season is the product of that carping.
Given the inevitable comparisons to the Winter Classic, it's difficult to imagine how the Heritage Classic can be anything but a pale imitation. What has made the Winter Classic such a powerful tool for the NHL has been its ability to reach out to fans who aren't necessarily hard-core hockey fans. It has become a part of the Jan. 1 sports landscape.
"We treat this game special," Collins said. "While it's just one regular-season game out of 1,230, we treat it like it's the Super Bowl or the World Series or the Daytona 500, any of the major, major events.
"We do that because we think it's just a great day to celebrate hockey. It's the one day that maybe fans, hockey fans, can put aside their passions for their local team and just celebrate just being a hockey fan. That's sort the core reason for the focus of what we try to do with the Winter Classic."
Then, almost as an afterthought, Collins added "and ultimately what we'll try to do Feb. 20 with the Heritage."
Maybe it will be so. But it is difficult to imagine the Heritage Classic will be anything but just that, an afterthought, a dime-store knockoff of the real deal. The Heritage Classic has almost none of the elements that have made the Winter Classic the success that it is.
Feb. 20 isn't a special day -- it is on the Sunday of a long weekend for a government-created holiday called Family Day, celebrated in every province but Quebec. It is a game being played for the benefit of fans who already embrace the game. That's not necessarily a bad thing, but is it worth risking even the smallest dilution of the Winter Classic to play to the converted?
No. And if we had our way, it would be one and done for the Heritage Classic.
Scott Burnside covers the NHL for ESPN.com.
Hockey writer for ESPN.com
10 years at Toronto Sun, Windsor Star and National Post
Wrote best-selling true crime book "Deadly Innocence"
EDITORS' PICKS
Two important trade acquisitions face off when Keith Yandle's Rangers visit Marek Zidlicky's Red Wings.
Strang »

Hockey Today: What's it like to be traded? Ben Lovejoy, formerly of the Ducks but currently of the Penguins, lets us in on it.
Podcast

Roberto Luongo went from a hospital to the ice on Tuesday, meaning Florida's goaltending coach didn't have to play.
Pucks Central »
MOST SENT STORIES ON ESPN.COM