Expectations lower for U.S. in hockey
Originally Published:
August 31, 2004
By
Terry Frei
| Special to ESPN.com
MONTREAL -- Though the sport and its eligibility standards for international competitions, plus the world map itself, all have radically changed in the past quarter-century, the "Miracle" DVD reminds Americans. It wasn't that long ago when a USA victory on hockey's world stage could be termed a wondrous aberration.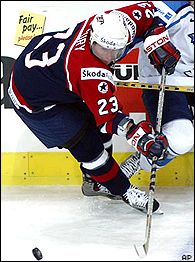 Chris Drury also competed for Team USA at the 2002 Winter Olympics.
And for reasons that reflect the sport's struggle to become embedded in the mainstream American sporting consciousness, and reasons that are in-the-background foundations of the upcoming collective bargaining skirmish between the NHL and its players, we still as a nation are little more than pleasantly surprised by a World Cup victory (1996) and the-boys-gave-it-a-shot accepting of an Olympic silver medal (2002).
Of the World Cup upset of Canada eight years ago, the hoped-for huge boost for the sport was little more than a brief bump, but it at least was inspiring for some of the younger players on the USA roster this time around.
"Growing up as an American, watching the Olympics is a big deal," said Buffalo center Chris Drury, who won a Little League World Series championship as a pitcher and catcher before redirecting his athletic focus to hockey. "But I think that as soon as you turn pro, this is the ultimate. At least in our pool, this is NHL-sized ice. I was in college, watching when they won in '96, and this is something I knew I wanted to do."
Drury also was on the roster at Salt Lake, and has firsthand knowledge that not winning the gold medal is acceptable.
In contrast, over the past fortnight in Athens, we once again bestowed "our-peach-basket, our-game" expectations on the all-pro USA men's basketball team. In the wake of the game's evolution within our borders and around the world, and of declined invitations from some of the sport's biggest (literally and figuratively) players, the Americans' lack of a gold medal was almost as predictable as the ludicrous overreaction from many of those watching and covering it.
Was the very survival of our nation at stake on the courts of Athens? Did the players -- in many cases, our second tier of talent -- deserve to be so mercilessly skewered after at least being prideful enough to skip the whining about security concerns and fatigue and accept the summons? Are they solely to blame for the combination of their sport's deterioration in the U.S. and the stunning upgrade in international skill since 1992?
The answers: Of course not. The USA pros, in Olympic competition that for Americans in any other sport seems to be considered an elective pursuit and not a litmus test for patriotism, lost three basketball games and settled for the bronze medal. Despite what some of the reaction would have us believe, they didn't take U.S. flags to the Parthenon and burn them; they wore them on their uniforms. They gave it their best shot, if the badly constructed roster meant that shot -- if launched beyond 18 feet -- clanged off the rim.
Now that we've established that this isn't going to be some sore-loser excoriation of the basketball players, the differences in perception and mind-sets involved in the two North American winter sports leagues are glaring.
Perhaps still holding a grudge because of his indefensible exclusion from the 2002 Olympic team, Derian Hatcher cited health issues in withdrawing at the last minute, but USA Hockey's terming of the withdrawal as involving "personal issues" made it clear there was some skepticism involved.
| | | |
| --- | --- | --- |
| | " | You dream of being on this stage. ... Playing in the NHL is one thing. Putting on the crest for your country is a different feeling. When I got that call, I didn't sleep all night. " |
| | | — Defenseman John-Michael Liles |
But other than that, the usual American suspects have been rounded up and are here -- if they were deemed still good enough, in the wake of the changing of the guard.
Chris Chelios
,
Keith Tkachuk
,
Mike Modano
,
Tony Amonte
,
Bill Guerin
, Brett "Close Enough" Hull,
Doug Weight
. This is the World Cup on North American soil, and not the Olympics abroad, but it would be virtually impossible to fathom the sport's elite Americans shrugging and saying: Been there, done that, got the sweater, send somebody else. The Americans are getting the World Cup stipend of $9,500, which primarily is designed to cover expenses and not reward, and they have shown up.
In that sense, the naming of Chelios as the USA captain was appropriately symbolic. He was something like 28 and in his sixth season with the Canadiens -- right? -- when the young American college kids won the Olympic gold at Lake Placid. Even USA coach Ron Wilson on Monday teased Chelios that he had said the '96 World Cup would be his last international competition.
"I would love to go to Italy in two years, too," Chelios responded.
In hockey, you generally play when asked, because it's a matter of pride, of confirmation that you're among the best, and even of acknowledgment that perhaps putting on that national sweater is a debt owed to the moms and dads driving kids to rinks at 5:30 a.m., or to volunteers running the leagues and maybe paying their own way to the annual USA Hockey Congress at Colorado Springs.
Corny, yet true.
In the U.S., it is a system that has produced such close friendships as the one between Colorado defenseman John-Michael Liles and Islanders goalie Rick DiPietro, who were teammates in the national development program at Ann Arbor, Mich., before going separate ways. Many of the Americans on the World Cup roster answered USA Hockey's call before they were in the NHL, playing on national teams in age-group events.
In fact, Liles last week was skating with the Kassel Huskies in Germany, for whom he plans to play under a provisional contract during an NHL lockout, when the call came, asking him to jump in as a replacement for the injured Jordan Leopold.
"I've played for my country with the development team and for the World junior team," said Liles, raised in the hockey hotbed of Zionsville, Ind. "This and the Olympics are the two biggest events, obviously, and you dream of being on this stage. You really do. Playing in the NHL is one thing. Putting on the crest for your country is a different feeling. When I got that call, I didn't sleep all night."
And he wasn't trying to think of an excuse.
Terry Frei of The Denver Post is a regular contributor to ESPN.com. He is the author of "Third Down and a War to Go," officially released on Wednesday, and "Horns, Hogs, and Nixon Coming."
ESPN.com contributor
Terry Frei is a regular contributor to ESPN.com. He is the author of "Third Down and a War to Go" and "Horns, Hogs, and Nixon Coming."
EDITORS' PICKS
LeBrun: Mike Richards doesn't want to slip to the Kings' fourth-line center.
Blog »

What does hanging around Sidney Crosby as he hands out season tickets reveal about him? We found out.
Story »

Alumni Report: An offseason of upheaval for Vancouver should reflect positively in the standings this season, says former Canuck Geoff Courtnall.
Strang »