September, 17, 2014
Sep 17
9:12
AM ET
By
D'Arcy Maine
| ESPN.com
Lolo Jones has famously lost at multiple Olympics in both the hurdles and bobsled and, as a result, has been stuck with a reputation of being overhyped and overrated.
And sadly for Lolo, her appearance on "Dancing with the Stars" did absolutely nothing to help her image -- she was the first contestant eliminated from the show's 19th season on Tuesday night. After botching her debut dance, which Lolo herself called "awful," she failed to win over the judges or fans at home.
After the show, Lolo seemed disappointed by the outcome but turned her attention to social media -- the arena in which she is the undisputed champion. We all have our talents.
Thank you to everyone who voted and supported us. Sad @keodancer and I didn't get to dance more but we will see you at the Finale! #DWTS

— Lolo Jones (@lolojones) September 17, 2014
Retired dancing with the Stars #resumeUpdate

— Lolo Jones (@lolojones) September 17, 2014
My full post is on Facebook https://t.co/YEmTo2Uiv8 pic.twitter.com/EOBjqUQsxR

— Lolo Jones (@lolojones) September 17, 2014
On the plus side, maybe this means Lolo will have time to find yet another sport to master. May I humbly suggest curling?
See something entertaining on social media that you think deserves to be shared? Let me know on Twitter, @darcymaine_espn.
September, 16, 2014
Sep 16
10:05
AM ET
By
D'Arcy Maine
| ESPN.com

The 19th season of "Dancing With the Stars" premiered on Monday night, and a whole new batch of celebrities showed off their moves on the dance floor. And then there was Lolo Jones. The Olympian struggled with partner Keo Motsepe, even calling the performance "awful" during her post-dance interview with the judges.
The usually upbeat Jones was clearly still feeling down about her debut when she took to Twitter later in the night.
Man I thought the Olympics were hard! Can I get Cheech to start my routine next time? #DWTS @DancingABC

— Lolo Jones (@lolojones) September 16, 2014
So you're saying there's a chance? RT @WillSmithsTwin: @lolojones Great job tonight Lolo, it's your first time,youll kill umm next time

— Lolo Jones (@lolojones) September 16, 2014
Cheer up, Lolo. You've already got hurdles, bobsled AND social media down, isn't that enough?
See something entertaining on social media that you think deserves to be shared? Let me know on Twitter, @darcymaine_espn.
September, 12, 2014
Sep 12
1:57
PM ET
The expectation back in June was that the NHL and NHL Players' Association would have some kind of World Cup announcement by the end of summer, but that's going to wait a bit longer.
Both sides have an understanding that they will wait to get more concrete details in order, including being able to commit firmly to a regular interval for the tournament, which hasn't been held since 2004 when Canada beat Finland in the final at Air Canada Centre in Toronto.
In other words, while the NHL and NHLPA could have easily announced by now that the event is returning in September 2016, they want to have much more to give than that.
What we know at this point: The World Cup is scheduled to return in September 2016, primarily anchored in Toronto, but there may also be some games in Montreal. That's still in discussion.
[+] Enlarge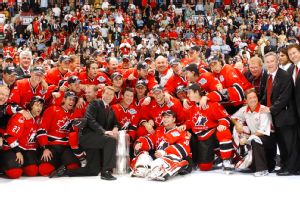 Dave Sandford/Getty ImagesThe World Cup hasn't been held since 2004 when Canada beat Finland in the final at Air Canada Centre.
There likely will be eight countries in the tournament, which is the same as 2004 and 1996. There are six countries fixed: Olympic champion Canada, Russia, the United States, Sweden, Finland and the Czech Republic. The additional two teams and the manner in which they will be selected hasn't been nailed down yet. It might be a pure invitational situation where two countries are handed entries, or there could be a play-in tournament for those last two spots. My vote is for the latter, although without question that comes with more logistical challenges. My guess is the play-in part would be overseas for obvious reasons.
What possibly could also be part of a World Cup announcement -- although it depends on the timing of it over the next few months -- is the return of the Premiere Games. The NHL hopes to have regular-season games back across the pond next season, but no firm details are finalized on that front.
Meanwhile, is an Olympic decision tied directly to a World Cup announcement? Not necessarily, and one source even suggested, "probably not." They don't need to be tied to each other. The NHL and NHLPA can announce World Cup plans for the next few years without having to know exactly what they're doing on the Olympic front.
I think the NHL and NHLPA would like to make a decision as quickly as possible about whether NHL players will continue to play in the Olympics. But part of the issue is that they're not sure where the IOC stands with respect to whether the same types of accommodations would be available to NHL players in South Korea in 2018. The standard was set really high in Sochi last February. NHL players who participated raved about the venues, the logistics, the lodging, well, pretty much everything. (The lone exception would be
the handling by the IOC
of the
Nicklas Backstrom
doping controversy.) No offense to the Vancouver Games in 2010, but it was the best NHL player experience ever.
Now, I'm not sure that even if the IOC guaranteed the exact same high-level setup in South Korea that NHL owners and commissioner Gary Bettman would vote yes. That's to be determined. But the NHLPA would almost surely be a yes if the players were guaranteed the same standard as Sochi.
However, where both the NHL and NHLPA are on the same page right now is that they need to at least find out if the IOC can deliver those goods for South Korea, and right now that answer hasn't been delivered.
There is still much to be determined on the international front; the only thing that's basically assured at this point is that there will be World Cup hockey in two years.
JOHANSEN UPDATE
It's been a long time since there were actual talks between
Ryan Johansen
's camp and the
Columbus Blue Jackets
, but that's expected to change any day.
Jackets GM
Jarmo Kekalainen
and agent Kurt Overhardt each confirmed via text to ESPN.com on Friday that they plan to meet sometime this weekend while both are in Traverse City, Michigan, for the rookie tournament.
It's believed both sides are about $3 million apart per year on a new two-year deal for the restricted free agent.
NEUVIRTH REFRESHED
The most frustrating season of
Michal Neuvirth
's career is behind him, and he's refreshed, re-energized and ready for the challenge in Buffalo this season.
"Super-excited," Neuvirth told ESPN.com this week.
That's about the exact opposite he was feeling last season. Once seen as the future No. 1 goalie in Washington -- appearing in 48 games with the Caps in 2010-11 and 38 games in 2011-12 -- Neuvirth lost the net to
Braden Holtby
. But what was obviously tough to swallow last season is that, while Holtby struggled, Neuvirth felt he didn't get much of a chance to get back in. He appeared in only 13 games with the Caps, and agent
Patrik Stefan
was working with Caps management behind the scenes to try to get Neuvirth dealt. All the while, his lack of playing time is likely what cost him a chance at an Olympic roster spot for his native Czech Republic.
All in all, a season to forget.
"It was frustrating, but you got to take it for what it is, and I think it made me stronger," Neuvirth said. "You got to go through tough times in your career sometimes. I feel it's going to make me better and stronger for the long run. I'm just focused now on the opportunity I have here in Buffalo and [will] play the best I can for the Sabres."
The Caps dealt Neuvirth to the Sabres at the trade deadline, where he'll compete in goal this season with
Jhonas Enroth
, who as the incumbent likely would start the season with just a bit of an edge. But they're both 26, both eager to prove much, and the sense is both will get a fair chance.
"The net is up for grabs," Neuvirth said. "Right now we've got two No. 1s. Jhonas is a great goaltender and I like him as a person, I respect him as a goalie. It's going to be a good competition. We're going to push each other every day to get better, and I think we're going to be a good tandem."
In the meantime, Neuvirth goes to camp next week as ready as he's ever been.
"I've been working hard in the offseason, focusing on my core, on my groin and hips, they feel like never before," he said. "I feel a lot stronger and my goal is to play as many games as I can."
As for the last-place Sabres, there's a sense of renewal all-around after a busy offseason.
"We had some great signings here," Neuvirth said over the phone from Buffalo. "We have good leadership. It's going to be a hardworking team that plays as a group, a team that never gives up on a loose puck. I think that we're going to surprise some people this year."
September, 10, 2014
Sep 10
2:25
PM ET
By
Christopher Chavez
| ESPN.com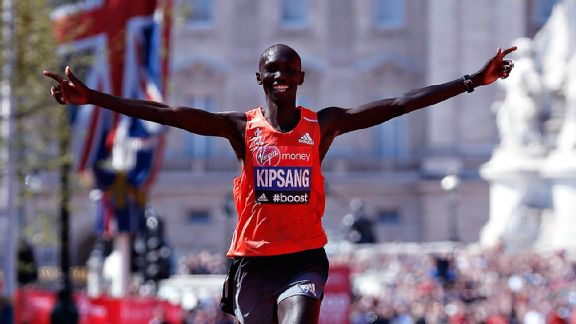 AP Photo/Sang TanWilson Kipsang set the world marathon record last fall and makes his NYC debut in November.
As if a
star-studded American field
wasn't enough, the 2014 TSC New York City Marathon has added men's world record holder Wilson Kipsang to its Nov. 2 lineup.
The New York Road Runners finalized their elite athlete field with the announcement of Olympic medalists and past NYC champions from around the world.
"We're proud to welcome Wilson, a world-renowned marathon icon; Buzunesh Deba, the ultimate running ambassador for our City; and an unparalleled field to "get their New York on" with every stride they take through the City's five boroughs, as they lead runners from Staten Island to Central Park," NYRR CEO Mary Wittenberg said in a press release.
Last fall, Kipsang set the world record of 2:03:23 in Berlin. Earlier this year he won the 2014 Virgin Money London Marathon in a course-record time of 2:04.27. The addition of Kipsang threatens two-time defending New York Marathon champion Geoffrey Mutai's goal of winning his third consecutive New York City Marathon.
2010 NYC champion Gebre Gebremariam is also entered in the field.