March, 6, 2015
Mar 6
3:29
PM ET
By
The Associated Press
| ESPN.com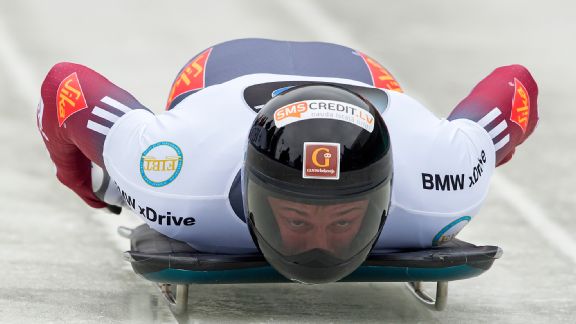 AP Photo/Jens MeyerMartins Dukurs of Latvia starts his third run of the men's skeleton race at the Skeleton World Championships in Winterberg, Germany. He held on to oust Olympic champion Alexander Tretiakov.
WINTERBERG, Germany -- Martins Dukurs of Latvia won his third skeleton world championship title on Friday by holding off Olympic champion and holder Alexander Tretiakov of Russia.
Dukurs, who also won the title in 2011 and 2012, beat the Russian by 0.69 seconds.
Tomass Dukurs took the bronze medal, 1.52 seconds behind his younger brother.
Earlier, Olympic champion Lizzy Yarnold of Britain took a slim lead midway through the women's competition.
After two of four heats, Elisabeth Vathje of Canada was 0.07 seconds behind.
Junior world champion Jacqueline Loelling of Germany and Jane Channell of Canada were tied for third, 0.39 seconds back, going into the final day of the competition on Saturday.
Germany's Tina Hermann is close behind in fifth, 0.52 seconds back.
Megan Henry and Annie O'Shea were the best American finishers at 17th and 19th place with two heats to go in the competition.
March, 5, 2015
Mar 5
5:55
PM ET
By
Phil Dalhausser
| ESPN.com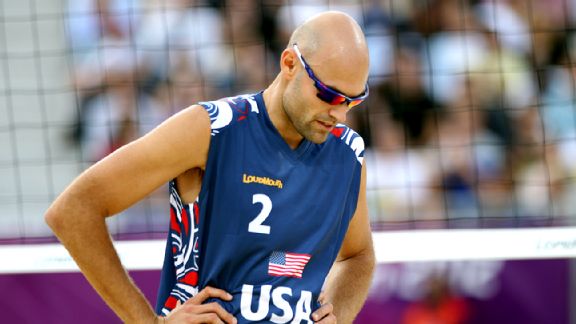 AP Photo/Marc SerotaPhil Dalhausser and the U.S. won 11 of 36 matches during their tour in Brazil.
Olympic gold medalist Phil Dalhausser and the rest of the U.S. team were in Rio last week for an Olympic test event against Brazil. He shares his takeaways from the trip with ESPN.com:
Last week, the top four U.S. men's and women's beach volleyball teams played against the top four Brazilian teams on one of the most iconic beaches in the world, Copacabana Beach.
Brazil and USA Volleyball have an intense rivalry, it's like the Duke-North Carolina or Yankees-Red Sox match-up of our sport. The last time we had an event like this was in 2009 in Arizona, where the U.S. beat the Brazilians in a very tight contest. This week was a different story -- we got smashed! We won 11 out of 36 matches. I am not one to make excuses, especially in volleyball, but I am going to be a huge hypocrite and give you some reasons or excuses (however you want to look at it) as to why we got beat:
1. The Brazilians are in midseason form.
They are in the midst of their domestic tour season, while most of the Americans have just been in training for a few weeks. After our season ends, we take a break from volleyball to let our bodies and minds heal. Sean Rosenthal and I usually start training three months before our first tournament, which happened to be the beginning of this month. There is a slow progression in our training; the first two weeks are easy ball-control drills with no jumping, so we basically had no business playing high-level volleyball so early in the year.
2. Team USA was out of shape!
While we are trying to shed our offseason weight gain, Team Brazil was quite the opposite in form. They are fit and trim with tans, which we are also working on. Plus, it was really hot in Rio, which was another huge disadvantage since it's been a pretty chilly winter for us in Southern California.
3. We have two new women's teams and one new men's team.
It's quite simple -- it takes time to find team chemistry.
With all that said, the Brazilians played high-level volleyball, and even if we were in midseason form, it would've been tough to beat them (it pains me to admit this). Since Sean and I didn't do so well, we had time to checkout Rio de Janeiro and enjoy what this city has to offer.
March, 5, 2015
Mar 5
2:20
PM ET
By
ESPN.com news services
| ESPN.com
WINTERBERG, Germany -- Martins Dukurs of Latvia took a narrow lead over Olympic gold medalist Alexander Tretiakov of Russia at the halfway stage of the skeleton world championship.

Dukurs was .17 seconds ahead of defending world champion Tretiakov after Thursday's two runs. Dukurs is the silver medalist from the 2010 and 2014 Olympics.

Dukurs' brother Tomass was in third place, .69 seconds behind the pace.

Matt Antoine, who won a surprising bronze medal at the 2014 Sochi Olympics, was the leading U.S. finisher, sitting in 11th overall. Teammate Kyle Tress sits at 15th.

"I thought we'd be more in the mix based on our training times this week," U.S. skeleton team head coach Tuffy Latour said in a statement. "Coming off an Olympic bronze medal, Matt is the top performer on the team, and he's put a lot of pressure on himself. We are three years out from the next Olympics, so if you're going to struggle, this is the year to struggle and work out the kinks. He's pushing himself to get better, and he's hungry for it."

The men's final two runs and the first two heats of the women's event are on Friday.

Information from The Associated Press was used in this report.
March, 5, 2015
Mar 5
10:15
AM ET
The NHL and NHL Players' Association are fully engrossed in fleshing out the logistics and details of the 2016 World Cup of Hockey, but it is hard not to ignore the elephant in the room while they're doing that.
Will NHL players be going to Pyeongchang, South Korea, in February 2018 or not?
It's a question that's far from being answered yet.
"We haven't had any discussions about it," NHL commissioner Gary Bettman told ESPN.com on Wednesday. "And I said in Columbus [at the All-Star Game], this decision about the World Cup has no bearing on that decision. We're focused right now on the World Cup. When we get to discussing and evaluating the Olympic opportunity, that decision -- whether or not we go or not go -- will rise and fall on the merits of making that decision."
NHLPA executive director Don Fehr agreed with Bettman's characterization of the Olympic decision not being tied to the return of the World Cup.
"Yes, I think that's a correct statement, that the Olympics have to be evaluated on their own, and you have to get the right kinds of agreements with the IIHF and the IOC," Fehr told ESPN.com on Wednesday. "Assuming you can, it's no secret what the players' position is going to be. But this [World Cup] is something we would do if we had already decided to go to the Olympics or if the Olympics had shut down and you never had them again. It wouldn't matter."
[+] Enlarge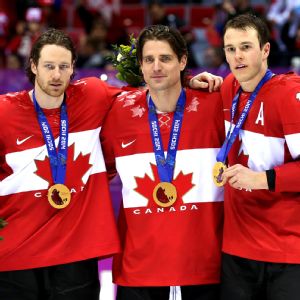 Bruce Bennett/Getty ImagesGary Bettman isn't writing off a repeat appearance by NHLers at the Olympics just yet.
Now, while it is true there haven't been any real Olympic discussions just yet, it should be noted that Fehr went to Switzerland in mid-February -- rather under the radar, I might add -- and
met with IOC president Thomas Bach
.
I wonder how Bettman felt about that. But let's move on.
The players have always wanted to participate ever since the door opened with the 1998 Nagano Olympics. And it's not just the small percentage of NHLers who get to actually play in the Olympics that continually endorse the idea, but it's also the majority of regular Joe Blow NHLers who love getting the long February break in order to heal their bumps and bruises and take in some sunshine on a paradise island somewhere nice and warm. Let's not kid ourselves about the importance of that factor.
The NHL and its owners? They can barely hide their lack of interest in going to South Korea.
But that NHL-NHLPA showdown on Olympic participation is putting the cart in front of the horse. There are other things to figure out way before it becomes about that.
To wit:
Bach took over as IOC president in September 2013, so this is his first crack at the NHL Olympic discussion. Sochi had already been ironed out before he came on board as the big boss. As a factual point, Bach has to make a decision with his IOC council on whether or not they are going to extend the same benefits to NHL players as they have since 1998. Unless I missed it, I don't think that's happened yet.

Why this is interesting is that Bach reportedly stated years ago that he didn't think pros (NBA, NHL players) should get benefits that other athletes don't get. Mind you, now that he's IOC president, it wouldn't surprise anyone if he feels differently, given the money involved in having the best hockey in the world featured in the showcase event of the Winter Olympics. Still, I point that out as a matter of interest.

I asked Fehr on Wednesday what would happen if new IOC leadership isn't quite as interested in guaranteeing the same kind of benefits and comforts that NHLers got in past Olympics, particularly in Sochi last year, when players were the happiest they've ever been with the way things worked out.

"At this point, I have no reason to think that the IOC's approach will vary from what we've seen in the past," Fehr said. "But that remains to be seen. We haven't started the discussions yet."

Either way, there's zero point in the NHL and NHLPA beginning official discussions on Olympic participation until Bach and the IOC council express an official desire to keep the thing going with NHL participation, although again, it would be surprising if they didn't.

Another important official discussion has to take place between Bach and Rene Fasel. Fasel, as IIHF president, is the one who has to get the IOC's commitment on the funding for NHL participation.

The NHL and NHLPA likely won't have any real Olympic discussions until that is all resolved. If Bach and the IOC say no, then the whole thing is dead before it even starts. But if Bach and the IOC green light the funding and the desire to keep the same standard NHLers have had in past Olympics, then the NHL and NHLPA spring into action. Bettman needs to get the go-ahead from his board of governors and then the league and union need to bang out an Olympic agreement, which will likely follow more or less the templates from before. That's if NHL owners vote to go this time ...

In closing, what will also be interesting is the timing of the Olympic decision, regardless of whether it's a yes or a no. Would the NHL and NHLPA want this all decided before the September 2016 World Cup of Hockey? Could the Olympic decision overshadow their own event?
Again, you sense from the NHL that going back to the Olympics isn't a priority at this point. But perhaps that's just what they want conveyed publicly for the IOC to see in order to make sure Bach delivers.
The difference this time around, whatever way it goes, is that the NHL has its own best-on-best event to fall back on for years ago come, and that's no small factor.
But the players still want to go to the Olympics.
As always, it will be ultra-intriguing to see how this plays out.
March, 3, 2015
Mar 3
2:22
PM ET
By
The Associated Press
| ESPN.com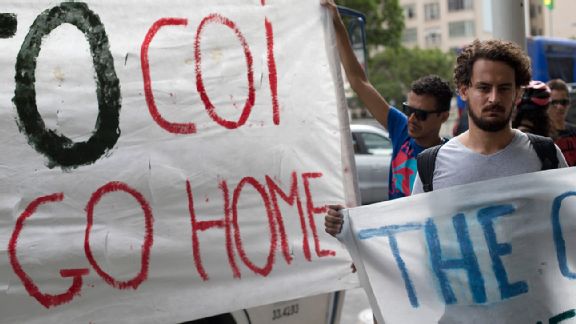 AP Photo/Silvia IzquierdoProtesters hold a banner that reads "COI go home," at the entrance of the hotel where International Olympic Committee met in Rio de Janeiro, Brazil, on Saturday.
RIO DE JANEIRO -- Environmental activists burst into the lobby of a luxury hotel on Rio's Copacabana Beach where IOC officials were meeting Saturday, protesting against ecological destruction related to the 2016 Olympics.
With little progress visible on Olympic promises to clean up the city's waterways filled with sewage and trash, and the Olympic golf course being carved out of a nature preserve, environmental issues have become a major issue.
A small group of activists managed to steal the spotlight from IOC President Thomas Bach when at least two women pushed their way into the lobby of the hotel where Bach was chairing a meeting of his executive board on another floor.
One of the activists, who grabbed a five-ring Olympic flag and tried to wave it, shouted and blew on a whistle as security guards tried to restrain her. Other protesters outside the hotel held banners, including one saying "Ecological Holocaust. IOC go home." Another read: "Thomas Bach is a nature killer!"
The chaotic scene was witnessed by about 100 journalists from around the world waiting for the start of a news conference by Bach.
Jean Carlos Novaes, who eventually reached the hotel lobby, said he represented the environmental group "Golf for Whom." Other protesters said they represented a group called "Occupy Golf," and "Occupy Marina da Gloria," the venue for Olympic sailing.
"We are not against the Olympics, but we are against the corruption around the golf course that is being arranged by the mayor (Rio Mayor Eduardo Paes)," Novaes said. "They are stealing with the Olympics as an excuse."