July, 15, 2014
Jul 15
11:42
AM ET
By
ESPN.com news services
| ESPN.com
With the World Cup in the rear-view mirror, Rio now looks ahead to the 2016 Summer Olympics. Rio 2016 director of communications Mario Andrada says the World Cup provided insight into some of the challenges of hosting an event like the Games:


April, 25, 2014
Apr 25
6:03
PM ET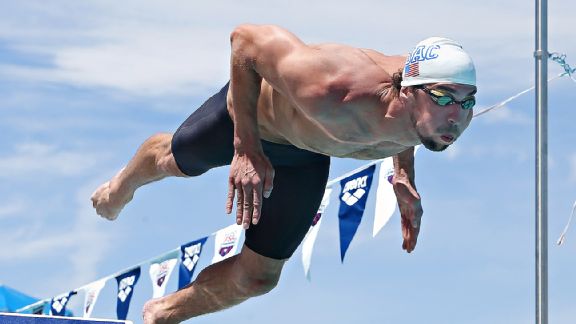 Christian Petersen/Getty ImagesMichael Phelps will race again in two weeks at a Grand Prix meet in Charlotte, N.C.
MESA, Ariz. -- Michael Phelps finished 42nd in Friday's 50 freestyle heats and did not qualify for the evening final. But that wasn't bad considering he was swimming the butterfly stroke in that event.
Why did Phelps swim the fly stroke in a free race? It's unusual, but not unheard of. The racing schedule didn't present a desirable event for Phelps on Friday, especially since one of the options was the 400 IM.
"I'm not ready for a 400 IM. I don't think I will ever be ready for that race again," Phelps said. "I will not swim the 400 IM, that I guar-an-tee you. So do not ask that question."
To that comment, coach Bob Bowman asked humorously, "Is that kind of like, 'I will never ever swim again after London?'"
With limited options, Phelps and Bowman decided to use the 50 free as a chance to work on the swimmer's signature fly stroke. They were pleased with the results. Phelps bettered his split time from Thursday's 100 fly final by seven-tenths of a second (24.06).
Asked whether his emphasis on shorter distances here was an indication of his future strategy in his return to competitive swimming, Phelps replied, "It's a good starting point, just to get some races under my belt. The schedule today wasn't really ideal for what I should swim at this moment."
Because Phelps did not qualify for the evening finals -- now that would have been a story -- the 50-free heat wrapped up his racing at the Arena Grand Prix. He is next entered in the Charlotte Grand Prix in two weeks, and Bowman said they would approach the meet with the same style, swimming one or two days.
Phelps appeared to greatly enjoy the experience. He repeatedly said he was having fun, and his expression, demeanor and engaging press conferences indicated that was indeed the case.
"I don't know what it was like here last year, but I know it is more exciting when you have the excitement level we had here," he said. "With kids that are cheering, with people packing the stands every single session, the tickets selling out in a handful of hours after I said I was coming back -- it's pretty special.
"I can't thank people enough for supporting me and cheering me on. It is pretty special to see the excitement on a lot of kids' faces. That is something that is amazing, just being able to have them around and have them enjoy a swim meet."
April, 24, 2014
Apr 24
5:40
PM ET
MESA, Ariz. -- Michael Phelps couldn't wait to get back in the pool and compete again.
After his 18-month retirement from competitive swimming, Phelps worked his way past a multitude of cameras to the starting area Thursday. Then he stepped up on the starting block earlier than he normally does, feeling antsier before a race than he has since he probably was 10 years old. And once he was on the block and could hear the crowd buzz, he actually smiled.
And this was not at an Olympic or world or U.S. championship event. It was a Grand Prix meet. And just the morning heat in the 100-meter butterfly, at that.
"I was just so excited to swim," Phelps said after winning his qualifying group. "It was strange. I was probably up to the block a little too early, but I was just so excited to get in and race. You're going to hear this word come out of my mouth a lot -- this was fun.
"I felt like I was a summer-league swimmer today. I was so excited to get out of the block. I felt like I should have my heat and lane written on my hand in case I forget it."
Well, in case he did forget, he would have had plenty of people to point him in the right direction. Phelps' first competitive race since retiring after the 2012 London Olympics drew a sellout crowd to the outdoor pool at Mesa's Skyline Aquatics Center on a sunny, 90-degree day. And there were nearly as many reporters and camera people on hand, as well, for Phelps' return to competitive swimming in the 100 butterfly.
There was so much attention, Phelps said rival and teammate Ryan Lochte joked that the two Olympic medalists should just mess around and advance to the C final and see which race got the most hype. "I said, 'No, let's try to get into the big final,'" Phelps said.
They did. Right after Lochte swam a 52.94 in the 13th heat, Phelps swam the top qualifying time of 52.84 in the final heat. He was second after the first 50 meters, then took control in the final 50 and won easily. The final is this evening, tentatively scheduled for 9:18 p.m. ET.
"I could tell when he came in and I saw him warm up that it was going to be good, that he's feeling good, that he was into it," coach Bob Bowman said. "He's got one race under his belt and he made the nationals qualifying cut."
True. Because Phelps had officially retired after the 2012 Olympics, his time re-qualified him for the U.S. national standard. Asked when he last had to swim a qualifying time for the U.S. team, Phelps thought a bit and said, "When I was 13?"
When a reporter later asked about his goals and the 2016 Rio Olympics, Phelps shrugged it off. "Hey, I just made the national cut! One step at a time!" he said. "Nah, I have a race tonight and that's all I'm concentrating on right now."
March, 17, 2014
Mar 17
4:50
PM ET
By
Associated Press
| ESPN.com
SOCHI, Russia -- Triumphant in the midst of global condemnation, Vladimir Putin clinked his champagne flute with leading sports officials, toasting the success of his pet project in Sochi.

Under chandeliers in ornate surroundings, the wine was flowing over lunch during the Paralympics this week as the Russian president saluted the transformational effect of his nation's six-week sporting extravaganza. For Putin, the 2014 Winter Olympics and Paralympics were a validation of modern Russia's place on the world stage and "our invariably kind attitude toward friends."

But between the Olympians leaving the Black Sea resort of Sochi last month and the Paralympians arriving, Putin became rapidly isolated in the international community as Russian forces took over Ukraine's Crimean Peninsula, only 300 miles (480 kilometers) away.

The Paralympics closed Sunday night with a patriotic, high-tempo ceremony attended by Putin just as voting ended in a referendum in Crimea, denounced in the West as illegitimate, on whether it should secede from Ukraine and seek annexation by Russia.

Although Ukraine backed off from boycotting the Paralympics, the crisis afflicting their homeland remained on the minds of athletes competing in Russia. In protest, Ukrainian parathletes covered their medals during podium ceremonies.

"That is how we show our protest and disagreement that our country could be divided and part of it could be excluded from Ukraine," said Iuliia Batenkova, who won six medals in Sochi including one gold. "Crimea is my motherland, where I was born, and of course I worry about it. I want peace."

Ukraine Paralympic Committee President Valeriy Sushkevych on Sunday decried what he called Russian "aggression" in his country and said hoped that Putin "recognizes the danger of what we call war."

Russia's intervention in a neighboring country seemed to be at odds with the message it intended in this $50 billion-plus rebranding exercise -- that of a nation which had moved on since the 1991 collapse of the Soviet Union. But Putin's government remains convinced that the successful transformation of Sochi -- once a decaying Soviet-era resort -- into a world-class tourist hotspot will override the current diplomatic tensions.

"The new Russia is a Russia that is capable of carrying out large-scale projects, capable of creating modern infrastructure in a record short timescale, both in terms of sports and the rest of society," Russian Deputy Prime Minister Dmitry Kozak told The Associated Press in Sochi. "The new Russia is a Russia that open to the whole world."

That's the impression some visitors had after the high-profile Winter Olympics -- but it could be a rapidly shifting vision.