Approaching the podium
Updated:
March 9, 2005, 6:19 PM ET
By
Greg Garber
| ESPN.com
For the athletes of the U.S. Alpine ski team, April is a time to slowly exhale. The chilling rigors of the World Cup season behind them, the Bode Millers, Daron Rahlves and Julia Mancusos will attempt to catch their breath before what could well be the most important year of their lives.
In Park City, Utah, meanwhile, the architects of the program will be sequestered for six days, April 11-16. There they will plot the course of the U.S. ski team for the next year. This will not be one of those touchy-feely, wine-and-cheese, team-building exercises.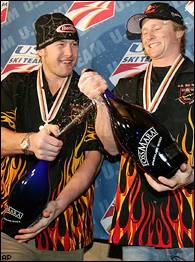 Bode Miller (left) and teammate Daron Rahlves hope to give the U.S. ski team something to celebrate in the year ahead.
"It's fast and it's furious – not a lot of time for wining and dining," men's head coach Phil McNichol says. "It's an evaluation of the past season and where we are in our five-year plan. More important, we pound out the details for next season."
The results of this effort – there are more than 100 people involved on the men's and women's sides – won't be known until the culmination of the season, the 17-day festival known as the 2006 Olympic Games in Turin, Italy. Eleven months from now, on the snow-white slopes above the town of Sestriere, the Alpine events will reveal to the world where the United States stands in the international pecking order.
Before the Salt Lake City Games three years ago, the Americans had never won more than 13 medals in a Winter Olympics. But buoyed by the home venue and an ambitious training program, the United States won an amazing 34 medals. Only two of them – silvers in giant slalom and combined won by Miller – went to Alpine athletes.
Do the American ski racers have what it takes to be the best in the world?
The Alpine world championships, held last month in Bormio, Italy, are regarded as the best measuring stick. Held every two years, they mirror the Olympic competition in many ways. The Austrians won 11 of the 33 medals available, nine of them going to the men. The Americans, with a surprising bronze by Rahlves and two disappointing fourth-place finishes by Lindsey Kildow, were next with six medals – matching the best U.S. medal count ever at a world championship.
The Americans will head to Turin with their strongest team since 1984, when five U.S. skiers won medals in six races at Sarajevo: Bill Johnson (gold, downhill), Debbie Armstrong (gold, giant slalom), Phil Mahre (gold, slalom), Steve Mahre (silver, slalom) and Christin Cooper (silver, giant slalom). With two more events on both sides, the United States has every expectation of breaking that mark.
McNichol says winning five is the "realistic goal" for his men.
"Our goal was to hit eight medals in the world championships," says Jesse Hunt, the U.S. Alpine director. "We have to regroup for the coming year. The goal remains the same, to be the best in the world. How many medals will that take? It depends on the depth of some of the other teams. Probably eight or nine or maybe 10."
All or nothing
Bode Miller, a 6-foot-2, 210-pound heap of nerve from Franconia, N.H., is the face (and fury) of U.S. Alpine skiing.
Miller virtually throws himself down the hill with a go-for-it style that has won fans around the world. McNichol, though, is not one of them.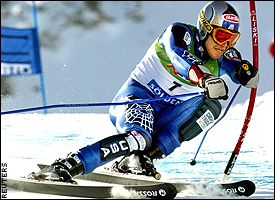 Miller's hit-and-miss success has made for a close race for the overall World Cup title.
Could Miller win the coveted 2004-05 overall World Cup title that will be decided this week at the World Cup Championships in Lenzerheide, Switzerland?
"Yes," McNichol says. "Could he improve his chances by finishing more races? Yes."
And this is the rub with Miller. He is probably the most-talented skier on the circuit, but he has no off switch. Miller, 27, had a healthy lead on Austria's Benjamin Raich, a ski instructor from the Tyrol, but that lead is down to a scant 52 points – Miller has 1,348 points to Raich's 1,296. Typically, Raich took a conservative third in the slalom a week ago in Slovenia, while Miller hit a gate at the top of the course and crashed out.
Miller is trying to become the first American since Phil Mahre (1983) to win the overall title.
If he stays on his skis, Miller is the best threat for multiple medals next year in Turin. Miller, who won the gold medal in the downhill and super-G at Bormio, is already the favorite in both Olympic events. He also could land on the podium in the giant slalom and the combined event. If he stays on his skis.
"Obviously, I'd love to have as many medals as events I'm skiing in," Miller told reporters in Bormio. "I know myself. When it comes to the big day, I don't mess up. If I do mess up, it's because I was going for it."
Based purely on headlines, you might think Miller is the entire team, but two other U.S. skiers matched his medal total at the world championships.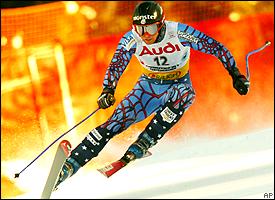 A veteran of 12 seasons, Daron Rahlves helps give the Americans an experienced team.
Daron Rahlves, 31, is in his 12th season with the U.S. team. Like Miller, he is a threat in the downhill, super-G and giant slalom. Rahlves, from Walnut Creek, Calif., finished second behind Miller in the world championship downhill and added an unexpected bronze in the giant slalom. Rahlves currently is sitting an impressive fifth in the overall standings, behind Miller and three Austrians – Raich, Hermann Maier and Michael Walchhofer.
Known less well are two young skiers in the women's program who both hold great promise. Julia Mancuso, who turns 21 on the first day of the World Cup championships, won bronze in the Super G at Bormio and added a bronze in the giant slalom, the first medal in that category by an American woman in 20 years.
"She is an outstanding talent," women's head coach Patrick Riml says. "She probably skis the fastest on the whole World Cup circuit; she just needs to find some consistency. I think it's just a matter of getting some experience – and the confidence that goes with it."
That Kildow's fourth-place finishes in the downhill and combined events (she missed the podium by a total of two-tenths of a second) were termed a disappointment, underlines her vast potential. Kildow, from Vail, Colo., is only 20, but her six appearances on the podium in earlier races moved her ahead of Mancuso as the country's best skier. She is widely viewed as the next Picabo Street. Kildow is sixth in the overall World Cup standings (828 points), and Mancuso is 10th (548).
"I thought this would be my year," Kildow said in Bormio. "I guess next year will have to be."
Sharpening the focus
America, as some European nations will tell you, isn't always first or always right, for that matter. This is true, of course, in Alpine skiing as well as global politics.
How is it that a powerful nation of nearly 300 million souls can get its butt kicked on the slopes by a tiny little country – Austria is slightly smaller than the state of Maine – with a population of about 8 million?
"They are very, very focused," says Riml, a member of the powerful Austrian team and, later, a coach.
"Austria has kept its eye on the ball for the last 30 years and pours every ounce of energy into their sport," McNichol says. "Take all of the resources of Alpine skiing in the U.S. and pour it into a region the size of New England. They have a federally funded academy system that works in all the hamlets and villages, directing talented kids to the national federation. They foster and breed one terrific skier after another."
Austria cuts skiers from its programs who would make teams in other nations and compete credibly on the World Cup circuit. By the time skiers have emerged from the cutthroat junior system, they are race-ready for a team that expects to dominate at the world level. You can see similar efforts in China with gymnastics and diving, as well as in Russia's recent group of talented professional tennis players.
The United States is not so single-minded. Forget video games and the "realities" of cable television; the broad buffet of sports available to our impressionable youngsters alone is staggering. And yet, the United States has closed the gap between itself and Austria in recent years.
"On the women's side, we're getting pretty close," Riml says. "I think we're seeing a changing of the guard."
"We've really put our mind to it over the last seven, eight years," McNichol says. "We're starting to see some consistency that is encouraging."
The U.S. Alpine team did it with the usual suspects: money, intelligence and a lot of hard work.
"Our planning is better," McNichol says. "Our concepts in athletic development and athlete retention have helped. The average retirement age of our skiers from 1989 to 1999 was 25. Now, the average age of our top-10-ranked skiers is 28. It was a major focus to retain athletes, and it's working for us. This is a sport that requires a tremendous amount of time to get really good at it – and the statistics show that."
The ascension of Bill Marolt in 1996 as president and CEO of the U.S. Ski and Snowboard Association was, in retrospect, a pivotal moment. By placing an increasing importance on corporate sponsorship and private donations, the budget now allows for the kind of perks European teams take for granted.
"We've got some apartments in Europe for the coaches and athletes," Hunt says. "That's taken away the impact of traveling back and forth. That's helped change the culture among the athletes."
Hunt also cites the program's sport science department, which has advanced athletes' understanding of training methodology, physiology and nutrition.
There is also Miller's switch from Rossignol to Austrian-made Atomic skis in 2004. Rahlves, who had been using Atomics for years, and Miller also receive the firm's technical support, which clearly has been a significant factor in their success.
"We are trying to drive home the concept that we're American athletes trying to compete in a European sport," Hunt says. "Certainly, it's a long-term project. It's taken us years to get where we currently are. Now, we are in a position to have a shot at some of our goals."
Greg Garber is a senior writer for ESPN.com
Writer, Reporter
Greg Garber joined ESPN in 1991 and provides reports for NFL Countdown and SportsCenter. He is also a regular contributor to Outside the Lines and a senior writer for ESPN.com.
SPONSORED HEADLINES
MORE OLYMPICS HEADLINES
MOST SENT STORIES ON ESPN.COM