Discussion
James sits out against Canada, Wade starts instead
Updated:
July 25, 2008, 8:14 PM ET
Associated Press
LAS VEGAS -- LeBron James did not play for the United States in its exhibition game against Canada on Friday night because of a mildly sprained right ankle.
James was hurt during a scrimmage on Tuesday. Though his ankle is feeling better, the U.S. staff preferred to rest him to avoid further swelling before the long plane flight to China this weekend.
Dwyane Wade started in James' place. Wade was playing for the first time since March 8, before the Miami Heat shut him down for ...

Read full story
Team USA: Going For Gold In Beijing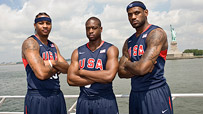 Team USA aims for the gold medal at the Beijing Games, playing its opening game against host China on Aug. 10.
Roster
|
Schedule
|
TV
News
•
Kobe & Co. arrive to heroes' welcome in Beijing
Pre-Olympic Tour
•
Jackson: Team USA will miss Amare
•
Sheridan: Flaws exposed against Aussies
•
Sheridan: Point-guard change?
•
Sheridan: D-Wade is back
•
Sheridan: Meet the Doberman
•
Sheridan: King James mastering FIBA rules
•
Jackson: Melo aiming for gold and more
Video
•
Watch: Best internationals in action
SportsNation
•
Who would you have picked?
MORE OLYMPIC BASKETBALL HEADLINES