Discussion
Australia's effort, poor 3-point and free-throw shooting hinder Americans
Updated:
August 5, 2008, 1:55 PM ET
Associated Press
SHANGHAI, China -- They couldn't shoot, and occasionally they didn't defend. It was definitely a performance the Americans should be relieved came before they got to Beijing.
Undefeated, but no longer unchallenged, the U.S. Olympic men's basketball team wrapped up its exhibition schedule with its toughest test, pulling away to beat Australia 87-76 Tuesday night.
The United States led by only four points nearly halfway through the third quarter and was up by seven midway through ...

Read full story
Team USA: Going For Gold In Beijing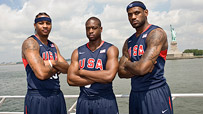 Team USA aims for the gold medal at the Beijing Games, playing its opening game against host China on Aug. 10.
Roster
|
Schedule
|
TV
News
•
Kobe & Co. arrive to heroes' welcome in Beijing
Pre-Olympic Tour
•
Jackson: Team USA will miss Amare
•
Sheridan: Flaws exposed against Aussies
•
Sheridan: Point-guard change?
•
Sheridan: D-Wade is back
•
Sheridan: Meet the Doberman
•
Sheridan: King James mastering FIBA rules
•
Jackson: Melo aiming for gold and more
Video
•
Watch: Best internationals in action
SportsNation
•
Who would you have picked?