Discussion
For 2009-10, look beyond the schedule
Updated:
August 12, 2009, 6:26 PM ET
By
Terry Frei
| Special to ESPN.com
It sneaks up, doesn't it?
There probably are some North Americans who haven't changed their car's oil since the last time the NHL was involved in the Olympic tournament at the 2006 Torino Games. Even the 2002 Canada-USA final in Salt Lake City seems as if it happened a couple of years ago … at most.
Yet we're six months out from the NHL's fourth full-fledged participation in the Winter Olympics, this time in Vancouver. The regular-season shutdown will last 14 days, ...

Read full story
COUNTDOWN TO 2010 OLYMPICS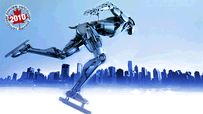 The 2010 Vancouver Olympics are just six months away. We're counting down until the torch is lit on Feb. 12 and our experts give you a preview of what to expect.
WHO/WHAT TO WATCH
THE CITY
Sorry, Innsbruck and St. Moritz and Salt Lake City. The combination of mountain vistas and sea views of Vancouver sets the bar higher for future Winter Games hosts. Jim Caple