Discussion
Vuvuzelas banned for world basketball
Updated:
August 2, 2010, 11:59 PM ET
Associated Press
Vuvuzelas will be silenced at the world basketball championships.
Basketball's governing body said Monday the horns that provided the earsplitting buzz at World Cup soccer games will be banned from its tournament. The organizers said vuvuzelas used indoors could damage hearing and make it difficult to communicate on court.
"We want fans to enjoy themselves and make lots of noise but not at the risk of spoiling it for others," FIBA secretary-general Patrick Baumann said in a statement. ...

Read full story
2010 FIBA World Championship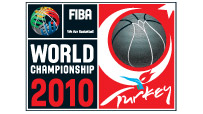 Scoreboard | Schedule | Standings
Follow ESPN's NBA coverage on Twitter
COLUMNS
NEWS
PREVIEWS
MORE
MORE OLYMPIC BASKETBALL HEADLINES