Commentary
2010 preview: New chapter for Garmin
The 2010 season marks a watershed for U.S. professional road cycling. An unprecedented four U.S.-licensed teams have a shot to compete in the sport's showcase, the Tour de France. This week, as the race calendar gets under way with the Tour Down Under, we'll review where those teams are coming from and where they're going.
The team's new name, Garmin-Transitions, is a two-word sentence and a question wrapped into one: Transitions to what? But the fact is that this homegrown American organization was evolving well before an optical company joined the global positioning system manufacturer as a fellow sponsor.
In Their Own Words: Garmin
• Jonathan Vaughters, on why Garmin-Transitions will maintain its independent anti-doping program overseen by Dr. Don Catlin (in conjunction with HTC-Columbia) when most other teams have dropped them:

"I feel like it continues to deliver the message to our athletes of what we expect of them, and it continues to deliver to our fans the authenticity that they should expect from us. What other people are doing is usually irrelevant to me. There's a difference between doing what you think the public will accept and getting away with as much as you can, and doing what you feel to be the correct decision."
• Tyler Farrar, on having more help in the field sprints:

"I had a really good season, I can't complain, but there were a lot of races where I think if we'd had a bit more of an organized train, I think we could have won. The biggest thing will be us jelling as a unit in the lead-outs. You can work on it [in training], but it's not the same. Racing is where you really make it happen. We had a really ragged train at the beginning of the season and it got progressively better. Now everyone has done it and we have a few more guys who really know how to do it coming in."
• Farrar, on his own sprint technique:

"If you watch the way I was sprinting in February against the way I was sprinting in October, I don't really think I was sprinting that much faster, I think I was sprinting a lot smarter."
• Timmy Duggan, on building his confidence last season:

"There were a lot of times when I was questioning whether I was going to be able to physically continue at this level. I fairly easily got back to 90 percent, which is fine for an everyday person, but that last couple percent is the only thing that matters in professional sport. I was still coming back and adapting to this new level of racing my rookie year on the Pro Tour. I definitely had to take a step back and cut myself some slack at times. But that's not really the way I am."
• Vaughters, on Christian Vande Velde:

"He did comfortably fit back into the super-domestique role [at the Tour], but because he was unable to fulfill on his leadership promise, I think it's left him a little bit hungry and a little bit anxious to be able to prove the promise he showed in 2008. For me right now, he's never been in a better state of mind. If he arrives healthy, I don't see any reason why Christian won't be on the podium."
• Farrar, on whether he'll start all three Grand Tours again:

"The thing up in the air is the Giro or [Tour of] California. It's up to the team. I'll go wherever they want me to go. I mean, it's hard physically, but that always seems to be what's best for me -- the more I race, the better off I am. Mentally it wears on you, but it didn't burn me out. I was still good at the end of the year. So why not try again?"
• Duggan, on seeing several original TIAA-CREF riders depart after last season:

"It is kind of bittersweet. I'm well on the road to accomplishing my goals as a cyclist. I'm happy about that, but you can't keep the same network of teammates around you for your whole career. That doesn't mean we're not best friends and training partners and racing partners."
• Farrar, on Allen Lim's departure:

"I'll just miss Al. Al is one of my good friends. But I definitely understand. As riders, we're so fluid. It doesn't seem weird to us. It's very rare for a rider to stay with the same team for their entire career, so it's easier for us to accept. For me, there's no drama there to create."
• Vaughters, on Contador:

"Alberto is a great talent. I think he's the most talented rider in the world, a really good person. I consider him a friend, I consider his brother a friend; I think he's a really honest and true person who has incredible athletic talent. Love to have him on the team. When that happens, I don't know. He'd be a great addition, of course, but I'm completely confident in the riders that we have."
Garmin, formerly Slipstream, formerly TIAA-CREF, née 5280, had a growing pains kind of season in 2009, the team's first as a Pro Tour squad. To understand why requires looking back to the year before.
Founded by ex-pro Jonathan Vaughters back in 2003 as a junior and developmental team with a strong anti-doping stance, Garmin made the most of its first Tour de France invitation in 2008, nearly placing leader Christian Vande Velde on the podium. The team rode well in domestic races and quickly established itself as one of the best beat-the-clock outfits in the sport, winning the opening team time trial at the Giro d'Italia. But in the offseason, economic and competitive reality sank in: Simply being in the mix was not enough. Riders and staff alike vowed to push for better results.
That mission appeared stalled this past August. Garmin had logged more than 20 second-place finishes by then. After one during the Tour, Vaughters lamented that the team was "Equipe Raymond Poulidor," referring to the French rider famous for being a perennial Tour runner-up.
The team's collective frustration had many roots: a spate of injuries in the spring, culminating with Vande Velde's season-threatening crash in the Giro; an energy-consuming verbal feud with fellow American-licensed Team Columbia; and the fact that gifted sprinter and classics rider Tyler Farrar was coming into his own just in time to knock heads with the most formidable speedster in a generation, Columbia's Mark Cavendish. As an added distraction, the team considered trying to sign defending Tour champion Alberto Contador in midseason when his Astana team appeared to be nearing financial collapse.
The low point came in Stage 14 of the Tour. Controversy erupted when Garmin sent riders to the front of the peloton to push the pace for no apparently logical strategic reason other than to deny Columbia's George Hincapie, who had finished with a breakaway group, a shot at wearing the overall Tour leader's yellow jersey.
It didn't matter that myriad factors (and other teams) were involved in Hincapie's five-second near-miss. As the peloton crossed the finish line, word began to spread that Garmin team president Matt Johnson, as opposed to one of the sports directors, had ordered the chase from a team car. The Garmin riders themselves weren't completely sure what had happened until after the stage, but they largely closed ranks. However, the team's explanation that it was only protecting its overall contenders didn't wash.
The normally reserved Hincapie smoldered openly. His Columbia teammates used indelible pens to black out the logo of one of their sponsors -- the chamois cream marketed by Garmin veteran Dave Zabriskie -- on their jerseys. Zabriskie, one of the riders who had been sent to the front in Stage 14, rode part of the next day in tears. Vaughters' administrative assistant was harassed while driving a car with a team logo back home in Denver. The team has never gone on record on the subject, but several people who were directly involved confirmed Johnson ordered the code red.
Columbia received plenty of glory at the Tour, courtesy of Cavendish's six stage wins. Hincapie went on to capture the U.S. national championship and will wear the Stars-and-Stripes jersey this year for BMC, where he says he is confident he'll excel in the spring classics. Garmin also performed admirably at the Tour, supporting track cycling star Bradley Wiggins to a fourth-place finish. Vande Velde -- riding with seven barely healed fractures in his back, ribs and pelvis -- came in a courageous eighth. But the incident put Garmin's riders in a difficult position and struck at the very heart of the team's good-guy public persona.
The Vuelta d'Espana helped heal those wounds. Farrar broke through to win his first Grand Tour stage (he logged 12 wins overall in 2009), and David Millar, who came back from a doping suspension in 2006 to become one of the sport's most thoughtful, forceful spokesmen on the issue, won the final individual time trial. Zabriskie followed up by capturing his fourth consecutive national time trial title championship and won the Tour of Missouri in September.
More drama was yet to come. Almost immediately after the Tour, rumors began to flare that Wiggins was bound for the new British mega-team, Sky. While Wiggins parried questions in the media and on Twitter, often claiming to have been misquoted, the story gained momentum and finally, in December, Garmin announced that Wiggins had transferred to Sky against the team's wishes for an undisclosed settlement.
The same week, team physiologist Allen Lim, an innovator in both high- and low-tech training methods, defected to Lance Armstrong's RadioShack squad. Some fans interpreted the move as treasonous, but Garmin riders defended Lim and his career choice.
Garmin's top priorities as the 2009 season drew to a close were to get reinforcement for Farrar in the sprints, secure several key riders with long-term contracts, add more young talent and close the sponsorship gap so owner Doug Ellis could stop bleeding money.
Team leader Vande Velde and young Irish climber Dan Martin are signed through 2012 and time trial specialist Zabriskie through 2013. Farrar will be supported by several riders who know how to shovel coal into a train engine, most notably seasoned lead-out specialist Robbie Hunter of South Africa. Several young riders were promoted or recruited, and for the first time this season, Garmin, with Transitions and POM Wonderful juice newly on board, is fully sponsored.
A high note for the team both personally and professionally was the comeback of Timmy Duggan, a talented and immensely likable charter member of Vaughters' original junior program. The Boulder, Colo., native has recovered from a serious head injury suffered in 2008, got stronger as the year went along and looks primed to pick up where he left off before the interruption.
Bonnie D. Ford covers tennis and Olympic sports for ESPN.com. She can be reached at bonniedford@aol.com.
Enterprise and Olympic Sports
Bonnie D. Ford is a senior writer for ESPN.com.
2010 CYCLING PREVIEW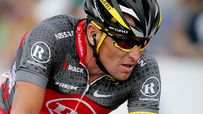 The new cycling season brings an unprecedented four U.S.-licensed teams, all of whom have a shot to compete in the Tour de France. Bonnie D. Ford previews what lies ahead for all four teams in 2010:
GARMIN-TRANSITIONS
RADIOSHACK
MOST SENT STORIES ON ESPN.COM