Landis has hip surgery, hopes to train for Tour
Updated:
October 2, 2006, 9:04 PM ET
ESPN.com news services
SAN DIEGO -- Floyd Landis, accused of doping during his Tour de France victory in July, has undergone right hip surgery without complication, according to the cyclist's spokesman, Michael Henson.
The two-hour procedure done Wednesday by Dr. David Chao revealed greater damage to Landis' hip than initially shown in MRI screenings, Henson said.
Landis' doctors chose a revolutionary "hip resurfacing" surgery, shaving off the damaged tip of the hip and substituting a metal ball, according to a report in VeloNews. Doctors also smoothed the joint socket to aid in mobility.
"It's a state-of-art procedure, in a sense a more delicate procedure than in a full replacement surgery," Henson told VeloNews. "His rehab time should be a little shorter and he should be able to get back to full movement sooner. If all goes well, he should be even stronger."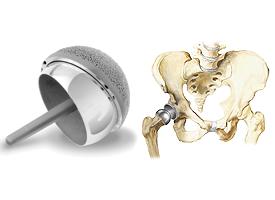 Floyd Landis had a metal ball inserted into his hip socket and connected to his leg bone.
Landis, whose arthritic right hip was injured in a 2003 crash, returned to his Murrieta home Thursday and will immediately begin six weeks of physical therapy. He can start low-intensity training on his bike in 1-to-2 weeks, Henson said.
"If all goes well and according to plans, he would be able to come back in 2007 to competition," Henson told VeloNews. "It's unprecedented. None of the medical team can say just how this is going to play out, but they all believe this is his best chance to return to the highest level.
"Floyd is in very good spirits and he's very happy to have this behind him," Henson told VeloNews. "This has weighed heavily on his mind for two years. Anytime someone is facing major invasive surgery, that's something you're anxious about."
Landis, however, faces another more complicated battle as he revs up efforts to clear his name of doping allegations.
Landis tested positive for higher-than-allowable levels of testosterone following his victory in July's Tour de France. The test samples contained synthetic testosterone, indicating that it came from an outside source.
The U.S. Anti-Doping Agency decided last week that it will proceed with the investigation. Landis faces a two-year ban from the sport and the possibility of becoming the first in the Tour's history to have the overall title taken away for a doping violation.
Landis' attorney, Howard Jacobs, said Landis -- who has maintained his innocence throughout the ordeal -- would appeal the positive test and ask for an open hearing by the American Arbitration Association. USADA has said it would agree to an open hearing, which would probably not take place until early next year.
Information from The Associated Press was used in this report.
Landis Investigation
Floyd Landis has been fired and the Tour de France no longer considers him its champion. That's because Landis' second doping sample confirmed the initial "adverse analytical finding" for higher-than-allowed levels of testosterone.
News
•
Pound backs French lab's credibility in Landis case
•
Landis camp cries foul over latest test report
•
Landis effect blamed for race cancellation
•
Landis to compete at Teva Mountain Games
•
French lab begins retesting 'B' sample
•
Report: Protocol lapse jeopardizes case
•
Landis to release 'Positively False'
•
Landis won't race in France in '07
•
Landis slams WADA's Pound
•
Cyclist acquitted due to errors by lab
•
French doping lab tightens security
•
Online defense argues lab made mistakes
•
Landis has hip surgery
•
Landis' former team Phonak shuts down
•
Armstrong: Landis said too much
•
Landis' 'B' sample tests positive
Analysis
•
DeSimone: Panel permits retests
•
Kreidler: Excuses at elevated levels
•
Keown: Signs were there
•
DeSimone: Dopey statements
•
Thompson: Landis denies cheating
•
Forde: What's left for fans?
MOST SENT STORIES ON ESPN.COM