Tour wants yellow jersey back after '96 winner admits doping
Updated:
May 25, 2007, 6:57 PM ET
Associated Press
COPENHAGEN, Denmark -- Bjarne Riis became the first Tour de France winner to admit using performance-enhancing drugs to win the sport's premier race, further eroding cycling's credibility after a series of doping confessions.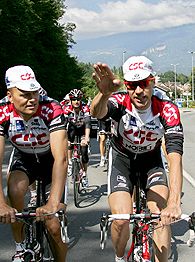 AP Photo/Christophe EnaBjarne Riis, left, confers with Jens Voigt during the 2005 Tour de France. Riis has admitted doping during his 1996 Tour victory.
His admission Friday means the top three finishers in the 1996 Tour have all been linked to doping -- and two have admitted cheating.
The retired Dane said he used the blood-booster EPO from 1993 to 1998, including during his 1996 Tour victory, confirming years of speculation that he benefited from banned substances. He also admitted taking cortisone and human growth hormone, but didn't say when.
"I have taken doping. I have taken EPO," Riis said at a televised news conference. "I have made errors and I would like to apologize."
EPO -- or erythropoietin -- is a synthetic hormone that stimulates the production of oxygen-carrying red blood cells.
Riis said he no longer considered himself a worthy winner of the Tour, and indicated he would be willing to give back the title.
"My jersey is at home in a cardboard box," said Riis, now manager of the Danish team CSC. "They are welcome to come and get it. I have my memories for myself."
Cycling's governing body said even though time limits for sanctioning Riis have expired, it "urges the former rider to return his yellow jersey, the symbol of his victory."

My [yellow] jersey is at home in a cardboard box. ... They are welcome to come and get it. I have my memories for myself.
Bjarne Riis
Tour director Christian Prudhomme used even stronger words:
"Bjarne Riis said himself that he is did not deserve to have won the Tour in 1996 because he cheated. I think the same thing, because he has soiled the yellow jersey," Prudhomme told The Associated Press when reached by telephone. "Seeing as he did not deserve to win, does he deserve to lead a major cycling team?"
Riis' confession comes while 2006 Tour winner Floyd Landis tries desperately to keep his jersey and awaits a ruling in his doping case.
Landis tested positive for synthetic testosterone and could be stripped of his title and banned for two years if found guilty. An arbitration panel considered his case in a nine-day hearing that ended this week. Prudhomme already said he didn't consider Landis to be last year's winner.
The runner-up to Riis in the 1996 race was Germany's Jan Ullrich and Frenchman Richard Virenque was third.
Ullrich retired in February after being implicated in Operation Puerto, the Spanish investigation into an alleged blood doping ring. Last month, German authorities matched Ullrich's DNA sample to blood bags seized in Spain. He has always denied doping.
More from Bjarne Riis
Excerpts from a prepared statement issued by Danish cyclist Bjarne Riis and Team CSC on Friday:
"I think if we are to talk about doping, we should talk about what to do now and not about the mistakes in the past. The recent developments in Germany have taken the balance out of this and therefore I want to set the record straight. And I want to do this, because the future of cycling needs the right focus."
"... When I was a rider in the 1990s, I worked extremely hard to get my results. I worked extremely hard, day in day out and I sacrificed a lot just even to be part of the best. In that time, the perspective on doping and preparation was wrong and misguided."
"That also means that I did things that I shouldn't have and I have regretted that ever since. Those were mistakes that I take the full responsibility for and I don't have anyone to blame but myself. We all make mistakes and I think my biggest mistake was to let my ambition get the better of me. That I have had to deal with a long time ago and I am glad to say that I am a lot wiser now. Both in my personal and in my professional life."

Virenque was kicked out of the 1998 Tour de France because of his involvement in the Festina scandal. His Festina team was ejected from the Tour after customs officers found a large stash of performance-enhancing drugs in a team car.
After denying doping, Virenque later admitted to it in a tearful court confession.
Riis' admission was the latest in a string of doping confessions from prominent cyclists, and caused the Danish government to strongly condemn Riis -- once seen as a national hero as the only Dane to win the Tour.
"He has behaved unethically and immorally," said Danish Culture Minister Brian Mikkelsen, whose department oversees sports. "It is totally despicable."
Three-time Tour winner Greg LeMond, however, took a different view.
"I never thought I'd see the day that this would happen," he said in a statement. "Mr. Riis' decision is courageous, and I hope other cyclists will follow suit."
So does the cycling federation, saying the confessions were "extremely positive."
"The law of silence no longer applies. Each person must now assume the full consequences of their actions," the agency said.
Riis' confession came on the same day the Italian Olympic Committee prosecutors recommended that 2006 Giro d'Italia cycling champion Ivan Basso be banned for 21 months for his involvement in the Spanish doping scandal Operation Puerto.
Basso was suspended by the Italian cycling federation last week, after acknowledging involvement in the Spanish blood-doping investigation. He confessed to "attempted doping" but said he never actually went through with it.
On Thursday, Eric Zabel and Rolf Aldag, two Germans who were support riders for Riis on the Telekom team, admitted using EPO while riding for the team in the 1990s.
Even German Chancellor Angela Merkel weighed in on the sport's future, urging cyclists who used doping to come clean and break a "cartel of silence."
"The confessions and investigations so far are not sufficient to sort things out," Merkel said.
Riis' CSC team recently launched what it described as the most rigorous anti-doping program in cycling. He said he planned to remain with the team, adding that he hoped his confession would allow riders to focus on the future.
CSC spokesman Ole Egeblad said the main team sponsor was "surprised" by Riis' admission, and would talk to team officials before deciding whether to continue its support.
Until now, Riis has repeatedly denied taking performance enhancing drugs during his 14-year career as a professional cyclist. In 2000, he quit professional cycling under doctors' orders because of a knee injury.
Former Telekom massage therapist Jef d'Hont said in a book that two doctors gave EPO to some of the team's top riders, including Riis and Ullrich, who won the Tour de France in 1997.

Copyright 2007 by The Associated Press
MOST SENT STORIES ON ESPN.COM