Wouter Weylandt dies in Giro crash
Updated:
May 9, 2011, 11:50 PM ET
Associated Press
MILAN -- Hurtling down an Italian mountain pass at a speed that only a car would normally reach, Belgian cyclist Wouter Weylandt lost control of his bike for just a split second. In a sport where the smallest mistake can have catastrophic consequences, it proved lethal.
[+] Enlarge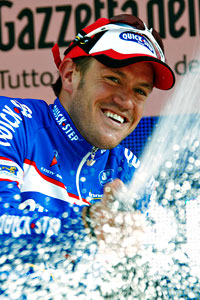 AP Photo/Marco TrovatiWouter Weylandt, seen after a Giro d'Italia stage win last year, died Monday after being seriously injured in a crash.
Weylandt tumbled to his death Monday in a downhill crash during the third stage of the Giro d'Italia, with the riders going 40 mph to 50 mph at the time. It was the first fatality at the Italian race in 25 years and the first at one of the sport's showcase tours in 16 years.
It was one of the most high-profile deaths at an international sports event since Georgian luger Nodar Kumaritashvili's fatal crash in training on the eve of last year's Vancouver Olympics. It also renewed questions about safety in cycling, where riders zip down winding mountain roads with steep drops and hairpin curves.
"Our sport is very tragic at times. It has been throughout its history," said British rider David Millar, who took the pink jersey as race leader after Monday's stage but said it now meant "nothing."
"The bottom line is that the guys here are the best cyclists in the world, and the best guys in the world can have a mechanical fault or find themselves in the wrong place at the wrong time," Millar said.
The crash on the Passo del Bocco was not broadcast live on television, but images showed paramedics frantically trying to revive Weylandt, who was sprawled on his back on the road, bleeding heavily from the face and head.
Portuguese rider Manuel Cardoso, who saw the accident, said Weylandt lost control after slamming into a wall on the side of the road during the descent about 12 miles from the finish in Rapallo in northern Italy.
"Wouter was dropped and tried to come back to the group," Cardoso said. "[Weylandt] then looked behind to see if it would be better to wait for other dropped riders. While looking behind, he hit his left pedal or the left side of his handlebars on a small wall and was catapulted to the other side of the road when he again hit something. It must have been terrible."
Weylandt's Leopard-Trek teammate Tom Stamsnijder also witnessed the crash.
"It was a very hard fall," he said.
Medics who were following the cyclists in cars rushed to the scene, but it was already too late.
"We arrived immediately as we were behind his group," Giro doctor Giovanni Tredici said. "He was unconscious with a fracture of the skull base and facial damage. After 40 minutes of cardiac massage we had to suspend the resuscitation because there was nothing more we could do."
Weylandt's body was covered by a sheet and taken away by ambulance about an hour after the accident. Local investigators immediately opened an inquiry. Weylandt's body was taken to a nearby hospital for an autopsy.
Weylandt's father and the cyclist's pregnant girlfriend were en route to Italy and were to be met at Malpensa airport in Milan.
Ford: Weylandt's death an eye-opener

Wouter Weylandt's tragic death is a sobering reminder of the terrible tightrope that elite cyclists tread every day, writes Bonnie D. Ford. Story
"I feel obliged to share with you a text message I received today, reminding me that this is a sport where everybody applauds the riders, but that they all risk their lives in every single meter of the course," race director Angelo Zomegnan said.
The crash came almost exactly a year after one of the biggest victories of Weylandt's career - the third stage of the 2010 Giro on May 10 as it passed through the Netherlands. His other main tour stage victory came in the 2008 Spanish Vuelta when he won the 17th stage.
The rider's team put a picture of a smiling Weylandt on its website.
"The team is left in a state of shock and sadness and we send all our thoughts and deepest condolences to the family and friends of Wouter," the statement said. "This is a difficult day for cycling and for our team, and we should all seek support and strength in the people close to us."
Race organizers canceled the prize ceremony after the stage, a 107-mile ride from Reggio Emilia to Rapallo won by Spain's Angel Vicioso.
The Leopard-Trek team did not immediately announce whether it would stay in the race, and Zomegnan said all riders were free to decide whether to enter Tuesday's fourth stage.
Either way, the rest of the race is likely to assume a more somber tone than is usual for a sport where riders are routinely greeted by thousands of cheering spectators along the routes.
"We will leave the riders free to chose how they want to approach the stage," Zomegnan said. "Whatever they decide, we will respect. We won't have any music or festivities in the afternoon, like we did for the last 10 kilometers of this wretched stage."
Wouter Weylandt was the first rider killed in a crash in one of cycling's three main tours since Italian rider Fabio Casartelli died during the 1995 Tour de France. At the Giro, Weylandt is the fourth cyclist to die during the race after Orfeo Ponsin in 1952, Juan Manuel Santisteban in 1976 and Emilio Ravasio in 1986.
In 2009, Pedro Horrillo was induced into a coma after falling 200 feet over a guard rail into a ravine during the eighth stage of the Giro. The following day, the main pack rode slowly to protest safety conditions.
In March 2003, Kazakh rider Andrei Kivilev died after he fell from his bike and fractured his skull while not wearing a helmet during the Paris-Nice stage race. The International Cycling Union subsequently made the wearing of hard helmets compulsory.
Condolences for Weylandt quickly poured in from cyclists around the world.
"I'm shocked and saddened. May he rest in peace," Lance Armstrong, the now-retired seven-time Tour de France champion, said on Twitter.
"Things like this shouldn't happen. Absolutely sick to the stomach," British cyclist Mark Cavendish tweeted.
Race favorite and three-time Tour de France winner Alberto Contador called it "a terrible story and a dark day for the cycling family."
"Regardless of the fact each of us is in our own team, we are all in the same place and this is a very difficult day for the world of cycling."
Before this year's Giro even began, Contador said he hoped organizers would line some of the more dangerous descents with netting like that used in Alpine skiing races. However, Contador was likely referring to the longer descents in the high mountain stages to come.
Weylandt joined the newly formed Leopard-Trek team at the start of the 2011 season, viewing it as his big break in racing alongside Frank and Andy Schleck and Fabian Cancellara. The move followed six years spent with Quick Step, during which time he rode as a support cyclist for Tom Boonen.
UCI President Pat McQuaid issued a statement offering sympathy to Weylandt's family, friends and teammates and "all his colleagues on the Giro, who will have to overcome their grief to continue in the race."

Copyright 2011 by The Associated Press
SPONSORED HEADLINES
ESPN TOP HEADLINES
MOST SENT STORIES ON ESPN.COM