Castile, Okolski win U.S. pairs title, but who are they?
Updated:
January 27, 2007, 2:18 AM ET
By
Amy Rosewater
| Special to ESPN.com
SPOKANE, Wash. -- Anyone who predicted the outcome in the pairs skating competition must start up a psychic hotline.
Pronto.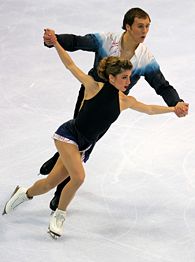 Matthew Stockman/Getty ImagesBrooke Castile and Benjamin Okolski jumped from third to first after their long program.
OK, so two-time national champions Rena Inoue and John Baldwin didn't skate their best Friday at the U.S. Figure Skating Championships. So, he fell on a triple toe loop, and she fell on their hallmark throw triple axel.
Those things happen.
So the fact they didn't win isn't overly surprising.
But the fact they came close to not making the world team is.
And the fact they lost to a team that placed eighth a year ago and didn't even win its qualifying competition for nationals this year is even more so.
Some insiders thought Inoue and Baldwin might have their hands full with training partners Naomi Nari Nam and Themistocles Leftheris. Nam is a former silver medalist in singles skating and once was considered a threat to Michelle Kwan. Together, Nam and Leftheris were second in the short program.
They skated so well that the crowd at Spokane Arena booed. It was a sign of admiration, actually. The audience thought Nam and Leftheris should have beaten Inoue and Baldwin.
After Inoue and Baldwin made their mistakes in the long program, Nam and Leftheris had a shot at redemption. Nam and Leftheris opened their routine with stunning side-by-side triples and a triple twist. Later, however, she fell on two throws and they fell out of world-team contention.
The only team that skated a clean routine was Brooke Castile and Ben Okolski. The Michigan couple performed a phenomenal triple twist in which she practically reached the ceiling of the arena.
Never heard of them before?
You might take note of their names now.
Today, they are national champions.
And we in the media are doing our best to figure out everything from their favorite foods -- she likes turkey dogs, by the way -- to their musical talents. (Did you know Okolski can play the harmonica?) They both live with their parents and coach on the side to make money so they can skate. Castile designed the team's costumes to cut costs.
They train at the same rink as Olympic ice dancers Tanith Belbin and Ben Agosto -- but unlike Belbin and Agosto, they can't afford to eat out much.
"Our friends want to go out and I tell them, 'How about we make hot dogs?' because I'm broke," Castile said.
The national championships are all about rises and falls. This particular competition couldn't have summed that up any better.
All week long, Inoue and Baldwin appeared out of synch.
Baldwin posted a report on his Web site prior to the championships in which he claimed he was kidnapped, mugged and beaten while in Russia last month for a competition. Baldwin said he is still not entirely sure what happened that evening, and there is no independent verification of the incident available.
U.S. Figure Skating spokeswoman Lindsay DeWall said the federation is investigating the matter and "takes it very seriously."
Although Baldwin didn't want to publicly discuss the incident much this week, it's clear that whatever happened in Russia affected them.
"It did happen, and it was the worst experience I ever had to go through in my life," Baldwin said.
Inoue and Baldwin's performance at these nationals, in which they struggled in both the short and the long programs, certainly didn't help.
"This nationals was the toughest one for us," said Inoue, 30, who has been competing with Baldwin, 33, at the U.S. Championships since 2001.
When asked if they would return to nationals in 2008, Baldwin quickly nodded and said yes. Inoue, however, wasn't so sure.
"We don't know yet," Inoue said. "It's hard to commit for another year."
Inoue added that she is putting off that decision until after the world championships.
This was supposed to be an enjoyable nationals for Inoue and Baldwin. The most experienced team in the field, they should have won a third title and headed off to worlds with confidence. This is a team that was seventh at the Olympics and one spot away from the medal podium at the world championships a year ago.
The world championships are in Tokyo in Inoue's home country. She was born in Hyougo, Japan, and represented Japan in two Olympics before she started skating with Baldwin seven years ago. Competing in the world championships should be a crowning moment for such an accomplished skater.
"I want to show my friends and family what I've been doing the last couple of years," Inoue said.
That opportunity almost didn't happen.
Inoue and Baldwin had to sweat it out while Nam and Leftheris skated before they could breathe a sigh of relief. Baldwin said he didn't watch Nam and Leftheris because he and Inoue were busy doing interviews with reporters. Inoue said she tried to sneak peaks at the ice.
"Definitely, there was a moment where I thought we were not going to make it," Inoue said. "We didn't do our job."
"It wasn't our night," she added. "It wasn't our day."
Inoue and Baldwin have two months to get back on track. After what happened Friday, they know they have their work cut out for them. During the post-event news conference, Baldwin said he and Inoue have to add a triple twist to their free skate for worlds.
"I think they're an inspiration," Baldwin said as he looked at the newly crowned champions. "I want ours to be like theirs. They are making a big statement."
Unfortunately for Inoue and Baldwin, they made a different kind of a statement of their own.
Amy Rosewater, a freelance writer based in Baltimore, is a frequent contributor to ESPN.com.
MOST SENT STORIES ON ESPN.COM