Commentary
Judges get technical at women's free skate event
Updated:
October 28, 2007, 9:29 PM ET
By
Amy Rosewater
| Special to ESPN.com
READING, Pa. -- Caroline Zhang must have felt as if she was an NBA rookie being called for traveling.
Although she felt she made a perfectly fine debut in her first senior-level skating competition, she walked off the ice only to see a scoring monitor that showed five of her jumps were downgraded and two were flawed for edge changes.
If the 14-year-old junior world champion was the only one were this was the case, then one might think the judges were trying to send the rookie a memo about competing in the big league.
But she wasn't the only one who was busted.
[+] Enlarge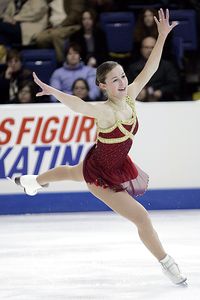 AP Photo/Robert F. BukatyGold medalist Kimmie Meissner was one of 11 skaters penalized for under-rotating their jumps.
All 11 women competing in the free skate at Skate America this afternoon -- including the winner, Kimmie Meissner and reigning world champion Miki Ando -- were penalized for under-rotating their jumps. Six women were called for two or more so-called cheated jumps.
It's not that judges have never dinged a skater for cheated jumps before, it's just that today it seemed as if they were on a mission. And it was odd timing, since the crackdown came in the women's free skate. The men, who were judged by a different panel, didn't seem to encounter the same problem.
Imagine taking a test and then being told what it was going to be about.
"I was surprised to see how many times it was called,'' said Meissner, the U.S. champ said after winning her first Grand Prix title with just three clean triples in the free skate.
Efforts to reach members of the women's judging panel on Sunday were unsuccessful.
Ando actually won the long program with four clean triples out of six attempts, but she wound up second overall. Meissner was the leader after the short program. Despite the apparent flaws in Zhang's programs, she still managed to reach the podium in her Grand Prix debut with 153.35 points. Amazingly, in the free skate she was third, placing just 1.6 points behind Meissner.
Emily Hughes, the U.S. silver medalist, was surprised by her low scores in the short program -- she received the second-lowest technical scores in the field -- and had four clean triples in the long to place fourth overall.
Pam Gregory, who coaches Meissner, said she had a bit of a heads up that this might be an issue over the summer when some judges came to check out Meissner's programs. But no one was expecting the judges would be so critical.
"They said these things the last couple of years but this year, they're actually enforcing it,'' Gregory said.
At International Skating Union events, there are members of the judging panel whose job is to analyze each element in the program. They are the technical controller, the technical specialist and an assistant technical specialist. The 10 judges then evaluate the quality of those elements.
Of all of the skaters at this event, Zhang was, by far, the most penalized. Zhang won over the crowd in the Sovereign Center for her moxie -- she opened her first senior program with a triple-triple combination -- and for her yoga-like spin positions. But she had deductions. In the long program, only one of Zhang's seven planned triples, a triple flip, was deemed clean.
"I was surprised by that,'' Zhang said of the downgrades. "I didn't really expect it, but I need to work harder.''
Li Mingzhu, who has coached Zhang for four years, said Zhang had never been penalized for having cheated jumps in the junior ranks.
"I'm surprised, yeah, but I have to review everything,'' Li said.
The difficult part for the skaters is that some of them, like Hughes, will have a week to make any necessary amends. Her next Grand Prix is in Quebec City Nov. 1-4. Zhang will compete in Beijing Nov. 8-11. Meissner's next competition is in Paris Nov. 15-18.
The one good thing for the skaters is that at least there was consistency to the judges' critiques. Everybody got into the act.
The bad news is that the skaters will have different judging panels at every Grand Prix. Will the one in Quebec City be like the one in Reading? Will the one in Paris be as harsh as the one in Beijing?
Nothing in figure skating judging, as evidenced at the 2002 Olympics in Salt Lake City, is ever clear. And as usual, the forecast for the sport is very cloudy.
Amy Rosewater, a freelance writer based in Baltimore, is a frequent contributor to ESPN.com.
MOST SENT STORIES ON ESPN.COM