Denney-Barrett win short program
Updated:
January 22, 2009, 7:50 PM ET
Associated Press
CLEVELAND -- Caydee Denney and Jeremy Barrett sure know how to make an entrance.
Reunited only since June after a brief partnership two years ago, the pair pulled off a major upset at the U.S. Figure Skating Championships on Thursday. Not only did they win the short program with a flawless routine, they beat defending champions Keauna McLaughlin and Rockne Brubaker and veterans Rena Inoue and John Baldwin in the process.
"We were just coming here to enjoy the experience," said the 15-year-old Denney, who jumped out of her seat when she saw they were in first place.
[+] Enlarge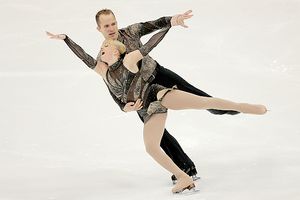 Matthew Stockman/Getty ImagesDenney and Barrett scored a major upset at the U.S. Championships, besting defending champions Keauna McLaughlin and Rockne Brubaker in the short program.
The free skate is Saturday, and the top three couples are so close, it'll be winner takes all.
Denney and Barrett scored 61.51. McLaughlin and Brubaker had 61.12 despite two noticeable errors, but their power, speed and appealing program allowed them to edge Inoue and Baldwin -- barely. Inoue and Baldwin, the 2004 and 2006 national champions, were a mere hundredth of a point behind at 61.11.
"We weren't really expecting any results, we just wanted to come and skate solid programs," said Barrett, 24, who still looked dazed after they left the ice. "I'm not sure it's really sunk in yet."
Meryl Davis and Charlie White extended their lead in ice dance with a rollicking original dance that had the fans feeling as if they were in a time warp to the 1920s. With an almost nine-point lead over reigning world junior champions Emily Samuelson and Evan Bates, Davis and White just have to show up for Saturday's free dance and the title is pretty much theirs.
The only dance team in the United States who's better, Olympic silver medalists Tanith Belbin and Ben Agosto, aren't here because of his back injury.
"We've thought about what it would be like for 10 years now," Davis said of winning the national title. "But we've always been fairly successful staying in the moment, and I think we'll stick with that."
Coming into nationals, all the talk about the pairs competition was about McLaughlin, 16, and Brubaker, 22, possibly the best hope to end the United States' medal drought in pairs after a rapid ascent of their own. Denney and Barrett weren't even in the same air space, let alone on the radar.
They skated together briefly in the summer of 2006, but broke up after doing only two low-level competitions because Denney, who also skates singles, wanted to try training in Colorado. She moved with her mother and sister, and her father stayed behind in Florida. When the separation got to be too much for the family, they moved back to Florida.
Barrett sat out last season and was still looking for a partner when Denney returned. After skating together three days, they decided to give their partnership another go.
Good thing.
"As soon as we started skating together, things just clicked," said Barrett, who has been to senior nationals twice before with other partners. "Our body types are very similar, our timing is very similar."
And that timing is just about perfect.
While most couples were so out-of-sync they could have been doing separate programs, Denney and Barrett had perfect unison. They looked like shadow images on their side-by-side triple toe loop jumps, and the audience actually began clapping during their combination side-by-side spin. Even when they changed feet and positions, they stayed perfectly in time, as if linked by an invisible string.
They also scored big with their throw triple lutz, a jump so tough for pairs that few teams even try it. A lutz is difficult enough for single skaters, and the awkward takeoff position makes it even harder for a pair. No surprise, then, that it's worth a full point more than the throw triple salchow performed by most teams.
It probably helps that Denney still skates singles. She was sixth at sectionals as a junior, missing nationals by two spots.
"I think Caydee's the best partner anybody could ask for," Barrett said when asked the secret of their quick success. "She makes it pretty easy."
Still, their ascent is a rarity in a sport where it often takes years to develop the chemistry and harmony of a world-class team. Apparently the Americans have figured it out, though. McLaughlin and Brubaker swept all the major junior titles in 2006, their first season together, and won the U.S. senior title last year.
They've admitted there was more pressure coming into these nationals. But that wasn't the reason for a performance not up to their usual standards.
"The mistakes we made today, we made them because we made them, not because of added pressure," Brubaker said.
Skating to "Malaguena," the two displayed the chemistry and passion that's become their trademark. They looked more like a couple trying to steal a few last moments in the cantina before it closed than a pair of skaters. But it was their big tricks that failed them.
Brubaker stepped out of their side-by-side triple salchows and she wasn't able to hold the landing on their throw triple loop.
"It could have been better," McLaughlin said. "Our big tricks, not so much."
Inoue and Baldwin's program was clean, but uninspiring. Skating to the soft and lyrical "Illumination," it was a program that reflected their maturity -- she is 32 and he is 35, making his 23rd trip to nationals. But it certainly didn't wow anybody. The highlight was their lift, in which he picked her up and lifted her overhead with only one arm, doing it so easily she seemed weightless.
"You don't shoot the horse if it can still run. We're like the horse and we can still run," Baldwin said when asked if he and Inoue plan to continue through the Vancouver Olympics. "There's no reason why we shouldn't do the next Olympics."

Copyright 2009 by The Associated Press
SPONSORED HEADLINES
ESPN TOP HEADLINES
MOST SENT STORIES ON ESPN.COM