Ryan Bradley wins short program
Updated:
January 28, 2011, 11:55 PM ET
ESPN.com news services
GREENSBORO, N.C. -- Ryan Bradley sure knows how to give fans what they want.
Three months after putting retirement on hold thanks to a fan campaign on Twitter and Facebook, Bradley stole the show from two-time national champion Jeremy Abbott and won the short program at the U.S. Figure Skating Championships on Friday night.
[+] Enlarge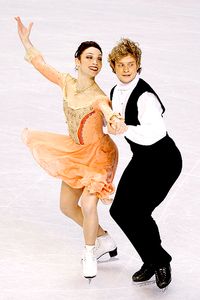 Matthew Stockman/Getty ImagesMeryl Davis and Charlie White scored 76.04 points, almost six points ahead of last year's U.S. junior champions.
And it wasn't all that close. Bradley's flawless and fabulously entertaining program to "Boogie Woogie Bugle Boy" earned him 80.39 points, putting him exactly two points ahead of Abbott. Brandon Mroz is a distant third heading into Sunday's free skate.
"When I started training again, if I wasn't prepared to make a push at the title, to have a chance of winning it, I didn't want to be here," Bradley said. "I got off the plane and I felt something in the air. I plan on staying on top."
Earlier Friday, Olympic and world silver medalists Meryl Davis and Charlie White took a big step toward another U.S. title with a commanding win in the short dance. They're almost six points ahead of training mates Maia and Alex Shibutani, with the free dance Saturday.
Bradley has always been a fan favorite, with playful, theatrical programs that could earn him an Oscar nomination as well as a medal. But after finishing fourth at last year's nationals and missing the Olympic team, the 27-year-old figured it was time to hang it up. He even did a backflip as he left the ice, his way of saying goodbye.
But those plans didn't hold up. First he wound up on the world championship team after Olympic champion Evan Lysacek withdrew. As he was training for worlds, he fell and broke his right foot. Bradley kept on skating and, thinking it was healed, went in for a checkup in early May.
"[I expected] them to say, 'You're great, go back to training,'" Bradley said.
Instead, they told him he needed surgery. Immediately.
Thanks to those extra two months of training, the bone had healed but it wasn't lined up. Surgeons had to re-break the bone and screw it back together in the proper alignment, and Bradley was off the ice the entire summer.
"I was planning on not competing," he said. "I didn't want to tell anyone that. But I was planning on taking some time off and really enjoying life."
So he taught classes to kids and, once the foot healed, did some shows. Though he never made a formal announcement of his retirement, fans got the idea and bombarded his Facebook and Twitter pages with pleas to return.
"It meant so much to me and I was like, `I miss this. I miss these people," Bradley said.
So at the end of October, he resumed training.
"I was referring to myself as Brett Favre -- without the success," said Bradley, a huge Kansas City Chiefs fan.
He may not have the resume, but he sure does have the goods.
Dressed in an authentic military uniform -- or as close to authentic you can get in skating spandex -- Bradley opened his program with a monstrous quadruple toe loop-triple toe combination, the only quad-triple of the night. He followed with a triple axel that had so much hang time, it rivaled any pairs throw jump.
His footwork alone gave fans their money's worth. He boogies his way across the ice, snapping his fingers, smiling and flirting with just about everyone in the arena. He had the audience clapping and cheering, and it was on its feet before he finished his final spin.
Bradley blew kisses to the crowd and pounded his chest as he left ice, then sprinted up to the "Kiss and Cry" area and jumped up onto the podium. When he saw his marks, he jumped up again, the smile on his face so bright it lit up the entire arena.
"If you're going to be sitting behind someone, at least they should do the performance of their life," said Abbott, who used to train with Bradley and Mroz. "I'm proud of Ryan and looking forward to Sunday."
Abbott is trying to join Johnny Weir as the only men to win three straight U.S. titles since Brian Boitano won four in a row from 1985-88. That's an impressive feat -- Lysacek couldn't do it. Neither could world champion Todd Eldredge. Ditto for Olympic bronze medalist Timothy Goebel.
Yet Abbott generates about as much buzz as a Zamboni driver. Part of it is his own doing, flopping at the 2009 world championships and again at the Vancouver Olympics. But he's also had the misfortune of competing at the same time as Lysacek and Weir, the biggest personalities the U.S. men have had since Boitano.
"They were never really a thought for me, more just people I competed against -- two people that got a ton more attention than the rest of the field," Abbott said, breaking into a grin.
With neither Lysacek nor Weir competing since Vancouver, however, this is Abbott's chance to shine.
He wasn't even flustered by a five-minute delay while the previous competitor scoured the ice and his costume for a broken necklace.
"It was a little unusual, having to wait that extra time and hearing the announcements and all the noise," he said. "It kind of is distracting, and it detracts from your focus. But once I got in my starting pose, I let it go."
Abbott is one of the most technically sound skaters, with beautiful edges that carve the ice like a master craftsman and perfect body control. He opened his program with a soaring triple flip-triple toe loop combination, and his triple axel was almost too big, forcing him to rein in the landing.
If there's been a knock on Abbott -- besides his meltdowns on the biggest stages -- it's that he doesn't let himself go, not putting his personality into his programs. But he sure made an effort Friday night, practically melting the ice with his fiery tango footwork. He stayed in character for several seconds after his music ended, fixing the judges with a piercing glare.
"I wanted to make a statement" with the program, Abbott said. "It shows a very strong, mature side of my skating."
No Americans have ever won a world or Olympic title in dance, and Davis and White would like to see that streak end -- the sooner, the better. Though Tessa Virtue and Scott Moir added the world gold medal to their Olympic medal last spring, Davis and White beat the Canadians in the free dance.
And while Virtue and Moir skipped the Grand Prix season as she recovered from October surgery, Davis and White showed they are second to none. They won both of their Grand Prix events and then captured the Grand Prix final for a second straight year.
Another U.S. title was all but a given, but Davis and White didn't let down for a second.
"We recognize the importance of staying on top of our game," White said. "We can't just say, 'Oh, we've got our Olympic silver medals and we can just mail it in.' It's never going to cut it, especially with teams this talented."
The short dance is a new event this competitive season, replacing the compulsory and original dances. A specific dance is chosen -- the golden waltz for nationals -- and, like the original dance, couples must create their own interpretation of it. That interpretation, however, must include one pattern of the dance's steps from the old compulsories.
"We like just having two portions," White said. "It makes it so much shorter and sweeter, and we enjoy the competitions more, we're finding."
Davis and White's waltz to music from "La Boheme" and "La Traviata" was so captivating it transformed the Greensboro Coliseum into an old European ballroom, complete with grand chandeliers and parquet hardwood floors. With her in a peach ballgown and him looking like a count in a tuxedo vest and formal white shirt, they oozed elegance and passion. Appearing to float across the rink as they did their side-by-side straightline footwork, they made fans forget they were on a sheet of ice.
The end of the dance was highlighted with two spectacular lifts that had the crowd roaring with approval. They received the maximum-level fours for all of their elements.
"It didn't feel perfect," White said. "It felt really, really good, but there's timing, there's expression, there's use of the body. Just a lot of little things that might not be noticeable but will add up to a perfect performance."
The Shibutanis showed the polish and class of a top team at any level, receiving the maximum level fours for all of their elements. With most teams, it was easily apparent to see where the prescribed steps come in the program, like going from one cut of music to another. But the Shibutanis were so creative in the way they blended the different segments of the dance, it looked as if that was the way the golden waltz was always intended.
The Shibutanis also did their twizzles in spectacular fashion, staying perfectly in sync the entire time.
"A lot of hard work," Maia Shibutani said of how they mastered the element.
"And they're not always that good," her brother chimed in. "We like doing twizzles. That helps, too."
Information from The Associated Press was used in this report.