July, 29, 2014
Jul 29
12:49
PM ET
By
Scott Douglas
| Runner's World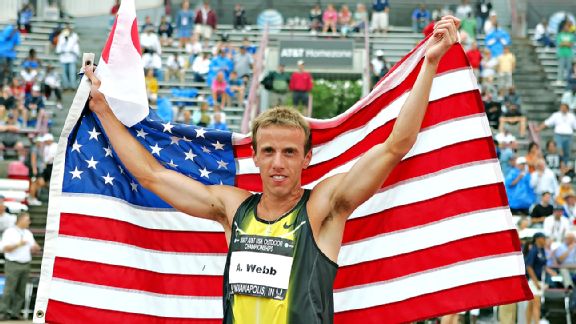 Andy Lyons/Getty ImagesAfter much track success on the national level, Alan Webb is now focused on triathlons.
Five months into his triathlon career Alan Webb is progressing quickly and, perhaps more important, feeling mentally recharged, according to an update on the U.S. Olympic Committee's site.
Webb, who holds the American record in the mile, has done three individual triathlons since running his last elite track race on February 15 at the Millrose Games. In his most recent, held last July 26 in Magog, Quebec, Webb placed second and was 2 seconds behind 2012 Canadian Olympic triathlete Kyle Jones.
The sprint-distance triathlon was comprised of a 750-meter swim, 20-kilometer bike and 5-kilometer run. Not surprisingly, Webb had the fastest run time of the day at 14:20, which was four seconds faster than Jones. In fact, Webb was also four seconds faster than Jones on the bike and only one second slower on the swim.
Perhaps showing his inexperience in the sport, Webb lost out in the two transitions where he was four and five seconds slower than Jones.
"One of the exciting things about Alan is probably what we don't know," Webb's coach, Jonathan Hall, told the USOC. "He's already competing at a high level, and there's a huge margin for the unknown and improvement."
After a stellar high school career -- including setting the U.S. prep mile record of 3:53.43 in 2001 -- Webb had wildly fluctuating results during the rest of his time as an elite runner. Highs included winning the 2004 Olympic Trials 1500-meter final and setting the American mile record of 3:46.91 in 2007. He is also one of two men in history to run under 1:44 for 800 meters and 27:40 for 10,000 meters.
But Webb was erratic and often injured as a pro. In the last part of his career, he had four coaches within a span of a few years. He failed to advance from his 5000-meter qualifying heat at the 2012 Olympic Trials. In recent years he often ran slower than when he was in high school, and the frustration was palpable.
At Hall's urging, Webb watched a sprint triathlon last fall and decided it was time for a change.
"I wanted to see growth in myself again," Webb told the USOC. "I finally got to the point where I was comfortable saying that I had given everything I had as a professional track athlete."
Webb told the USOC that he's taking his progression in his new sport as it comes, but said about being on the 2016 Olympic team that "I'd be lying if I didn't say that was my goal."
July, 15, 2014
Jul 15
11:42
AM ET
By
ESPN.com news services
| ESPN.com
With the World Cup in the rear-view mirror, Rio now looks ahead to the 2016 Summer Olympics. Rio 2016 director of communications Mario Andrada says the World Cup provided insight into some of the challenges of hosting an event like the Games:


April, 25, 2014
Apr 25
6:03
PM ET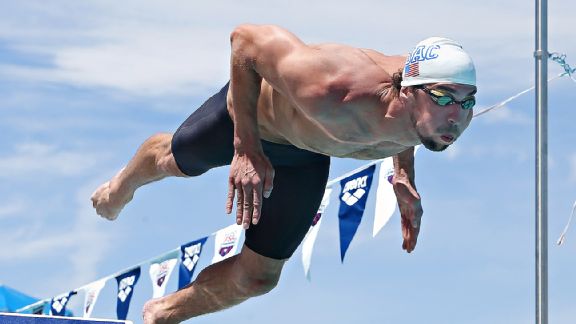 Christian Petersen/Getty ImagesMichael Phelps will race again in two weeks at a Grand Prix meet in Charlotte, N.C.
MESA, Ariz. -- Michael Phelps finished 42nd in Friday's 50 freestyle heats and did not qualify for the evening final. But that wasn't bad considering he was swimming the butterfly stroke in that event.
Why did Phelps swim the fly stroke in a free race? It's unusual, but not unheard of. The racing schedule didn't present a desirable event for Phelps on Friday, especially since one of the options was the 400 IM.
"I'm not ready for a 400 IM. I don't think I will ever be ready for that race again," Phelps said. "I will not swim the 400 IM, that I guar-an-tee you. So do not ask that question."
To that comment, coach Bob Bowman asked humorously, "Is that kind of like, 'I will never ever swim again after London?'"
With limited options, Phelps and Bowman decided to use the 50 free as a chance to work on the swimmer's signature fly stroke. They were pleased with the results. Phelps bettered his split time from Thursday's 100 fly final by seven-tenths of a second (24.06).
Asked whether his emphasis on shorter distances here was an indication of his future strategy in his return to competitive swimming, Phelps replied, "It's a good starting point, just to get some races under my belt. The schedule today wasn't really ideal for what I should swim at this moment."
Because Phelps did not qualify for the evening finals -- now that would have been a story -- the 50-free heat wrapped up his racing at the Arena Grand Prix. He is next entered in the Charlotte Grand Prix in two weeks, and Bowman said they would approach the meet with the same style, swimming one or two days.
Phelps appeared to greatly enjoy the experience. He repeatedly said he was having fun, and his expression, demeanor and engaging press conferences indicated that was indeed the case.
"I don't know what it was like here last year, but I know it is more exciting when you have the excitement level we had here," he said. "With kids that are cheering, with people packing the stands every single session, the tickets selling out in a handful of hours after I said I was coming back -- it's pretty special.
"I can't thank people enough for supporting me and cheering me on. It is pretty special to see the excitement on a lot of kids' faces. That is something that is amazing, just being able to have them around and have them enjoy a swim meet."
April, 24, 2014
Apr 24
5:40
PM ET
MESA, Ariz. -- Michael Phelps couldn't wait to get back in the pool and compete again.
After his 18-month retirement from competitive swimming, Phelps worked his way past a multitude of cameras to the starting area Thursday. Then he stepped up on the starting block earlier than he normally does, feeling antsier before a race than he has since he probably was 10 years old. And once he was on the block and could hear the crowd buzz, he actually smiled.
And this was not at an Olympic or world or U.S. championship event. It was a Grand Prix meet. And just the morning heat in the 100-meter butterfly, at that.
"I was just so excited to swim," Phelps said after winning his qualifying group. "It was strange. I was probably up to the block a little too early, but I was just so excited to get in and race. You're going to hear this word come out of my mouth a lot -- this was fun.
"I felt like I was a summer-league swimmer today. I was so excited to get out of the block. I felt like I should have my heat and lane written on my hand in case I forget it."
Well, in case he did forget, he would have had plenty of people to point him in the right direction. Phelps' first competitive race since retiring after the 2012 London Olympics drew a sellout crowd to the outdoor pool at Mesa's Skyline Aquatics Center on a sunny, 90-degree day. And there were nearly as many reporters and camera people on hand, as well, for Phelps' return to competitive swimming in the 100 butterfly.
There was so much attention, Phelps said rival and teammate Ryan Lochte joked that the two Olympic medalists should just mess around and advance to the C final and see which race got the most hype. "I said, 'No, let's try to get into the big final,'" Phelps said.
They did. Right after Lochte swam a 52.94 in the 13th heat, Phelps swam the top qualifying time of 52.84 in the final heat. He was second after the first 50 meters, then took control in the final 50 and won easily. The final is this evening, tentatively scheduled for 9:18 p.m. ET.
"I could tell when he came in and I saw him warm up that it was going to be good, that he's feeling good, that he was into it," coach Bob Bowman said. "He's got one race under his belt and he made the nationals qualifying cut."
True. Because Phelps had officially retired after the 2012 Olympics, his time re-qualified him for the U.S. national standard. Asked when he last had to swim a qualifying time for the U.S. team, Phelps thought a bit and said, "When I was 13?"
When a reporter later asked about his goals and the 2016 Rio Olympics, Phelps shrugged it off. "Hey, I just made the national cut! One step at a time!" he said. "Nah, I have a race tonight and that's all I'm concentrating on right now."