February, 22, 2014
Feb 22
2:23
PM ET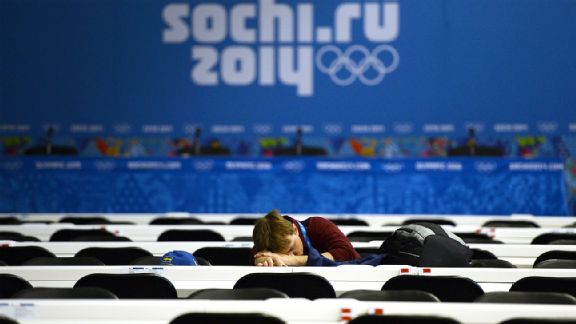 Jonathan Nackstrand/AFP/Getty Images
SOCHI, Russia -- It took me nearly three weeks, but I found the strangest place Friday afternoon, and it couldn't have been any more needed. Or bizarre.
Tucked away into a quiet corner on the second floor of the Main Press Center is the "Relaxation Room," a place for writers, photographers and broadcasters to at worst escape the Olympic grind and at best grab a few minutes of shuteye before shuffling off to another event.
Early Friday afternoon, barely functioning on five hours of sleep after Thursday night's thrilling women's hockey gold-medal game, I desperately needed a recharge. I grabbed a building map and made way to the place I had long heard about but never before visited. There it was: Relaxation Room. The only sign on the door said no cell phones. I paced in the hallway before opening the massive metal door.
What I found was darkness. Complete and total darkness. Like I can't-see-three-feet-in-front-of-my-eyes darkness. I stood there, allowing the door to close behind me, trying to figure out what to do. I couldn't see a thing. But I could hear snoring and the rustling of clothes as people tossed and turned. It was creepy.
Where were these people that I couldn't see? I worried that if I meandered my way through this wall of darkness, I might trip over somebody or worse yet, crawl into a cot that was already occupied. (Imagine that: "Oh, I'm sorry for laying on top of you. Didn't see you sleeping there.") I bailed. I headed back to my workstation, set my head into my folded arms and tried to sleep there. No chance. So I trudged back to the Relaxation Room, flipping on my phone, hoping the light from the screen would illuminate a path to an open cot.
It worked. When I lied down, I closed my eyes and tried to fall asleep. But my mind couldn't stop thinking about how odd this all was. I mean, when was the last time you've slept in a room with 20 strangers from various countries throughout the world?
What exactly is the proper protocol in a communal nap room? Can I take my shoes off? Are there blankets? If there are blankets, would I even want one? And why is it so damn dark? I can't even see my feet.
Then perhaps the most troubling thought of all entered my head: Over the course of the last month, how many people had laid on this exact same cot, in this exact same spot? How many of them had fallen asleep and drooled where my cheek now rested? This was disgusting.
A few feet away, one man snored with the force of a small hurricane. In another corner, another person kept mumbling -- "mmmm ... mmmm ... mmmm" -- and I don't think they were listening to the Crash Test Dummies. And then there was the rustling. The constant reminder that yes, in fact, I was trying to sleep in a room with some 20 other people I didn't know and couldn't see.
But I was so exhausted I didn't care. I curled up into a tiny ball and tried to clear my head. Eventually I crashed. Every couple minutes, the door would swing open and another unsuspecting soul would meet the black curtain. The smart ones would pull out a cell phone and find an open cot. The weak ones would bail. Each time the door opened, those of us trying to sleep were greeted by a beam of light from the outside world. Let this happen to you more than once and you quickly learn to turn your back to the door.
For the next 90 minutes, this was my life. Sleep, squirm, shush and repeat. The shushing came when someone tried to talk, whisper, rustle excessively or when a cell phone rang. (C'mon, do you not see the "no cell phones" sign on the door? Do you not have a silent button? We're sleeping here, people!)
Eventually, the commotion was all too much and I woke up. In the end, I probably collected close to an hour of actual sleep. But I felt like a new man. At least for a couple hours. Later that night, sitting at the Iceberg Arena for the final night of short-track speedskating, I had one thought: Man, I'm tired. I could really use a nap.
February, 21, 2014
Feb 21
5:50
PM ET
SOCHI, Russia -- Jamaica will not compete in the four-man bobsled this weekend but it was represented in the two-man competition here. And team president Chris Stokes says the country not only will be back in 2018, it could be on the podium.
"Within the next four years, I expect to have an athlete on World Cup podium and maybe an Olympic medal in four to eight years,'' he said. "And I mean that sincerely.''
[+] Enlarge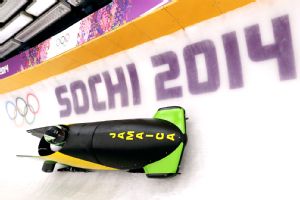 AP Photo/Michael SohnThe Jamaican bobsled team gained fame from the movie "Cool Runnings."
Stokes might be sincere but that would be an amazing accomplishment, even if
Usain Bolt
was pulling the sled as well. Winston Watts and
Marvin Dixon
finished last in the two-man this week.
Stokes was on the original 1988 Jamaican team that inspired the movie, "Cool Runnings,'' and turned the squad into a world-wide cultural phenomenon. Which is interesting considering that Jamaica is not the only warm-weather country competing in the sport.
"People talk about Jamaica being this warm-weather country in the Caribbean. But when I entered the sport in 1988, I came and saw warm weather countries,'' Stokes said. "I saw Mexico, I saw Puerto Rico. I saw the U.S. Virgin Islands. But the brand Jamaica is so strong that it represented something else and people took to it.
"I think it's important for Olympics to be world wide. When our sprinters go to the Summer Olympics, we don't say, 'Why is this Swedish guy or this Austrian guy here to run a 10.5 in the 100?' It's the Olympics, it's participation. The appeal of the Winter Olympics is going to depend on its appeal globally, not just for cold weather countries. And we're working very hard on that.''
Jamaica competed in the Olympics from 1988 to 2002 but failed to qualify in 2006 and 2010. Much of that was due to a lack of funding in a sport that is very, very expensive. Even when it qualified for these Games, it still needed to raise money in a hurry to cover the expenses. And it did so, receiving enough money within mere days.
"Funding was the hardest thing,'' Watts said. "In the end, we got funding from our friends and fans. I'm so happy they made it possible. We were able to show the world, that Jamaica is still alive.''
When it comes to bobsled, however, Jamaica has more support and popularity beyond the island than on it.
"Our coverage is much greater overseas than in Jamaica,'' Stoke said. "It is a business problem in Jamaica. I've been a little perplexed on this. I've been talking to a lot of companies about sponsoring this and they say, 'How do we connect our product to people who watch the team?' ''
Stokes pointed to the team fundraising campaign that netted more than $30,000 in two days and eventually more than $100,000 from people in every U.S. state and 52 countries as evidence that this "should be an easy problem to solve."
"They need to have more confidence we're here and here to stay and are serious athletes,'' he said. "I'm confident we will have a lot more stable, long-term funding rather than just trying to save the day from week to week.''
February, 21, 2014
Feb 21
2:42
PM ET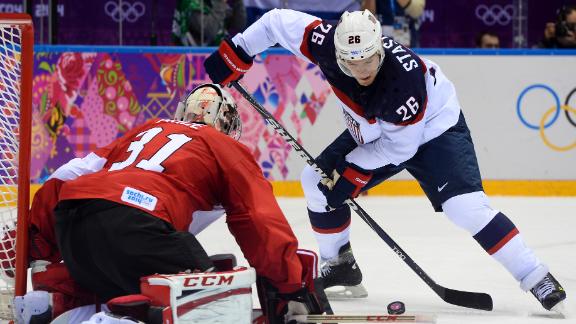 Ugh, can we go best of three?
Not even going to pretend I watched that as an unbiased observer -- rather, I was shamelessly rooting for the U.S. -- but boy did the Americans get outplayed by Canada in Friday's 1-0 shutout.
Entering the semifinal with a tournament-leading 20 goals, the U.S. team's blistering offense was absolutely stymied by a brilliant performance from Canada's defensive corps. The U.S. just couldn't get to the front of the net and had so few second chances that Canadian goaltender
Carey Price
didn't look very taxed as he turned away all 31 shots faced.
What a disappointing day for USA hockey, especially after some great performances earlier this tournament. Despite an incredible performance from U.S. netminder
Jonathan Quick
, the Americans' meager offensive attack and inability to a sustain the forecheck will leave them competing for bronze Saturday.
Absolutely no question that Canada dominated the game Friday. I'll let my Canadian colleagues praise the resplendent play of their countrymen while I sulk in bitter disappointment the rest of the day.
---
Gold Medal Game: Sweden-Canada, Sunday at 7 a.m. ET
Sweden and Canada played for the gold medal in 1994 with the Swedes coming out on top.

The two countries last faced each other in the Olympics in 2002. Sweden won.

Canada has not won back-to-back gold medals since 1948 and 1952.

Sweden won gold in 2006 and 1994.

Henrik Lundqvist has played every minute of the tournament, posting a .951 save percentage.

Carey Price has a .963 save percentage.

Erik Karlsson has four goals and four assists for the Swedes.

Drew Doughty leads Canada with four goals and two assists.
---
Bronze Medal Game: Finland-United States, Saturday at 10 a.m. ET
Finland and the U.S. last met in 2010 with the Americans winning 6-1.

The United States is 2-1-0 against Finland in the NHL era of the Olympics.

Finland has won bronze in three of the past five Olympics.

The Americans have not played in the bronze medal game since losing in 1992. They won their only bronze medal in 1936.

Phil Kessel leads the U.S. with five goals and three assists in the tournament.

The Finns had the worst penalty kill at the Olympics (6-for-10).

Mikael Granlund leads Finland with three goals and one assist.
Information from TSN's Devin Gibson was used in this report.