Miles-Clark earns fifth berth
Updated:
July 13, 2004, 7:54 AM ET
Associated Press
SACRAMENTO, Calif. -- Marion Jones, her vulnerability seeming to grow with each event, finished a shocking seventh but managed to advance to the final of the long jump at the U.S. Olympic trials.
Jones, by far the best U.S. long jumper in a weak field, was among the 12 qualifiers who advanced to Thursday's final. But she failed by a quarter-inch to reach the automatic qualifying mark, and got worse with each of her three jumps Monday night.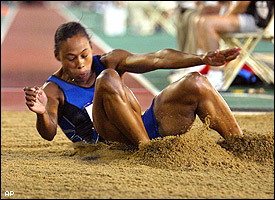 Marion Jones will have to jump well Thursday to avoid crashing to earth.
Jones, who won an unprecedented five medals at the 2000 Sydney Games, failed Saturday night to make the U.S. squad in the 100 meters -- an event in which she is the defending Olympic champion.
Her qualification was virtually taken for granted in the long jump, in which she won a bronze medal in Sydney and in which only one other American this year has met the Olympic qualifying standard.
Now, though she probably will make the team, it suddenly is not certain.
Under qualifying rules, Jones provisionally can make the Olympic team even if she fails to place among the top three Thursday night. That's because only she and Grace Upshaw have Olympic qualifying marks this season.
So, even if Jones finishes last among the 12 competitors in Thursday's final, she'll still be named to the squad if no other jumper has reached the Olympic qualifying mark. But the top two finishers Thursday still could bump her from the team if they get a qualifying mark of 21 feet, 11¾ inches by Aug. 9.
Jones never smiled during her three jumps. She took off well before the foul line on each of her attempts, but never seemed to soar. As in the 100 two days earlier, she seemed to lack an extra gear.
Jones walked across the field after her three jumps, wearing a white cap and carrying a black and blue backpack. She did not come through the "mixed zone" where reporters awaited her.
Jones' best jump came on her opening attempt.
The first competitor in the first qualifying round, Jones quickly took off her long-sleeve white shirt and threw her black sweat pants to the side. She stepped up to the end of the long jump runway.
She took a deep breath, her cheeks puffing out as she inhaled. Then she quickly exhaled, lifted her head and started speeding toward the sandy pit. She landed 20 feet, 11¾ inches from the line -- just a quarter-inch short of the qualifying mark.
Her next two jumps were shorter -- 20-9¾ and 20-8½.
Meanwhile, the last of the BALCO Four -- those athletes charged with steroid use by USADA -- was eliminated at the Olympic trials.
Alvin Harrison, one of four athletes who faces a lifetime ban if found guilty of using steroids obtained from the Bay Area Laboratory Co-Operative, failed to qualify for the final of the men's 400 meters.
He joined fellow accused dopers Tim Montgomery and Chryste Gaines in failing to qualify for the U.S. team for the Athens Games. The fourth accused doper, Michelle Collins, pulled out of the women's 400 claiming a hamstring injury.
Harrison finished seventh in his semifinal, fading after being among the leaders until the final straightaway. Then he threatened to sue USA Track & Field, claiming "bias and discrimination."
By failing to qualify, the four accused dopers saved the U.S. Olympic Committee the embarrassment of having to remove them from the team if arbitrators rule they are guilty.
Also failing to qualify for the final was world champion Jerome Young, who faces the loss of his relay gold medal from the 2000 Olympics because of steroid use.
In other action Monday night, Jearl Miles-Clark earned a trip to her fifth Olympics by winning the women's 800 meters -- but her sister-in-law got perhaps an even bigger prize after finishing third.
Miles-Clark, 37, finished in 1 minute, 59.06 seconds to hold off Nicole Teter and sister-in-law Hazel Clark -- whose fiance proposed to her immediately after the race.
Hazel Clark appeared to be in shock when she heard the proposal from Wenston Riley, who gave her a ring in a very public spot just off the track. Riley had informed reporters of his plans before the race.
"She asked me yesterday, 'You're not going to propose to me at this meet, are you?,' " said Riley, who first met Clark when the two of them were stopped at a traffic light in Gainesville, Fla., four years ago.
Jonathan Johnson won the men's 800 in 1:44.77 to earn an Olympic spot along with Khadevis Robinson and Derrick Peterson. James Parker won the men's hammer throw. Aretha Hill won the women's discus. Shayne Culpepper won the women's 5,000. Tisha Waller won the women's high jump, but failed in three attempts to break the U.S. record.

Copyright 2004 by The Associated Press
SPONSORED HEADLINES
MORE OLYMPICS HEADLINES
MOST SENT STORIES ON ESPN.COM