USPS team 'won't crack,' says rival
Updated:
July 20, 2004, 1:37 AM ET
Associated Press
NIMES, France -- Nickname: "The Blue Train." Mission: Laying the tracks that are transporting Lance Armstrong toward a record sixth Tour de France crown.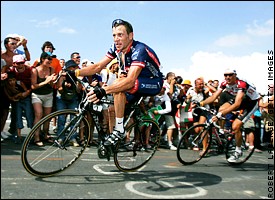 Getty ImagesLance Armstrong would have a harder time getting a leg up on rivals with no "Blue Train."
Although a great champion in his own right, the Texan wouldn't be closing in on sporting history were it not for his loyal and tireless squad of support riders who have steamrolled rivals from the get-go.
Armstrong gets the laurels, the sponsorships, the worldwide fame. George Hincapie, Viatcheslav Ekimov and the six other unsung heroes in Armstrong's blue-jerseyed U.S. Postal Service team get satisfaction in knowing that the 32-year-old Texan wouldn't be where he is without them.
"The Blue Train is the muscle behind it, the brawn," Armstrong acknowledged last week. "This is the best team ever."
Like Rome, victories in the three-week cycling marathon aren't built in a day. Stage by grueling stage, first on the flats of Belgium and northern France and then in the peaks of the Pyrenees, Armstrong's Postal riders have hewn a path to the podium in Paris next Sunday.
If he keeps his form this week through the Alps as well as two time trials, Armstrong will overtake the four other five-time champions -- Jacques Anquetil, Eddy Merckx, Bernard Hinault and Miguel Indurain.
Nothing has been left to chance. No detail overlooked. No ounce of energy left unexpended in an almost military campaign.
Day 1, July 3, the opening time trial. Led by Armstrong, edged into second by Swiss rider Fabian Cancellara, the Postals place seven of their nine riders in the top 50, showing from the outset that they mean business. The effort vaults them to the top of the team standings.
Day 4, top squads battle to lead the speeding pack over a treacherous stretch of cobblestones. The Postals get there first, shepherding Armstrong safely across. Trapped in a melee behind, Spanish contender Iban Mayo crashes, dashing his Tour hopes.
Day 5, because they lead the squad standings, the Postals enjoy the equivalent of pole position in the team time trial, setting out last. Not only does that allow them to see how others fare, but a storm dousing the course starts to clear as they ride. Working like a well-oiled machine, the Postals finish a whopping 1 minute, 7 seconds faster than the second-placed squad.
On in-between days across northern and western France, the Postals herded the unruly pack like sheepdogs, often leading from the front, shielding Armstrong from wind and crashes and ensuring he didn't lack snacks and drinks.
Then, last Friday and Saturday, came the hammer-like blow in the Pyrenees -- which the Postals scouted out before the Tour, honing their bodies on the punishing climbs.
"We were in the Pyrenees for two weeks, in the middle of nowhere, just going up and down these mountains all day long," said Hincapie. "That really helped."
Saturday's 127.5-mile trek across seven climbs from Lannemezan to the Plateau de Beille was textbook Postal shock and awe. They forced the pace, tiring rivals while harboring Armstrong's strength by keeping him in their slipstream.
| | | |
| --- | --- | --- |
| | " | Armstrong hardly needs to do anything himself. The key is the huge form of his team. They won't crack. " |
| | | — Eusebio Unzue, sports director of a rival team; teammates say Armstrong is key |
Casualties fell by the wayside. Haimar Zubeldia, fifth last year, Russian Denis Menchov, the best youngster of 2003, and Tyler Hamilton, fourth last year, abandoned.
Just before the final climb, his legs still whirring, Armstrong suddenly sat straight in his saddle, limbered up by twisting side-to-side, wiped his nose with his right hand and unzipped the top of his blue jersey. Let the carnage begin.
Led by Hincapie, the Postals stormed into the steep, 9.9-mile ascent like a typhoon. Behind, the trailing pack slowly disintegrated.
Jose Luis Rubiera, a powerful climber riding with his shirt open, took over when Hincapie was spent. Rivals gasped like fish out of water. Fewer than a dozen cyclists continued to cling to Armstrong's group.
And still the Postals had unused reserves. Sunglasses propped on his head, Portuguese mountain-tamer Jose Azevedo stepped in for Rubiera to perform the coup de grace with another burst of uphill pace. First to go: Jan Ullrich, the 1997 Tour champion who simply couldn't keep up.
When Azevedo peeled off with five miles still to climb, only two riders had survived: Armstrong and Italian Ivan Basso, who rode together through the massed crowds. Armstrong beat Basso with a sprint finish.
The stage standings read like a list of wounded. Ullrich, 2:42 back, his Tour all but done. Roberto Heras, who quit the Postals to try to beat Armstrong, 21:35 back. Mayo, 37:40 behind -- nearly 11 minutes slower even than Ekimov, Armstrong's trusted Russian sidekick still going strong at age 38.
"Armstrong hardly needs to do anything himself," Eusebio Unzue, sports director of the Illes Balears team, griped the next day. "The key is the huge form of his team. They won't crack."
Another winning factor is the combined tactical savvy of Armstrong, now a veteran of 10 Tours, and Postal sporting director Johan Bruyneel. A former rider, he barks encouragement and instructions to the team through their radio-linked earpieces.
Aside from the money and pride that comes from dominating cycling's biggest race, current and former teammates say Armstrong is also a supreme motivator.
"He prepares mentally and physically more than any of the other competitors," said Hincapie. "He's in the bus in the morning, just jazzed up, ready to go. He can psyche everybody up."
But Hincapie, on his ninth Tour, has little doubt that Armstrong would not be a five-time champion -- going on six -- without his Blue Train.
"Probably not," he said. "Because this is one of the best teams that's been around in a long time."

Copyright 2004 by The Associated Press
MOST SENT STORIES ON ESPN.COM