Jonsson scores goal, two assists for Swedes
Updated:
May 7, 2005, 11:23 PM ET
Associated Press
INNSBRUCK, Austria -- Sweden finally beat Canada at the world hockey championship, but the gold medal wasn't at stake this time.
Defenseman Kenny Jonsson scored the winning goal with 6:13 left in the third period Saturday night as Sweden, which lost the last two finals to Canada, rallied from a two-goal deficit to win 5-4 in a second-round matchup.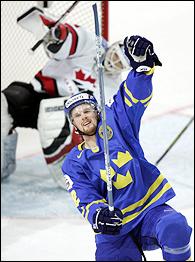 Vancouver Canucks winger Daniel Sedin opened the scoring for Sweden.
Samuel Pahlsson made a nice pass to Jonsson, who one-timed a shot past Martin Brodeur.
"I was lucky with the bounce when I got the puck ... then I shot," said Jonsson of the New York Islanders.
Mattias Norstrom, a Los Angeles Kings defenseman, also got an assist.
With its fourth straight win, Sweden moved atop Group F with six points and closed in on a quarterfinal berth. So did the Czech Republic, which beat Slovakia 5-1 in Group E at Vienna for its fourth straight win.
Canada, 3-0 in the first round, kept second place in Group F with four points -- one more than the United States and Finland. The top four teams in each group advance to the quarterfinals.
The Americans will play Sweden on Sunday, and Canada will face Finland.
"It's going to be fun playing the Americans," said Henrik Zetterberg, a young star of the Detroit Red Wings. "I think the Americans played better for two periods against Canada the other night. It's going to be a tough game, but we'll be able to recharge."
Jonsson also set up two goals in the second period, Pahlsson's score that made it 3-2 and Mikael Samuelsson's tally that tied it.
Jonsson played in the tournament opener against Ukraine, and left the second game against Denmark in the first period when he became ill.
"I spent two days in bed," Jonsson said. "I was probably more rested than the others."
Pahlsson, Samuelsson and Zetterberg scored unanswered goals for the Swedes in the second period. Daniel Sedin also scored for Sweden late in the first.
Rick Nash, the tournament's leading scorer with seven goals, tied it 4-4 for Canada early in the third before Jonsson put the Swedes ahead for good.
Shane Doan, Joe Thornton and Dany Heatley also scored for Canada.
Petr Sykora, Martin Straka, Tomas Kaberle, Ales Hemsky and Pavel Kubina scored for the Czechs in Vienna. It was the Czechs' seventh win in nine world championship games against its neighbor. Martin Strbak scored the only goal for Slovakia.
The Czechs lead Group E with six points, one ahead of Russia. Switzerland and Slovakia each have three points.
Jaromir Jagr, playing with a broken finger, had two assists for the Czechs.
"It was tough, but we won and that also eases the pain," said Jagr, a five-time NHL scoring champion.
From the start, the Czechs skated better, checked harder, and shot more precisely.
"We played perfect hockey, and the two early goals gave us the confidence we needed," Czech coach Vladimir Ruzicka said.
Earlier, Latvia shut out Ukraine 3-0, and Belarus blanked Kazakhstan 2-0 in their second-round openers.
Leonids Tambijevs, Karlis Skrastins and Aleksandrs Semjonovs scored for Latvia, and Arturs Irbe faced only 17 shots for his first shutout in the tournament.
"We played smart and our defense played really well when they created scoring chances," said Irbe, one of two NHL players on the Latvian team.
Latvia has two points and is fifth in Group F, while Ukraine is last with zero.
In Vienna, goalie Andrei Mezin posted his second shutout in the tournament, making 37 saves for Belarus.
Sergei Erkovich notched the winner with a power-play goal midway through the second period.
Kazakhstan coach Nikolay Myshagin pulled goalie Vitaliy Kolesnik twice and called a timeout in the final minute. Konstantin Koltsov added an empty-netter with two seconds left.
"Kazakhstan was a very tough opponent, as it is an incredibly disciplined team and very hard to play against," Belarus coach Glen Hanlon said. "It was soon obvious that the team who scored first would win."
Belarus has two points and is next-to-last in Group E. Kazakhstan has no points.
"We have a very young team and to us, playing in the qualification round is already a gift," Myshagin said. "We can learn a lot here, so the loss is not that hard to cope with."

Copyright 2005 by The Associated Press