Canada conquers champs, will face Finland in final
Updated:
May 13, 2007, 6:58 PM ET
Associated Press
MOSCOW -- Mike Cammalleri had a goal and an assist to help Canada defeat defending champion Sweden 4-1 Saturday and advance to the final Sunday against Finland at the hockey world championship.
Mikko Koivu scored in overtime to lead Finland to a 2-1 victory over host Russia.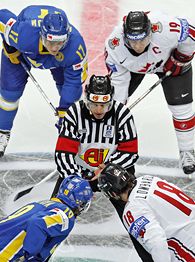 AP Photo/Misha JaparidzeCanada will be playing for its record 24th world hockey title.
"It's always tight when you go to overtime, so it's a good feeling," Koivu said. "To reach the final you need to have something special as a team."
This is the fourth time in five years that Canada has reached the final. Canada won back-to-back titles in 2003 and 2004. Finland, seeking its second title and first since 1995, reached its first final since 2001.
"I don't think anyone expected to beat Russia at this tournament and the Finns did it," Canada forward Rick Nash said. "They outworked them and played aggressive, so it's pretty impressive on their behalf."
Finland had a 5-4 quarterfinal victory over the United States on Thursday after a penalty shootout.
"We believe in ourselves. When you play a final you always have the energy," said Koivu, the younger brother of Montreal Canadiens captain Saku Koivu.
Sweden -- the first team to win the Olympics and world championships in the same year -- will vie with Russia for the bronze.
Dominating puck possession throughout, Canada jumped to a 3-0 lead in the opening period.
Cammalleri opened the scoring at 11:05 on the power play, firing a shot from the faceoff circle that got past Swedish goalie Johan Backlund. Jonathan Toews notched another 87 seconds later, slipping the puck in while diving in front of the net. Erik Staal added a third.
Johan Davidsson helped close the gap at 6:13 into the second frame, drilling a shot that ricocheted off defenseman Shea Weber's skate and past Canadian goalie Cam Ward. But the Swedes were soon down three goals again when Nash scored at 15:17, escaping a 2-on-1 before driving the puck through Backlund's five-hole.
"It's tough to be down 3-0, going uphill the rest of the way," Swedish defenseman Dick Tarnstrom said.
Since the Soviet Union triumphed at the 1986 championships in Moscow, no host nation has ever lifted the trophy.
At 5:40 into overtime, Koivu skated into the slot to chase after a long pass from Tuomo Ruutu at the boards, pried Russian goaltender Alexander Eremenko's stick off the ice with his own and sliced the puck into the net.
Evgeni Malkin delighted the home crowd on the power play 8:36 into the opening period, hitting a shot from the face-off circle that went over goalie Kari Lehtonen's stick.
The Finns scored less than four minutes later, despite being short-handed, when Jukka Hentunen broke away, escaping Sergie Gonchar to beat Vasili Koshechkin with a backhanded flick.
Neither team was able to score in the second and third periods.
Russia lost tournament scoring leader Alexei Morozov to a knee injury.
It marked Russia's first ever defeat in five world championships in Moscow -- 1957, 1973, 1979, 1986, 2007.
Russia posted a 5-4 win over the Finns in earlier round play.
"Obviously, we're disappointed and upset," New Jersey Devils right wing Sergei Brylin said. "We made one mistake and the puck was in the net."

Copyright 2007 by The Associated Press
MOST SENT STORIES ON ESPN.COM