Belbin, Agosto beat Russians
Updated:
March 26, 2009, 10:15 PM ET
Associated Press
LOS ANGELES -- Olympic silver medalists Tanith Belbin and Ben Agosto took ice dancing from the 21st century back to the Roaring Twenties.
It was a good thing.
[+] Enlarge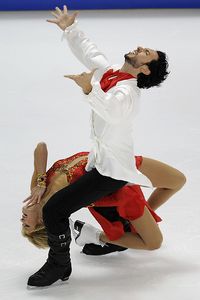 Timothy A. Clary/Getty Images Olympic silver medalists Tanith Belbin and Ben Agosto won the original dance title.
The five-time U.S. champions won the original dance Thursday at the World Figure Skating Championships with a perky performance straight out of a speakeasy. That drew them closer to the leaders from Russia, Oksana Domnina and Maxim Shabalin, as both couples pursue their first world title.
"It always means something to beat a Russian," Belbin said with a laugh.
Russia or the Soviet Union has dominated ice dancing for decades, while no Americans have ever won a world or Olympic crown. Belbin and Agosto, who own a world silver and two bronzes, get their shot Friday night in the free dance.
"This is what we've been working for," said Agosto, whose back injury in December forced the duo out of all competitions until these worlds.
They earned 65.16 points Thursday to 64.58 for Domnina and Shabalin, who won the compulsory dance on Tuesday. The Americans are 0.64 behind the Russians, a minuscule margin.
"And it's only just the beginning," Belbin said. "We've come so far in less than a year, with a major injury. I can't even imagine what we can accomplish with a full summer and another year of training under our belts before the Olympics."
And more time with new coaches Natalia Linichuk and Gennadi Karpanosov, who they joined last April.
Belbin and Agosto were joined by fellow Americans Meryl Davis and Charlie White in the top three of the original dance, requiring music from the 1920s, '30s and '40s. Davis-White stood fourth overall behind Canada's Tessa Virtue and Scott Moir, but only by .09 points.
"We've fallen back a lot more than where we were at the beginning of the day. Not our plan," Moir said. "But we're still in third."
Belbin's red beret almost served as a beacon as they danced across the ice, especially when Agosto twirled her 'round and 'round. They got the fans involved from the outset of their lively routine that began with Agosto nearly tap-dancing a hole into the ice while she flirted with him. It was as if he was saying, "Come over here and dance."
She did and off they went, never looking a bit rusty from their lengthy layoff while Agosto recovered from his back problem. Their energetic original dance was a good test, and they passed it with the crowd and, more significantly, with the judges.
"It felt really good. The original dance is so quick and so short and it's packed with elements [in 2½ minutes]," she said. "It's a real thinker, but we wanted to have fun out there and we think we achieved a balance.
"We were seven points ahead of our season best, so that is a pretty big step."
Americans winning worlds would be a huge leap, as Davis noted.
"Not only would it be exciting for the U.S., I hope, but for the rest of the world," she said. "The face of ice dancing has changed dramatically over the last few years, and to have an American team on top would mean a lot not just for our country, but the world as a whole."
The Russians probably wouldn't agree. And they are, after all, still in the lead.
"We are happy with what we did, but it always can be better," Domnina said.
Shabalin, resembling a waif out of "Oliver Twist," except for his multicolor scarf, and Domnina vamped for the crowd during their waltz that earned warm applause and nice marks. He even turned away from his partner to wave as if to say: "Hey, look what I can do."
They did just enough to stay on top in what's become a two-team race for the prize. Their highest finish at five previous world championships was fifth; they were favored to win last year, but had to withdraw because of Shabalin's knee injury.
Davis and White, coming off their first U.S. title with Belbin-Agosto absent, were sixth at the 2008 worlds. Their strong showing Thursday puts them in position to join T&B on the medals podium, which would be a U.S. first since 1966.

Copyright 2009 by The Associated Press
MOST SENT STORIES ON ESPN.COM