Commentary
Team USA puts the hammer down
Originally Published:
August 25, 2007
By
Eric Neel
| ESPN.com
LAS VEGAS -- LeBron James threads a low bounce pass to Kobe Bryant cutting baseline. Bryant goes up and under for a reverse layup. The Thomas and Mack Center crowd goes wild.
Dwight Howard blocks a Team Canada baseline jump shot attempt. Jason Kidd scoops up the ball and flicks it fifty feet to a sprinting Carmelo Anthony for an emphatic dunk. The fans roar.
Anthony underhands a ball, like a bowler, to Bryant. Another big dunk and another giddy huzzah from the stands.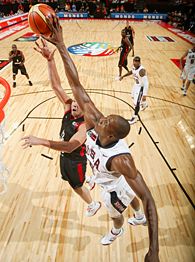 Nathaniel S. Butler/NBAE via Getty ImagesDwight Howard and the Americans have dominated at both ends of the floor.
There are sweet, sublime moments aplenty when Team USA takes the floor for a FIBA Americas Championship game. The highlight reel is full of them.
But if the all-star team's offensive exploits are a given, they aren't definitive, they aren't what characterizes this team in action.
If Saturday's 113-63 win over Team Canada is any indication, the heart of Team USA 's game, the essence of their identity, is an unrelenting collective will, a nasty killer instinct.
They're not just beating teams in this tournament, they're driving them into the ground, pounding Venezuala by 43 points, Virgin Islands by 64, and now Canada by 50.
You can chalk up some of the massive differentials to the gap in talent between the squads, but after watching Team USA systematically overwhelm Team Canada it becomes clear talent is only half the equation.
James gets down in a mano-a-mano, Rucker Park-style crouch, arms spread wide, and barks at Team Canada guard Olumuyiwa Famutimi: "Come on! Come on!," daring the shorter man to put the ball on the floor.
Half a second after a Team USA bucket, while his teammates hustle back on defense, Jason Kidd spins and gets in the face of Team Canada point Denham Brown, waiting for a play on the inbounds pass, ready to hassle and chase and dog the overmatched guard length of the floor.
Amare Stoudemire is at the line after an and-one put-back deep under the bucket puts Team USA up 17 points, and Bryant is at the top of the key, shouting at his teammates, "Right here! Let's turn this up right here. Let's turn this up right now!"
Up 40-plus with just seconds remaining in the third quarter, and Michael Redd scrambles baseline to get free for a corner three (one of 30 taken and fifteen made by Team USA on the night). Bang.
They bring it, start to finish.
Every pick is a switch. Every ball handler and shooter gets chased and harassed. Every defensive rebound is a quick-turn opportunity for a fastbreak. And every time James gets the ball near midcourt, no matter what the score is, he's going to dunk all over your sorry butt.

We want to play with a killer instinct. We don't want to give [the other team] any life or any hope whatsoever.
--Team USA small forward LeBron James
They're not just playing well, they're playing mean.
"It's awfully impressive," says Team Canada coach Leo Rautins. "They play together and they play hard."
It's a very conscious thing on the part of the tournament's heavy favorites. They want to develop an edge about themselves from the tip, and maintain it throughout the game regardless of the score.
"We want to play with a killer instinct," James says. "We don't want to give [the other team] any life or any hope whatsoever."
For U.S. coach Mike Krzyzewski, that's just a fancy of way of saying they're going to play some defense, start to finish, one end to the other.
"We have great pride in our effort on that end of the court," Krzyzewski says. "Defense gets us going."
He'll tell you there's no special trick to getting his guys to come strong, either, crediting the players' own high standards for what the intensity we're seeing on the floor.
"It's in here," Stoudemire says, tapping his heart with a right-hand fist. "It's right in the heart."
And it's no stretch to say that heart is pounding something fierce.
"We come at you in waves," Bryant says. "Every unit keeps the foot on the gas. We have a sense of purpose. We're not letting up."
No disrespect to Team Canada, or to the other clubs Team USA's dismantled this first week of the tournament in Las Vegas, but Bryant and company are playing as if their concern isn't limited to the players in front of them or to the court under their feet. They're playing as if their eyes are on some other prize, some more distant target. They're playing as if they can't run fast enough to distance themselves from the failures and frustrations of recent incarnations of the United States national team. They're playing as if dreams of a gold medal in Beijing haunt their every restless night. And even more, they're playing as if they're pursuing not some end, but some ideal, some unreachable standard.
"It's all about the gold medal," Bryant says, but then moves the discussion to some still more transcendent place. "Step by step, we're trying to raise our level, get better, get better, get better. Nothing else matters to us."
Eric Neel is a columnist for ESPN.com. E-mail Eric here.

MORE OLYMPIC BASKETBALL HEADLINES
Road To Beijing
By virtue of making the finals in the Tournament of the Americas Olympic qualifier in Las Vegas, Team USA earned a spot in the 2008 Summer Games in China.
Scoreboard
|
Standings
|
Schedule
|
Roster
News
•
James, Team USA bury Argentina for TOA gold
•
Puerto Rico holds off Brazil, wins third place
•
USA's outside shooting delivers Olympics berth
•
Scola, Delfino help Argentina clinch Olympics bid
•
U.S. trounces Argentina, coasts into FIBA semis
•
Roundup: Second half outburst fuels Brazil's win
•
Perfect LeBron leads U.S. rout vs. Uruguay
•
Carmelo out vs. Uruguay with bruised heel
•
Roundup: Argentina remains undefeated in TOA
•
LeBron, U.S. avenge Olympic loss to Puerto Rico
•
Roundup: Argentina gets to Canada early in win
•
Mexico hangs around, but U.S. pulls away for win
•
Roundup: Argentina's 3-point shooting keys win
•
Bryant's defense highlights U.S. win vs. Brazil
•
Prince sprains ankle in first quarter vs. Brazil
•
Roundup: Argentina wins in OT to stay perfect
•
Roundup: Barbosa lifts Brazil past Virgin Islands
•
Without Nash, Team USA blasts Canada by 50
•
Roundup: Dalembert sparks Canada's FIBA win
•
Redd's touch spurs U.S. blowout of Virgin Islands
•
Roundup: Scola's balanced play carries Argentina
•
Melo, Kobe find range as U.S. routs Venezuela
•
Roundup: Arroyo struggles in Puerto Rico's loss
•
Durant, Collison not on team
•
Coach K not worried about shooting woes
•
Anthony nets 28 in scrimmage
•
Bosh withdraws from camp with foot injury
•
Hinrich, Battier withdraw; Collison added
•
Select team of young stars to face Team USA
•
After tonsils issue, Oden likely to skip camp
•
Sheridan: Kobe the star of intrasquad game
Columns
•
Sheridan: What players get last spots?
•
Sheridan: Handing out grades for Team USA
•
Sheridan: Previewing the TOA semifinal matchups
•
Sheridan: Coach K cautions against arrogance
•
Sheridan: Dueling again with their Pampas pals
•
Altieri: Previewing game with nemesis Argentina
•
Sheridan: No captain crunch for Team USA
•
Sheridan: Cause for concern?
•
Sheridan: Bryant is 'pacesetter' for Team USA
•
Neel: Team USA puts the hammer down
•
Morales: Day-by-day notebook
•
Morales: Don't count out Argentina
•
Sheridan: Can Coach K lead this team?
•
Wojciechowski: Coach K reliving a dream
•
Katz: Nolan Richardson leads Mexico
•
Sheridan: LeBron not stressing, Durant impresses
•
Sheridan: Scrimmage team has work to do
•
Sheridan: Top 10 questions facing Team USA
•
Sheridan: Kidd's national record perfect
•
Sheridan: Kobe arrives focused on new team
•
Morales on Group A
|
Sheridan on Group B
Blog
•
Sheridan: My picks for final 12-man roster

Chat
•
Sheridan: Durant improving quickly

Podcast
•
Sheridan: Team director Jerry Colangelo

•
Ford: USA Basketball scout Tony Ronzone

•
Ford: Talking Team USA with Sheridan

En español
•
Portada de Básquetbol
•
Resultados
|
Calendario
|
Posiciones
• Planteles completos:
Grupo A
|
Grupo B
•
Altieri: EE.UU. busca acompañante
•
Morales: Panorama del Grupo A
•
Sheridan: Panorama del Grupo B
•
Morales: Blog desde Las Vegas
•
Wojciechowski: El sueño olímpico de Coach K
•
Sheridan: En busca del equilibrio NBA-FIBA
•
Morales: Argentina, con las chances intactas