Commentary
Team USA gets an A-minus
Originally Published:
September 1, 2007
By
Chris Sheridan
| ESPN.com
LAS VEGAS -- The Tournament of the Americas isn't quite over yet, but the important part is.
So now that the United States has qualified for the Beijing Olympics, it's time to issue the report card for what truly has been a terrific team -- one that will be inviting comparisons to the original 1992 Dream Team if it keeps playing as well as it did Saturday in a 135-91 trouncing of Puerto Rico.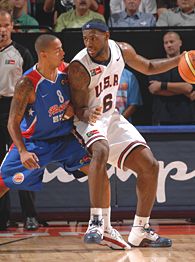 Noah Graham/NBAE via Getty ImagesLeBron James had 19 points and nine assists against Puerto Rico.
But before we get to the grades, let's pause for a few words from team director Jerry Colangelo, who has come to the realization that last summer's loss to Greece in the World Championship actually is turning out to be a blessing in disguise.
"We didn't expect to [qualify] this way. We wanted it to happen last summer, but the reality is that I feel we're better off for the experience," Colangelo said Saturday.
"Where are we? We're a lot further ahead than we would have been had we won the world championship and had just a week of work this summer.
"This really is preparing us more for our eventual goal and objective, which is not only to get to Beijing, but to win the gold medal. I think the changes that were made, the shooters that were brought in, the maturity of our young players compared to where they were a year ago -- we're light years ahead of last year, and I think we'll be even better next year."
The biggest difference from a year ago is the shooting, and Saturday's victory highlighted just how far the Americans have come in that department. They shot 8-for-8 on 3s in the third quarter alone, and they finished an astounding 23-of-36 overall in what was by far the best outside shooting display I've ever seen in 12 years of covering them at three Olympics, two World Championships and three versions of the Tournament of the Americas.
"Everybody worked at it. Everybody read in print and watched on TV that everyone said we can't shoot, we're not good shooters. But hopefully we've proved we can shoot and defend," Carmelo Anthony said.
Anthony, who scored a team-high 27 points, made a somewhat surprising admission afterward when he said he enjoys FIBA basketball more than NBA basketball. He has had another spectacular tournament, and he makes my All-Tournament team, along with Kobe Bryant, LeBron James, Luis Scola and Leandro Barbosa (in a tough choice over Jason Kidd).
Now for the grades. But before we give one to each individual player, we have to give an overall grade to the team.
The impulse is to give them an A, but I'm going to downgrade it to an A-minus for a couple of reasons: allowing Mexico to score 100 points, being played evenly by Argentina's B-team reserves over the second half of their game Thursday night, and showing they still are vulnerable to the moving pick-and-rolls that international teams run so well.
But overall, so much has improved from a year ago, from team chemistry to team humility to outside shooting. They'll be the favorite a year from now going into the Beijing Olympics, but they're still going to be tested at least couple of times when they get there, and we still have not seen how they'll respond if they fall behind.
On to the individual grades. We'll go alphabetically:
Carmelo Anthony: Has averaged a team-high 21.9 points and shot 63 percent from the field, including 59 percent from 3-point range. Also had one of the most vicious dunks in U.S. team history in Thursday night's victory over Argentina, flushing it over Federico Kammerichs (does that guy look like Jon Barry with a 70s mustache, or what?). Grade: A+
Chauncey Billups: Mr. Big Shot has had the lowest field goal percentage of any U.S. player, 39 percent, and scored only 5.4 points in an average of 16 minutes as the backup point guard behind Jason Kidd. Next summer, it will come down to whether he, Chris Paul, Kirk Hinrich or Deron Williams will be the backup in Beijing. Grade: B
Kobe Bryant: His intensity on defense at the start of the tournament set the tone for everyone on the team, and he has subjugated his offense fairly consistently -- although not all the time. But when he has scored in spurts, they have been big spurts, including eight straight points on his first three shots against Argentina to put the U.S. in command early. Grade: A
Tyson Chandler: Has played less than nine minutes per game as the 12th man, but has given the team hierarchy plenty to think about in his limited time, grabbing more offensive rebounds than anyone but Amare Stoudemire and blocking 14 shots. The U.S. team will need someone exactly like him in certain games in Beijing. He would have gotten a higher grade if he hadn't missed two-thirds of his free throws. Grade: B
Dwight Howard: Is shooting a tournament-high 78 percent from the field, and it is surprising the team does not run a few more plays for him. He has scored only 8.9 points per game, and he has missed 13 of his 37 free throws -- a weakness opponents will exploit next summer if he does not improve. Grade: A-
LeBron James: Who ever thought this guy would be a 58 percent 3-point shooter, especially after how poorly he shot in the finals? But he has been putting in the work, and the improvement is tremendous. How about this stat: Overall for the tournament, he is shooting 77 percent. He also leads the team in assists with 44. Grade: A+
Jason Kidd: He has taken only 10 shots all tournament, four of which came Saturday against Puerto Rico. Has been somewhat of an unofficial team captain, his age and experience bringing a whole new level of poise to a program that hasn't had a wise, old sage at the helm since John Stockton. Has 42 assists and just five turnovers. Grade: A+
Mike Miller: Had his best game of the tournament Saturday with four 3-pointers and 14 points, but was erratic in the games before that and shot only 43 percent overall, 37 percent on 3s. Can't see him having any chance of making next summer's team unless injuries make Michael Redd and/or Joe Johnson unavailable. Grade: C+
Tayshaun Prince: Has scored 6.6 points in nearly 18 minutes per game, but has made only 33 percent of his 3s and 44 percent of his free throws. Another guy who will have a hard time making the final roster for Beijing, which must be submitted by next June 28. Grade: B
Michael Redd: Started the tournament well, then cooled off, then knocked down seven of eight 3-point shots against Puerto Rico. He is fourth on the team with a 15.4 average, and he will be a key contributor off the bench next summer. Also, coach Mike Krzyzewski has been praising his defense quite a bit. Grade: B+
Amare Stoudemire: Has contributed a steady 11.8 points and 4.8 rebounds as the backup center behind Howard, and has shot 69 percent -- third-highest on the team. Hard to see him not making the team next year, but he might find himself watching a lot more than playing -- just as was the case for him in Athens. Grade: A-
Deron Williams: Has played only 14 minutes per game, sometimes as a two guard, and has scored just 4.6 points per game. But he has gotten his feet wet in international competition and set himself up to be the leading contender (although Chris Paul might disagree) to start for the 2010 World Championship team and the 2012 Olympic team. Grade: B
Chris Sheridan covers the NBA for ESPN Insider. To e-mail Chris, click here.
Road To Beijing
By virtue of making the finals in the Tournament of the Americas Olympic qualifier in Las Vegas, Team USA earned a spot in the 2008 Summer Games in China.
Scoreboard
|
Standings
|
Schedule
|
Roster
News
•
James, Team USA bury Argentina for TOA gold
•
Puerto Rico holds off Brazil, wins third place
•
USA's outside shooting delivers Olympics berth
•
Scola, Delfino help Argentina clinch Olympics bid
•
U.S. trounces Argentina, coasts into FIBA semis
•
Roundup: Second half outburst fuels Brazil's win
•
Perfect LeBron leads U.S. rout vs. Uruguay
•
Carmelo out vs. Uruguay with bruised heel
•
Roundup: Argentina remains undefeated in TOA
•
LeBron, U.S. avenge Olympic loss to Puerto Rico
•
Roundup: Argentina gets to Canada early in win
•
Mexico hangs around, but U.S. pulls away for win
•
Roundup: Argentina's 3-point shooting keys win
•
Bryant's defense highlights U.S. win vs. Brazil
•
Prince sprains ankle in first quarter vs. Brazil
•
Roundup: Argentina wins in OT to stay perfect
•
Roundup: Barbosa lifts Brazil past Virgin Islands
•
Without Nash, Team USA blasts Canada by 50
•
Roundup: Dalembert sparks Canada's FIBA win
•
Redd's touch spurs U.S. blowout of Virgin Islands
•
Roundup: Scola's balanced play carries Argentina
•
Melo, Kobe find range as U.S. routs Venezuela
•
Roundup: Arroyo struggles in Puerto Rico's loss
•
Durant, Collison not on team
•
Coach K not worried about shooting woes
•
Anthony nets 28 in scrimmage
•
Bosh withdraws from camp with foot injury
•
Hinrich, Battier withdraw; Collison added
•
Select team of young stars to face Team USA
•
After tonsils issue, Oden likely to skip camp
•
Sheridan: Kobe the star of intrasquad game
Columns
•
Sheridan: What players get last spots?
•
Sheridan: Handing out grades for Team USA
•
Sheridan: Previewing the TOA semifinal matchups
•
Sheridan: Coach K cautions against arrogance
•
Sheridan: Dueling again with their Pampas pals
•
Altieri: Previewing game with nemesis Argentina
•
Sheridan: No captain crunch for Team USA
•
Sheridan: Cause for concern?
•
Sheridan: Bryant is 'pacesetter' for Team USA
•
Neel: Team USA puts the hammer down
•
Morales: Day-by-day notebook
•
Morales: Don't count out Argentina
•
Sheridan: Can Coach K lead this team?
•
Wojciechowski: Coach K reliving a dream
•
Katz: Nolan Richardson leads Mexico
•
Sheridan: LeBron not stressing, Durant impresses
•
Sheridan: Scrimmage team has work to do
•
Sheridan: Top 10 questions facing Team USA
•
Sheridan: Kidd's national record perfect
•
Sheridan: Kobe arrives focused on new team
•
Morales on Group A
|
Sheridan on Group B
Blog
•
Sheridan: My picks for final 12-man roster

Chat
•
Sheridan: Durant improving quickly

Podcast
•
Sheridan: Team director Jerry Colangelo

•
Ford: USA Basketball scout Tony Ronzone

•
Ford: Talking Team USA with Sheridan

En español
•
Portada de Básquetbol
•
Resultados
|
Calendario
|
Posiciones
• Planteles completos:
Grupo A
|
Grupo B
•
Altieri: EE.UU. busca acompañante
•
Morales: Panorama del Grupo A
•
Sheridan: Panorama del Grupo B
•
Morales: Blog desde Las Vegas
•
Wojciechowski: El sueño olímpico de Coach K
•
Sheridan: En busca del equilibrio NBA-FIBA
•
Morales: Argentina, con las chances intactas