Commentary
Bryant becomes 'pacesetter' for Team USA
Originally Published:
August 27, 2007
By
Chris Sheridan
| ESPN.com
LAS VEGAS -- The tone of the Kobe Bryant-Leandro Barbosa matchup was set just a few moments into the first quarter, but you had to look 80 feet away from the action to see it unfold.
As a player from Brazil shot two free throws at one end of the court, Barbosa stood beneath the basket all the way at the opposite baseline, trying to get a clear view.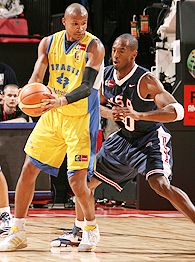 Nathaniel S. Butler/NBAE via Getty ImagesBarbosa entered the game as the tournament's leading scorer. Thanks to Bryant, he left the floor with only four points.
Every second or so, however, Barbosa had to move a step or two to clear his line of vision from the obstruction that kept moving in his way.
That obstruction was Bryant, who was gluing himself to Barbosa at that very moment and stayed attached to him like white on rice all night in another stellar defensive performance that keyed Team USA's 113-76 drubbing of previously undefeated Brazil on Sunday night.
"He don't guard like that in the NBA, but he did tonight and I was impressed," Barbosa told ESPN.com. "He came to guard me, and that was good practice for me. I learned a lot of things the way he was guarding me."
Barbosa isn't the only one learning a few things from Bryant, whose intensity and commitment level is having a trickle-down effect on his U.S. teammates. To prepare for Sunday night's assignment, Bryant had Team USA video coordinators prepare him a DVD of Barbosa's offensive repertoire, comprised of some 200 plays from tapes of the Phoenix Suns and the Brazilian national team. Some paperwork came with the DVD, too -- an accompanying chart listing Barbosa's efficiency percentage for each of his favorite moves.
"I watched a little bit of the Phoenix stuff, but how they use him in Phoenix is much different than how they use him here with his speed and his agility," Bryant said. "But at the same time, I've dropped 20 pounds, so I'm a little bit quicker than I used to be."
Bryant clearly studied his homework hard, holding Barbosa -- who entered the game as the leading scorer in the tournament at 27 points per game -- to four points on 1-for-7 shooting, with four turnovers and zero assists.
"For [Bryant] it's about playing defense, and he enjoys that challenge. He understands he doesn't need to score 60 points to help us win, so he can use a little more energy on the defensive end than he's done in the past," Jason Kidd said. "He loves the challenge, and since the opening tip-off of that first game against Venezuela, he wants to take that best offensive player on the opposing team and make it as tough as possible. Against Barbosa, he did it again."
Bryant had the crowd chanting his name midway through the first quarter when he harassed Barbosa into losing control of his dribble and dove on the floor to try to secure the loose ball, forcing a scramble that led to a backcourt violation.
Brazil withstood a game-opening 8-0 run by the Americans and was able to stick with the U.S. through the midpoint of the second quarter, keeping its deficit in single digits, until Bryant hit a catch-and-shoot 3-pointer to start a quarter-ending 15-4 run that gave the U.S. a 57-38 halftime lead.
After Brazil scored the first three points of the third quarter, the Americans came back with a 17-0 run that put them ahead 74-41 and ended whatever suspense there was.
The Americans were on top of all aspects of their game, shooting 53 percent on 3-pointers (including Bryant's 3-for-3 and LeBron James' 4-for-5, and including 11-for-22 on catch-and-shoot 3s), scoring 26 fast-break points and holding their own on the boards against one of the taller lineups they'll face in this tournament.
James and Carmelo Anthony led the U.S. team with 21 points each, Bryant had 20 and Michael Redd 16. The only sour note was Tayshaun Prince spraining his left ankle late in the first quarter. He was listed as day-to-day for the Americans, who open second-round play Monday against Mexico.
Bryant logged only 19:59 of playing time, and every American except Prince logged at least 10 minutes as the noncompetitive second half gave coach Mike Krzyzewski a chance to save his starters' legs for the next step of a stretch in which they are playing six games in six nights.
So far, the focus and intensity -- and the blowout final scores -- have been constants.
And when the question turns to who is setting the tone, the answer always comes back to Bryant.
"Kobe has been a pacesetter, for sure," Team USA director Jerry Colangelo said. "Defensively, he's just locking people down. He's so strong and so focused; you just can't say enough about his work ethic and how he has led. He's done a great job."
After facing Mexico, the U.S. team will play Puerto Rico on Tuesday, Uruguay on Wednesday and Argentina on Thursday before finally getting a day off prior to the only game that really matters in this tournament -- Saturday's semifinal match, in which a berth at the Beijing Olympics will be at stake.
"We have to continue to get better," Bryant said.
Chris Sheridan covers the NBA for ESPN Insider. To e-mail Chris, click here.
Road To Beijing
By virtue of making the finals in the Tournament of the Americas Olympic qualifier in Las Vegas, Team USA earned a spot in the 2008 Summer Games in China.
Scoreboard
|
Standings
|
Schedule
|
Roster
News
•
James, Team USA bury Argentina for TOA gold
•
Puerto Rico holds off Brazil, wins third place
•
USA's outside shooting delivers Olympics berth
•
Scola, Delfino help Argentina clinch Olympics bid
•
U.S. trounces Argentina, coasts into FIBA semis
•
Roundup: Second half outburst fuels Brazil's win
•
Perfect LeBron leads U.S. rout vs. Uruguay
•
Carmelo out vs. Uruguay with bruised heel
•
Roundup: Argentina remains undefeated in TOA
•
LeBron, U.S. avenge Olympic loss to Puerto Rico
•
Roundup: Argentina gets to Canada early in win
•
Mexico hangs around, but U.S. pulls away for win
•
Roundup: Argentina's 3-point shooting keys win
•
Bryant's defense highlights U.S. win vs. Brazil
•
Prince sprains ankle in first quarter vs. Brazil
•
Roundup: Argentina wins in OT to stay perfect
•
Roundup: Barbosa lifts Brazil past Virgin Islands
•
Without Nash, Team USA blasts Canada by 50
•
Roundup: Dalembert sparks Canada's FIBA win
•
Redd's touch spurs U.S. blowout of Virgin Islands
•
Roundup: Scola's balanced play carries Argentina
•
Melo, Kobe find range as U.S. routs Venezuela
•
Roundup: Arroyo struggles in Puerto Rico's loss
•
Durant, Collison not on team
•
Coach K not worried about shooting woes
•
Anthony nets 28 in scrimmage
•
Bosh withdraws from camp with foot injury
•
Hinrich, Battier withdraw; Collison added
•
Select team of young stars to face Team USA
•
After tonsils issue, Oden likely to skip camp
•
Sheridan: Kobe the star of intrasquad game
Columns
•
Sheridan: What players get last spots?
•
Sheridan: Handing out grades for Team USA
•
Sheridan: Previewing the TOA semifinal matchups
•
Sheridan: Coach K cautions against arrogance
•
Sheridan: Dueling again with their Pampas pals
•
Altieri: Previewing game with nemesis Argentina
•
Sheridan: No captain crunch for Team USA
•
Sheridan: Cause for concern?
•
Sheridan: Bryant is 'pacesetter' for Team USA
•
Neel: Team USA puts the hammer down
•
Morales: Day-by-day notebook
•
Morales: Don't count out Argentina
•
Sheridan: Can Coach K lead this team?
•
Wojciechowski: Coach K reliving a dream
•
Katz: Nolan Richardson leads Mexico
•
Sheridan: LeBron not stressing, Durant impresses
•
Sheridan: Scrimmage team has work to do
•
Sheridan: Top 10 questions facing Team USA
•
Sheridan: Kidd's national record perfect
•
Sheridan: Kobe arrives focused on new team
•
Morales on Group A
|
Sheridan on Group B
Blog
•
Sheridan: My picks for final 12-man roster

Chat
•
Sheridan: Durant improving quickly

Podcast
•
Sheridan: Team director Jerry Colangelo

•
Ford: USA Basketball scout Tony Ronzone

•
Ford: Talking Team USA with Sheridan

En español
•
Portada de Básquetbol
•
Resultados
|
Calendario
|
Posiciones
• Planteles completos:
Grupo A
|
Grupo B
•
Altieri: EE.UU. busca acompañante
•
Morales: Panorama del Grupo A
•
Sheridan: Panorama del Grupo B
•
Morales: Blog desde Las Vegas
•
Wojciechowski: El sueño olímpico de Coach K
•
Sheridan: En busca del equilibrio NBA-FIBA
•
Morales: Argentina, con las chances intactas