Commentary
With older players aboard, no captain for Team USA
Originally Published:
August 29, 2007
By
Chris Sheridan
| ESPN.com
LAS VEGAS -- When it came time for the captains to meet with the referees prior to Tuesday night's U.S.-Puerto Rico game, Jason Kidd handled the chore.
Not because he's the captain, mind you, but because somebody had to do it. The previous night, it was Chauncey Billups, and there's no telling for sure who might do it Wednesday night against Uruguay.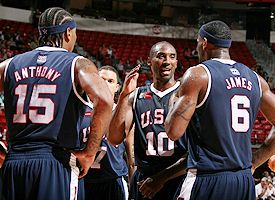 Nathaniel S. Butler/NBAE via Getty ImagesWithout the title, Kobe Bryant has shown the leadership qualities of a captain.
In a departure from past practice, the two men running Team USA have opted not to name anyone the captain this summer -- a decision fueled in large part by the need to avoid bruising any of the superstar-sized egos that lurk inside those Team USA jerseys.
"We were going to have game captains, but we haven't even done that," coach Mike Krzyzewski explained after the U.S. rolled past Puerto Rico 117-78 to stay unbeaten in the Tournament of the Americas. "We had three leaders last year, but one of them's not here, and we brought in other leaders. And I just thought naming a captain would confuse things, and it wasn't worth doing it. I talked to the guys about it, and they said 'That's fine.'"
The three players who have had their captainships taken away, if you want to look at it that way, are Carmelo Anthony, LeBron James and Dwyane Wade, the latter of whom is not playing this summer as he recovers from shoulder surgery. Wade has been attending some of the games, although he left town Tuesday morning to attend to business in Los Angeles and he is not expected back until Thursday, when the United States plays the only other undefeated team, Argentina.
"It's a different group. Those three guys did a good job last year, but now we have some older players, so there might be some confusion," Krzyzewski said. "It was never really a big thing. As soon as I said it to the guys, they said 'That's great.'"
The older players Coach K referred to are Kidd and Kobe Bryant, and it's easy to see how each of them either might not be the right fit or might feel slighted if the captaincy had been returned to Anthony and James. Yes, LBJ and Melo have been with Team USA now for three of the past four years, but Kidd is the only player on Team USA with an Olympic gold medal (he won it in Sydney), which carries a lot of weight all by itself, and Bryant, who arguably is the NBA's preeminent superstar, does not have enough service time with Team USA to be hoisted into such a position of prominence that a captaincy would bring.
What this all means on a day-to-day basis is that the leadership of the team has become somewhat fluid -- and depending on who is on the court, it can change from moment to moment. In the first quarter against Puerto Rico, for instance, the most assertive player on the court was Bryant -- although he seemed determined on this night to make his mark on the scoreboard rather than on the defensive end. On several occasions, Bryant seemed to be freelancing on offense, looking for his own shot at the expense of getting his teammates involved. And with Bryant dominating the ball more than usual, the Americans went away from running their offense through Anthony as they had in their first five games -- not that it mattered in yet another blowout win.
James led the U.S. team with 21 points, Anthony had 17, Michael Redd scored 15, Bryant 14 and Amare Stoudemire 12 as the U.S. won its sixth straight.
The game was decided late in the first quarter and early in the second quarter, getting interesting only briefly afterward when Puerto Rico guard Elias Ayuso took exception to the physical defense Bryant was playing, leading to a smattering of trash talk and a technical foul against the Puerto Rican team. Anthony went to the foul line to shoot the two technical free throws, but he missed both. The Americans' 11-for-23 performance from the line was the only blemish on the night -- unless we want to harp on Bryant's borderline ball-hogging in the first quarter.
If there was a captain to approach who could answer whether there's an issue there, that captain would have been asked that very question. But this summer, Team USA can afford to be on autopilot and let those issues work themselves out on their own.
"There's something to be said about a team that doesn't have to pick one [captain] because there's a number of guys who can fill that role," team director Jerry Colangelo said.
Come next summer, we'll see if he and Coach K still feel the same way.
Because there will come a time -- not this summer, but next -- when Team USA will be on the ropes and needing some leadership. At that point, someone is going to need to act like a captain.
Will it be Kidd? Will it be Bryant? Or will it be one of the younger troika who have gone through the heartbreak of Athens and Japan and can use their experience from those tournaments to steer the team where it needs to go.
As we keep traveling along the road to the final weekend in Beijing, it's something to keep watching.
Chris Sheridan covers the NBA for ESPN Insider. To e-mail Chris, click here.
MORE OLYMPIC BASKETBALL HEADLINES
Road To Beijing
By virtue of making the finals in the Tournament of the Americas Olympic qualifier in Las Vegas, Team USA earned a spot in the 2008 Summer Games in China.
Scoreboard
|
Standings
|
Schedule
|
Roster
News
•
James, Team USA bury Argentina for TOA gold
•
Puerto Rico holds off Brazil, wins third place
•
USA's outside shooting delivers Olympics berth
•
Scola, Delfino help Argentina clinch Olympics bid
•
U.S. trounces Argentina, coasts into FIBA semis
•
Roundup: Second half outburst fuels Brazil's win
•
Perfect LeBron leads U.S. rout vs. Uruguay
•
Carmelo out vs. Uruguay with bruised heel
•
Roundup: Argentina remains undefeated in TOA
•
LeBron, U.S. avenge Olympic loss to Puerto Rico
•
Roundup: Argentina gets to Canada early in win
•
Mexico hangs around, but U.S. pulls away for win
•
Roundup: Argentina's 3-point shooting keys win
•
Bryant's defense highlights U.S. win vs. Brazil
•
Prince sprains ankle in first quarter vs. Brazil
•
Roundup: Argentina wins in OT to stay perfect
•
Roundup: Barbosa lifts Brazil past Virgin Islands
•
Without Nash, Team USA blasts Canada by 50
•
Roundup: Dalembert sparks Canada's FIBA win
•
Redd's touch spurs U.S. blowout of Virgin Islands
•
Roundup: Scola's balanced play carries Argentina
•
Melo, Kobe find range as U.S. routs Venezuela
•
Roundup: Arroyo struggles in Puerto Rico's loss
•
Durant, Collison not on team
•
Coach K not worried about shooting woes
•
Anthony nets 28 in scrimmage
•
Bosh withdraws from camp with foot injury
•
Hinrich, Battier withdraw; Collison added
•
Select team of young stars to face Team USA
•
After tonsils issue, Oden likely to skip camp
•
Sheridan: Kobe the star of intrasquad game
Columns
•
Sheridan: What players get last spots?
•
Sheridan: Handing out grades for Team USA
•
Sheridan: Previewing the TOA semifinal matchups
•
Sheridan: Coach K cautions against arrogance
•
Sheridan: Dueling again with their Pampas pals
•
Altieri: Previewing game with nemesis Argentina
•
Sheridan: No captain crunch for Team USA
•
Sheridan: Cause for concern?
•
Sheridan: Bryant is 'pacesetter' for Team USA
•
Neel: Team USA puts the hammer down
•
Morales: Day-by-day notebook
•
Morales: Don't count out Argentina
•
Sheridan: Can Coach K lead this team?
•
Wojciechowski: Coach K reliving a dream
•
Katz: Nolan Richardson leads Mexico
•
Sheridan: LeBron not stressing, Durant impresses
•
Sheridan: Scrimmage team has work to do
•
Sheridan: Top 10 questions facing Team USA
•
Sheridan: Kidd's national record perfect
•
Sheridan: Kobe arrives focused on new team
•
Morales on Group A
|
Sheridan on Group B
Blog
•
Sheridan: My picks for final 12-man roster

Chat
•
Sheridan: Durant improving quickly

Podcast
•
Sheridan: Team director Jerry Colangelo

•
Ford: USA Basketball scout Tony Ronzone

•
Ford: Talking Team USA with Sheridan

En español
•
Portada de Básquetbol
•
Resultados
|
Calendario
|
Posiciones
• Planteles completos:
Grupo A
|
Grupo B
•
Altieri: EE.UU. busca acompañante
•
Morales: Panorama del Grupo A
•
Sheridan: Panorama del Grupo B
•
Morales: Blog desde Las Vegas
•
Wojciechowski: El sueño olímpico de Coach K
•
Sheridan: En busca del equilibrio NBA-FIBA
•
Morales: Argentina, con las chances intactas