Commentary
Parker might lead NBA champs, but look for France's quarterfinal exit
Originally Published:
September 12, 2007
By
Chris Sheridan
| ESPN.com
MADRID, Spain -- Two quarterfinals will be played Thursday and another two Friday before the biggest games of them all at Eurobasket -- the matches that will determine who will go to Beijing, and who will have to try to qualify again early next summer.
Here's a look at Thursday's games: (Thursday, we'll look ahead to Friday's games).
Spain vs. Germany
The Germans find themselves in a similar position to where they were a year ago, needing a victory against the tournament favorite in order to advance to the semifinals.
"At the end of the day, it's about going into the game with the right mindset," coach Dirk Bauermann said. "You can't just try to keep the game respectable. Against the United States (in Japan last summer), we just wanted to keep the game respectable. This time, we have to believe in our ability to beat Spain."
Expect the Germans to try to keep this one slow and physical to try to take the home crowd out of the game. But Spain should have too many weapons and too much experience to lose to such an inferior opponent -- a rival they defeated twice in friendly matches heading into this tourney.
If, however, the Spanish team is caught looking ahead, the Germans could be able to keep this one close. That's what they did against the United States last year in Japan before the Americans woke up after halftime.
Prediction: Spain by 9.
Russia vs. France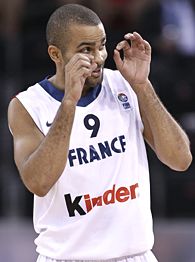 Jasper Juinen/Getty ImagesGetting past Russia is something Tony Parker would like to focus on.
If France is going to win this game, it's going to be because of the mismatch at point guard between
Tony Parker
and J.R. Holden.
We all remember what Parker did to Daniel Gibson in the NBA Finals when he was mismatched against him, and the same thing could happen here. But that being said, the Russians have a big size advantage, and their ability to keep a big man stationed in the paint (unlike in the NBA, where there is a defensive 3-seconds rule) will take away some of Parker's ability to do his damage off drives.
Neither team is particularly good at outside shooting, which means this could come down to which team is best able to score in the paint and control the boards.
Yes, France defeated Russia by 36 points in a tuneup match. But those friendlies have no bearing on how teams are playing at the end of tournaments, and Russia has been looking like the much more focused and tactically efficient team.
Prediction: Russia by 4.
Chris Sheridan covers the NBA for ESPN Insider. To e-mail Chris, click here.
MORE OLYMPIC BASKETBALL HEADLINES
EuroBasket 2007

With two Olympic qualifying bids up for grabs at the FIBA Europe competition, many NBA stars excelled for their home countries in Madrid. Russia was the surprise winner, with Lithuania collecting the other Olympic berth with its third-place finish. (Runner-up Spain already qualified.)
News
•
Holden sinks winner to lift Russia to Euro title
•
Spain upends defending champion Greece
•
Papaloukas' layup caps Greece's rally at Euros
•
Parker's missed FT helps Russia reach Euro semis
•
Nowitzki leads Germany into Euro quarterfinals
•
Greece wins as quarterfinal pairings take shape
•
Spanoulis, Greece beat Croatia at buzzer
•
Lithuania stays unbeaten, tops France
•
Parker leads France past Dirk's German club
•
Kirilenko paces strong Russian start
•
France rolls past Olympic runner-up Italy
•
Nowitzki's 35 lead Germans past Czechs
•
Israel eliminates once-proud Serbs
•
Milicic fined nearly $14K for outburst
Columns
•
Sheridan: Lessons for Team USA in Spain's pain
•
Sheridan: Why Russian upset does U.S. proud
•
Sheridan: U.S. scouts discuss NBA-caliber players
•
Sheridan: French miss their connections
•
Sheridan: Predictions for two quarterfinal games
•
Sheridan: Unbeaten Lithuania looking for title
•
Sheridan: Learning Greek from "Socrates"
•
Sheridan: An American's Russian front
•
Sheridan: My espaņol not good, but games are
Blog
•
Hollinger: Serbia hits new nadir