Commentary
Two powerhouses fall at worlds
Call it "Freaky Friday" at the FIBA World Championship. Not for the United States, but for the two squads that entered this tournament as the Americans' top challengers.
The two teams that met in the 2006 world championship final -- Russia and Australia -- will leave the Czech Republic without a medal after both countries were knocked into the consolation bracket after quarterfinal losses on Friday.
The day started with Belarus, once joined with Russia as part of the Soviet Union, upsetting the Russians, who are ranked second in the world behind Team USA. The 70-53 win was especially notable because of the margin of victory.
Then, after the Americans crushed South Korea 106-44, host nation Czech Republic provided the day's second stunner, again by double digits, with a 79-68 win against Australia.
[+] Enlarge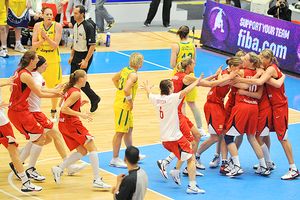 Joe Klamar/AFP/Getty ImagesThe Czech Republic upset Australia on Friday, keeping the Aussies out of the worlds medal round for the first time since 1990.
Spain defeated France 74-71 in the finale of the quarterfinals, and the Spaniards now will try to stop the zooming freight train of Team USA. The other semifinal matchup will be the unexpected one: Belarus, which is playing in its first world championship, against the Czech Republic. Competing as Czechoslovakia, that country has six world championship medals: two silvers and four bronzes. But its last medal in this event came in 1975.
So it was quite the celebration for the Czechs, who made 10 3-pointers against the Aussies while limiting WNBA standouts Lauren Jackson and Penny Taylor to a combined 5-of-30 shooting. Aussie teen sensation Liz Cambage had a double-double (22 points and 10 rebounds), but that was about the only bright spot for the defending champions.
Now, two players who were in reserve roles in the recent WNBA finals will be key players in the Belarus-Czech Republic matchup.
Yelena Leuchanka, a 6-foot-5 center with the Atlanta Dream, has been one of the top performers in this tournament, averaging 14.6 points and 9.4 rebounds in Belarus' seven games. Against Russia, she led the way with 17 and nine. Leuchanka had an injury-plagued college stay at West Virginia, then played just 10 WNBA games -- spread between two seasons -- before finding her niche as a backup center with the Dream this season.
On Thursday, Team USA coach Geno Auriemma had complimented Belarus, whom the United States beat 107-61 in second-round play on Tuesday, for developing big players who can shoot from the perimeter. He thinks that's just more the style of play internationally.
"Belarus, they're probably the size of Connecticut. I don't know how big it is," Auriemma said. "But they've got six kids over 6-5 who all can make 3s on a regular basis. We don't have six in America, much less on our team."
Belarus, with an estimated population of 9.6 million, actually has a bit less than three times as many people as Connecticut; it's more like Connecticut and Massachusetts combined. But Auriemma's point is still well-taken: Belarus is making the most of a comparatively small pool of players from which to choose.
The Czech Republic, with about 10.2 million people, knocked off Australia, which has about twice that population and more WNBA standouts. Interestingly, both Seattle Storm teams that have won the WNBA title -- in 2004 and this season -- had a Czech player. In 2004, it was Kamila Vodickova. This season, it was Jana Vesela, who had 12 points and six rebounds Friday against two of her teammates from Seattle, Jackson and Abby Bishop.
During the WNBA finals, Vesela talked about being "honored" to compete for the WNBA title.
"When I came here, I didn't expect to play much because I was a rookie here and there are great players," Vesela said during the Storm's run to the championship. "It was my dream to come here, to the best league in the world. It's a different style here than in Europe, a more aggressive style."
While she was playing in the WNBA postseason, she was feeling some pressure to get back home as soon as possible -- not that she had much control over that. The Czech team was eager to have her back, all the more so because they were hosts for the world championship.
"It is a huge tournament for the country," she said.
And now, with the Czechs in the semifinals, it's even bigger.
Mechelle Voepel, a regular contributor to ESPN.com, can be reached at mvoepel123@yahoo.com. Read her blog at voepel.wordpress.com.
espnW.com
Mechelle Voepel joined ESPN.com in 1996 and covers women's college hoops, the WNBA, the LPGA, and additional collegiate sports for espnW.
SPONSORED HEADLINES
MORE OLYMPIC BASKETBALL HEADLINES
MOST SENT STORIES ON ESPN.COM