Anthony, Bryant heat up, scorch Venezuela in TOA opener
Updated:
August 23, 2007, 12:47 PM ET
Associated Press
LAS VEGAS -- Four All-Stars fired perfect passes to each other, ending when Kobe Bryant turned LeBron James' behind-the-back toss into a dunk that brought the loudest cheer of the night.
Just like that, the Americans had shown a glimpse of what they think U.S. basketball can look like again.
Carmelo Anthony scored 17 points, Bryant added 14, and the United States rolled to a 112-69 victory over Venezuela on Wednesday night in its opening game of the FIBA Americas tournament.
"I think tonight we really wanted to be aggressive from the get," Anthony said. "That was real important. I think tonight that was our main goal, to go out there and dominate. Not try to embarrass, but dominate, and I think we did a good job at that."
Michael Redd also had 17 points, Amare Stoudemire scored 16 and Dwight Howard 12 for the Americans, who improved to 27-0 in the regional Olympic qualifier. The Americans face the U.S. Virgin Islands in the final game Thursday night.
"The tournament's going to get a lot harder than we had tonight, but as a team I think we played well," James said. "We shared the ball well. We did everything that we needed to do to win a basketball game."
Bryant was making his long-awaited international debut, while Anthony was the leading American scorer last year at the world championships. They needed a little more than a quarter to show they could be a formidable duo.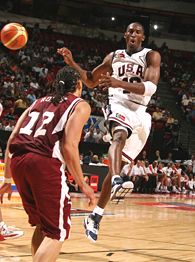 Nathaniel S. Butler/NBAE via Getty ImagesKobe Bryant dishes in Team USA's rout of Venezuela.
Jason Kidd and Howard started along with James, Bryant and Anthony, the three starters coach Mike Krzyzewski had already named. All 12 players saw action in the first quarter, which ended with the Americans up 21-8 after some shaky shooting.
Bryant was scoreless and Anthony had only four points in the opening period, but they didn't stay quiet for long. Both scored seven points in a 16-6 spurt early in the second quarter that broke open the game and extended the lead to 39-16 on Bryant's 3-pointer with 5:23 left in the first half.
Both players were involved in the highlight play of the game. Kidd leaped to keep a high pass from going out of bounds along the sideline, quickly tossing it back to Anthony. He fired it to a cutting James, who passed behind his back to Bryant for a dunk, drawing a roar from what was otherwise a fairly quiet crowd in a Thomas & Mack Center that appeared less than half full.
"Incredible play," Bryant said. "The public now has a chance to see what's been going on behind closed doors, some of the amazing plays that guys are making."
The Americans led 54-34 at halftime, and the advantage ballooned into the 30s after the starters outscored Venezuela 14-2 to open the third quarter. James' steal and breakaway dunk made it 68-36.
Greivis Vasquez scored 12 points for Venezuela, which will face Canada on Thursday.
The Americans were forced to play in the qualifier after failing to win the world championships last year. They returned this year with a stronger roster, particularly in the backcourt, where Chauncey Billups and Redd joined Bryant and Kidd.
All the U.S. problems haven't gone away, though. The Americans missed seven of their first nine 3-point attempts and were only 20-for-29 from the free throw line, two of their biggest weaknesses in recent years.
Those may not matter much over the next 11 days. The United States has hardly been challenged in three previous appearances, with only one game being decided by single digits, and isn't expected to have any trouble earning one of the tournament's two spots for the 2008 Olympics.
James scored 11 points and Mike Miller, who limped off the floor after committing an offensive foul in the closing minutes, had 10 for the Americans. Kidd, who didn't attempt a shot in 15 minutes, and rebounding and shot blocking specialist Tyson Chandler were the only players not to score.

Copyright 2007 by The Associated Press
SPONSORED HEADLINES
MORE OLYMPIC BASKETBALL HEADLINES
MOST SENT STORIES ON ESPN.COM
Road To Beijing
By virtue of making the finals in the Tournament of the Americas Olympic qualifier in Las Vegas, Team USA earned a spot in the 2008 Summer Games in China.
Scoreboard
|
Standings
|
Schedule
|
Roster
News
•
James, Team USA bury Argentina for TOA gold
•
Puerto Rico holds off Brazil, wins third place
•
USA's outside shooting delivers Olympics berth
•
Scola, Delfino help Argentina clinch Olympics bid
•
U.S. trounces Argentina, coasts into FIBA semis
•
Roundup: Second half outburst fuels Brazil's win
•
Perfect LeBron leads U.S. rout vs. Uruguay
•
Carmelo out vs. Uruguay with bruised heel
•
Roundup: Argentina remains undefeated in TOA
•
LeBron, U.S. avenge Olympic loss to Puerto Rico
•
Roundup: Argentina gets to Canada early in win
•
Mexico hangs around, but U.S. pulls away for win
•
Roundup: Argentina's 3-point shooting keys win
•
Bryant's defense highlights U.S. win vs. Brazil
•
Prince sprains ankle in first quarter vs. Brazil
•
Roundup: Argentina wins in OT to stay perfect
•
Roundup: Barbosa lifts Brazil past Virgin Islands
•
Without Nash, Team USA blasts Canada by 50
•
Roundup: Dalembert sparks Canada's FIBA win
•
Redd's touch spurs U.S. blowout of Virgin Islands
•
Roundup: Scola's balanced play carries Argentina
•
Melo, Kobe find range as U.S. routs Venezuela
•
Roundup: Arroyo struggles in Puerto Rico's loss
•
Durant, Collison not on team
•
Coach K not worried about shooting woes
•
Anthony nets 28 in scrimmage
•
Bosh withdraws from camp with foot injury
•
Hinrich, Battier withdraw; Collison added
•
Select team of young stars to face Team USA
•
After tonsils issue, Oden likely to skip camp
•
Sheridan: Kobe the star of intrasquad game
Columns
•
Sheridan: What players get last spots?
•
Sheridan: Handing out grades for Team USA
•
Sheridan: Previewing the TOA semifinal matchups
•
Sheridan: Coach K cautions against arrogance
•
Sheridan: Dueling again with their Pampas pals
•
Altieri: Previewing game with nemesis Argentina
•
Sheridan: No captain crunch for Team USA
•
Sheridan: Cause for concern?
•
Sheridan: Bryant is 'pacesetter' for Team USA
•
Neel: Team USA puts the hammer down
•
Morales: Day-by-day notebook
•
Morales: Don't count out Argentina
•
Sheridan: Can Coach K lead this team?
•
Wojciechowski: Coach K reliving a dream
•
Katz: Nolan Richardson leads Mexico
•
Sheridan: LeBron not stressing, Durant impresses
•
Sheridan: Scrimmage team has work to do
•
Sheridan: Top 10 questions facing Team USA
•
Sheridan: Kidd's national record perfect
•
Sheridan: Kobe arrives focused on new team
•
Morales on Group A
|
Sheridan on Group B
Blog
•
Sheridan: My picks for final 12-man roster

Chat
•
Sheridan: Durant improving quickly

Podcast
•
Sheridan: Team director Jerry Colangelo

•
Ford: USA Basketball scout Tony Ronzone

•
Ford: Talking Team USA with Sheridan

En español
•
Portada de Básquetbol
•
Resultados
|
Calendario
|
Posiciones
• Planteles completos:
Grupo A
|
Grupo B
•
Altieri: EE.UU. busca acompañante
•
Morales: Panorama del Grupo A
•
Sheridan: Panorama del Grupo B
•
Morales: Blog desde Las Vegas
•
Wojciechowski: El sueño olímpico de Coach K
•
Sheridan: En busca del equilibrio NBA-FIBA
•
Morales: Argentina, con las chances intactas